Illuminate your Farm with Dreadfall Animals!
Dreadfall animals are back at the Trading Post to help brighten your farm! You'll never be afraid to enter your farm past daylight hours!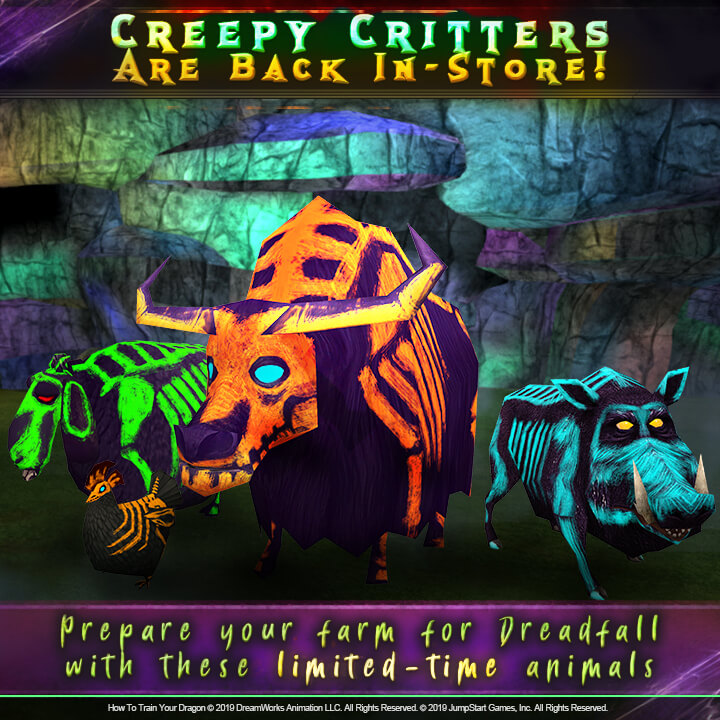 The spirit of Dreadfall has been felt everywhere at campus and Vikings can't help but continue to celebrate the spooky season. With the twins running around and getting caught up on all the Dreadfall fun, they bumped into some leftover glow-in-the-dark paint and decided it was a great idea to spread some creativity in Hiccup's farm. They started off by finger-painting all over the barn and as soon as they saw some chickens running, Tuffnut grabbed it and left glow residue on its feathers. Full of joy, Tuffnut and Ruffnut decided to disguise the rest of the animals on the farm with fluorescent paint. As soon as Hiccup entered his farm, he was surprised and unable to remove the paint. As he made peace with what the twins had done, he thought what better way than to turn it into a Dreadfall surprise for all Vikings to enjoy!
Thanks to the twin's recklessness, Hiccup decided to share some glow animals at the Trading Post and Vikings can now welcome some glowing animals of their own back to their farm! From chickens to yaks, Viking farms will shine across the open acres of land.
Fly to the Trading Post and add some bright and colorful Dreadfall animals to your farm!