If you play Flight Rising, look at this (A FR advertisement)
http://www1.flightrising.com/forums/forga/2410560/3
Someone made a game where you give them a familiar and they put it in a Hunger Games simulator. The full rules are there, but if you play FR then please consider joining the game. It won't start until 16 more people join, and it's going a little slow.
The prizes are
1. A drawing of your familiar saying that it won
2. Whatever familiar you submitted will be gifted to you for real (unless it's a special rare/hard to get one)
__________________
I'm in it for the memes
Axolotl the Muddicri by the incredibly talented chameishida!
Age: Adult
Main color: Blood red
Secondary color: Black
Marking: Mint green
Name: Axolotl
Gender: Male
History: Found as a young hatchling by the frozen banks of a river during winter, Axolotl was weak. I took him into my hut and sheltered him during the winter months. Once spring rolled around, he didn't want to leave. He's been a happy member of my dragon sanctuary ever since.
(Pinsel by 1flower)
(Frightlight by 1flower)
(Merlin Titanglow by1flower)
(Aerohead by 1flower)
BOUNCIES!
Original Bouncies made by me: (not so impressive)
Bouncies/Blinkies/GIFs/Adobted Dragons by Others:
(Pinsel Bouncie by Rae Didgeridoo) (Aerohead Bouncie by Autumn5467)
Awesome- no EPIC Merlin gif made by TildenWolfGirl.
Colorbeam made by MidnightMare.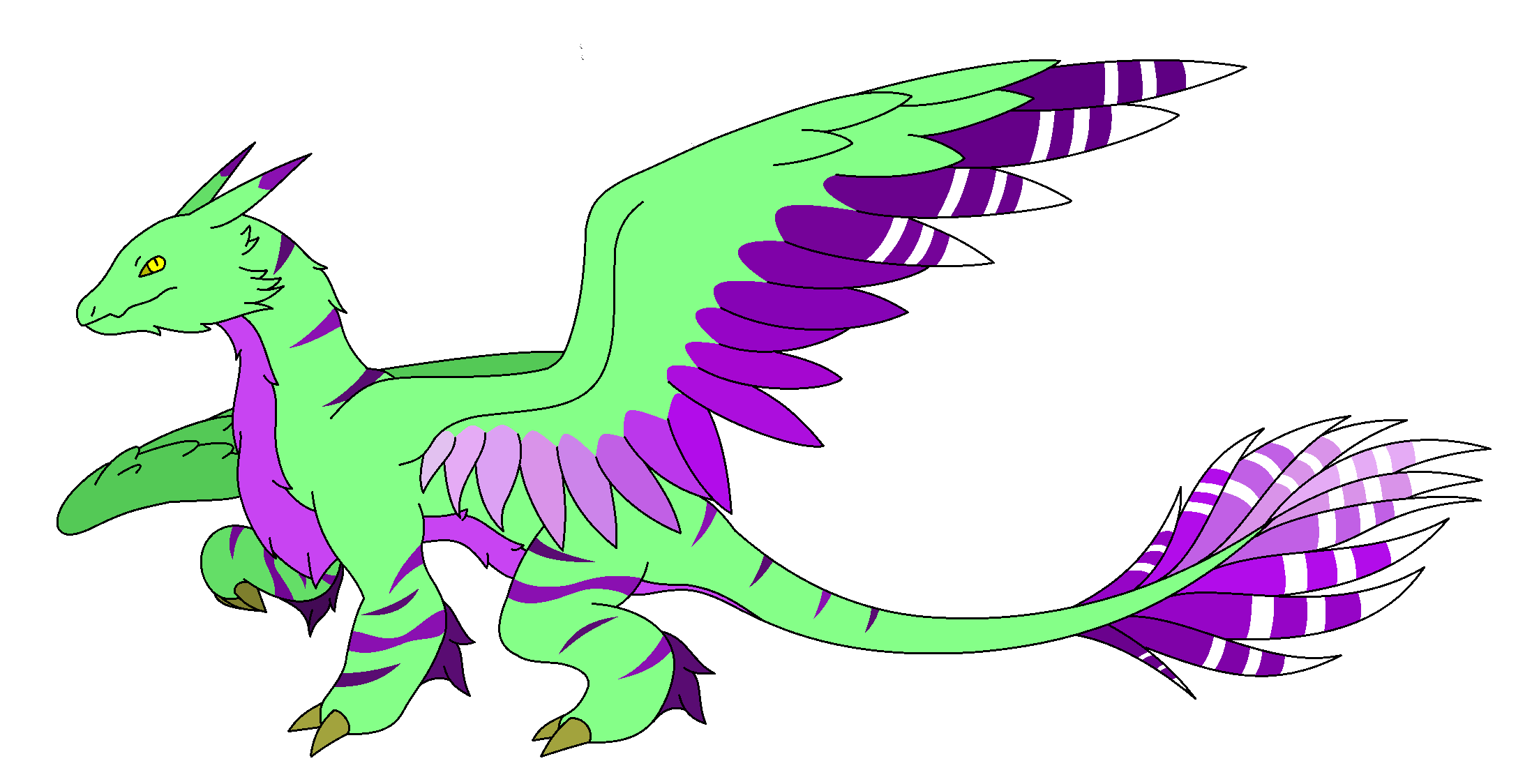 This amazing Banded Featherlure was created by amberleaf7. As was the whole entire Speceis! Thank you very much for letting my adopt it! Here is the link to the thread from which I got it: http://forum.schoolofdragons.com/content/introducing-banded-featherlure
Gender: Male
Personality: Very fast and hyper. Likes to have fun! (often gets into trouble when he does stupid things)
Artsy Edits by Others:
Christmas Pinsel by 1flower. Thanks! Optic the Blind Nightfury, made by Autumn5467! Thanks!
Sandstone the Sand Wraith Chibi by 1flower. Thank you!!
Name: Crunch
Backstory: Found his egg at an empty nest with no sign of his siblings or parents. Been my friend ever sinse
Personality: Reckless
Gender: Male
Autumn5467 made this! Thank you! Love it!!
I am very proud to have this Peridot Spirepoint Gemspitter, created by NightmareRebuff. She is very talented and smart, and I am honored to have this in my Signature!
Name: Chakra
Personality: Chakra has a friendly sort of aura about him. He is goot to go to when you're angry as you immediatly seem to calm down. Chakra is very kind and peaceful and always gentle. He perfers not to fight. Anyone who goes near Chakra feals healed or renewed. Even though he is peaceful, Chakra is very very protective. If you are in any danger at all, he will sheild you and fight for you.
Dragon's name: Daydream
Male or Female: Male
Personality: Calm, Soothing.
Short Backstory (optional): I discovered a young Deathsong, abandoned by his kin. He was trapped in presumably some of his own "amber", but the more I think about it I imagine the others did it to him. I set him free, but I was scared of training him due to the Deathsong's reputation to eat other dragons... But I found out that he in particular didn't have any interest in other dragons. He prefered to heat wild boars, and deer and such, along with the occasional fish. I ttrained him and he is an excellent companion. When it's time to call the dragons back to the stables, he sings his song and the dragons all come flying back. Except for my Thunderdum of course; I have to send a dragon out to go get him.
(Made by Stiger23. thank you very much!)
The Speedstalker created by NightmareRebuff and goldenfury360 Thanks so much!
Bio:
Name: Goosebumps
Gender: Male
Personality: Loves to scare. Mostly Hallow (my Boneknapper) because he gets scared easily. He shivers and it rattles his bones loudly! Goosebumps can often be found hiding behind a corner, or underneath something. He never means any harm, and he'll leave you alone once you're used to his "attacks".
Drawings/Art by others:
Me riding on Pinsel by astrid!!! Isn't it amazing!?!?!?!?
Sir Lancelot (my Razorwhip) in bouncie form! Thanks, Defy!
Daydream (my Deathsong) in bouncie form! Thanks, Defy!
Pinsel the Creepy Clown by DuskDaybreak! WORDS CANNOT DESCRIBE MY THANKS.
Yay! You made it to the end! NOW DANCE WITH JAKE!
If you can read this then u smell
Sat, 04/07/2018 - 13:46
#1
"Its not what you get but what you do with it." -Xanadu
Hey, I was this and I have some questions.
So number one, I don't play flight rising, so what is it?
Two, does it have magic of any sort/demons?
Three what is the base/point of the game?
I tried checking the internet, but I couldn't find that much
__________________
Who am I? I'm Rheithebrave!
Please do not steal any of my art, if you would like art done by me then you can PM me and request some. Do not reuse images or information, or characters in my siggy!!!! Or I will have all of my over 100 dragons hunt you down and tickle you!!!!
Don't have a FAQ yet!
My HTTYD Fan Artists Discord Server
Proud supporter of #CollegeofDragons
So I am currently remaking my OCS
Main OC: Rheileen Tomahona
Other OCs: Alakan, Feaflena, Breeze
Minority Backspace OCs: Thane and Yashia, Irishakan and Tilancian
Modern OC's: Stacy Byrns
I have four vikings In Game
xRheileenx
Rheithebrave
xRheiDragonHeartx
Feaflena
xXYashiaXx
xXBreezeWavemakerXx
(Glitch Character) xXxBreezeWavemakerxXx
Main Viking? xRheileenx
What dragons do I have? Most of them!
Completed Expansions
Icestorm Island
Return of the Deathsong
Battle for the Edge
Return to Dragon Island
Secret of the Leviathan
Rise of Stormheart
Wrath of Stormheart
Favorite Dragons: Nightfury, Woolly
Howl, Sandwraith, Skrill, Triple Strike
My girl Rhei
by me
Name Rheileen
(Include Photo/Screenshot)
Rhei has dark copper blonde hair, that in certian lights may appear to be brown, it hangs down slightly over her aqua eyes, the left of which has three scars running over it from an incident with a skrill when she was a child. Her body and face were scarred during multiple stages of her younger life, so she tends to cover up, and wears a long sleeved black dress/tunic, leggings, gloves/bracers, boots, and a red face scarf. Rhei also loves hoodies, and will most likely be seen wearing a black nightfury hood. Lastly, when she flys at high speeds, Rhei tends to wear a pair of goggles, which otherwise, may either danfgel around her neck, alongside her family medalion, or sit in the pouch she has on her belt.
She carries twin sabres as her weapon of choice.
Age: 16
Gender: Female
Personality: Rhei is a hardworker, and rather mature for her age, this doesn't stop her from loving to kick back and goof off however, and she loves hanging out with people like herself, or even new groups. She works best in a classroom, or team enviorment. Whule she loves free time, she can never truely relax, because her brain is always racing a mile a minute. Rhei loves reading, and enjoys seeking out the parallels between the real world, and that of books. Including finding her role in each story, and trying to pinpoint the major characters, she may or may not talk about this.
While Rhei is typically peacefull and doesn't like picking fights, she will 100% stand up in a fight, and finds it hard to back down, she has a rather quick temper, and as such, won't leave a fight till she has managed to make the other guy remember to not try that sort of thing again. She is also highly protective of her friends and dragons.
Skills: She is highly trained in most forms of sword-fighting, and knows some acrobatics and martial arts, she is a relatively good cook, and an up and coming healer. So while her healing skills aren't the best, she can manage in a pinch, and keep you alive until a real healer is around. Also, she is an up and coming master of speaking Dragonese.
Weaknesses: Rhei has a strong fear of falling, and therefor of heights. If however she is on her dragon, the fear will subside, and she can manage. She is a poor swimmer, and can get anxious if grabbed in a dragons claws, this is mostly due however to her time fighting and fearing dragons as a child.
Other: Rhei is not native of Berk, and actually comes from a French settlement further south. Fortunately, she learned Norse from visiting traders, so this means she is skilled in speaking French as well as Norse.
Yashia (Also by me)
Form pending.
I also have more art done by me! It will be awhile in the
comming however, as I need to finish it still. (I tend to put
that off I am afraid.
Thank you for reading/veiwing my siggy
(Zifinia bouncy made by RedHoodJason)
Sat, 04/07/2018 - 14:04
#2
Flight Rising
1. It's a game where you get dragons. You collect them, give them stuff, battle with them, dress 'em up, etc. There are games and a community and it's fun.
2. It's got magic. Idk about demons, maybe there are some familiars or monsters that could be considered demons, but it isn't religious or anything.
3. You get dragons. You get stuff for the dragons.
Sat, 04/07/2018 - 14:05
#3
~
(Ignore this, I posted a thing twice and this was the mistake duplicate)
Thu, 04/12/2018 - 10:33
#4
Ask me anything...
Flight Rising is very fun! Just started.
__________________
/
*
\
*
/
*
\
*
/
*
\
*
/
*
\
*
/
*
\
*
/
*
\
HalianaWind's Sig!
Welcome!
I have many avatars, but this is my main:
Halianawind | 2 and a half gold stars | female | level 38 (love you level 35, have a nice retirement! ;D) | fishing level 18 (I don't fish anymore xD) | farming level 30 | proud Leader of RoguesOfTheUnderworld
-----------------------------------
SoD anniversary is Nov. 7th (It'll be my 2nd anniversary)
Happy 1st anniversary to me! XD
-----------------------------------
About me (in SoD ;D)
I Have 39 dragons XD:
Firehex: male Sand Wraith
Arauramist: female Skrill
Oceanrock & Searock: female twin Razorwhips
Eagleye: male Deathsong
Heartstorm: male Triple Strike
Stormheart: female Triple Strike
Grimreef: male Singetail
Oceangreen: male Eruptodon
Mysteryfang: male Thunderdrum
Gingerblaze: male Timberjack
Aurorapine: female Fireworm Queen
Pitchmystery: male Gronckle
Midnightsun: female Armorwing
Seecle: female Groncicle
Stormshadow: male Whispering Death
Wizzperded & Dedperwizz: female & male twin Whispering Deaths
Stormbuster: male Elder Sentinel
Korinth: male Flame Whipper ( but I like to call them Mefla Pperwhi :P)
Neeka: female Deadly Natter
Underworld: male Snafflefang
Cheesecake: female Shockjaw
Friska: female Speed Stinger
Aariel: female Hobblegrunt
Solstice: male Woolly Howl
Batman: male Whispering Death
Willowbud: female Thunderdrum
Vladestar: female Dramillion
Xzaquen: female Deadly Natter
Rocke: male Typhoomerang
Haivren : male Moldruffle
Zie : female Whispering Death
Albatros : male titan Skrill
Halij : male titan Cloudjumper
Sparklenose: female Prickleboggle
Mayflower: female Scuttleclaw
Clai : male Terrible Terror
Bubbles: male Scauldron
and Toothless ( but I renamed him Kitty :P) and the Light Fury (Shortcake :D)
--------------------------
Level 35 retired on the 4th of November, 2018
farewell, buddy :'(
I am the proud leader of ROTU, RoguesOfTheUnderworld!
Secrecy and stealth are our allies.
Shadows and darkness our friends.
We are rogues of the Underworld - returning to Earth again.
Who's online
There are currently 11 users and 115 guests online.