I guess I'll take some art requests?
Welp, here's a topic I've been wanting to do for a while
I guess I'll draw some art requests for people for a while, no guarantees they'll be perfect.
Request anything you like, I don't mind what, but I ain't 100% with drawing people realisticly. So if you're after people, expect them to be in a more anime-style look. But whatever, dragons, characters, I don't really care.
I can do requests in a few different types of media that you can ask for. WARNING: Some may take longer to complete than others
Traditional Sketch - Only graphite pencils will be used. Black and white sort of feel, I guess?
Pen Sketch - Only using a ballpoint pen (Harder sketches may be sketched first in pencil before the pen...) It's darker and scratchier.
Traditional Colour - Traditional, outlined sketch coloured with coloured pencils.
Digital - Completely digital, can be either black and white or coloured.
NOTE: You can combine a few of the different traditional media. For example, you can have a character's eyes in colour, but the remainder of the sketch in pen. I can ombine. But please be specific, and don't get upset when you haven't given clear instructions and my brainchild of an artwork didn't look the way you wanted. Okay? I can't read minds, I can only follow what you've given me as instructions
Oh, and it miht be helpful for me if you fiill out this request form for me, it'll help me keep track of wht I'm drawing.
Your name: (For when I put it in the 'gallery', so I can identify you)
Artwork Type: (What media you want made out of)
Reference Picture: (Or a super finely-detailed description)
Pose/Position:
No fighting with me, no fighting with others. I don't wanna hear it. Don't get upset if I start an easier request before finishing yours, even though you've requested first. If I start the next request before finishing, it just means I am simply taking my time with it. Don't rush me. Rushing me will make me less likely to sketch it. (Don't reply to DNR posts either)
With all tht out of the way, request away!
__________________
Bit of a change of style... Why not?
Got an OC you want drawn? PM me! I take requests frequently.
Excludes school exam periods and homework afternoons
Thu, 04/19/2018 - 08:33
#8
Your name: Piggy Artwork
Your name: Piggy
Artwork Type: Pen Sketch
Reference Picture: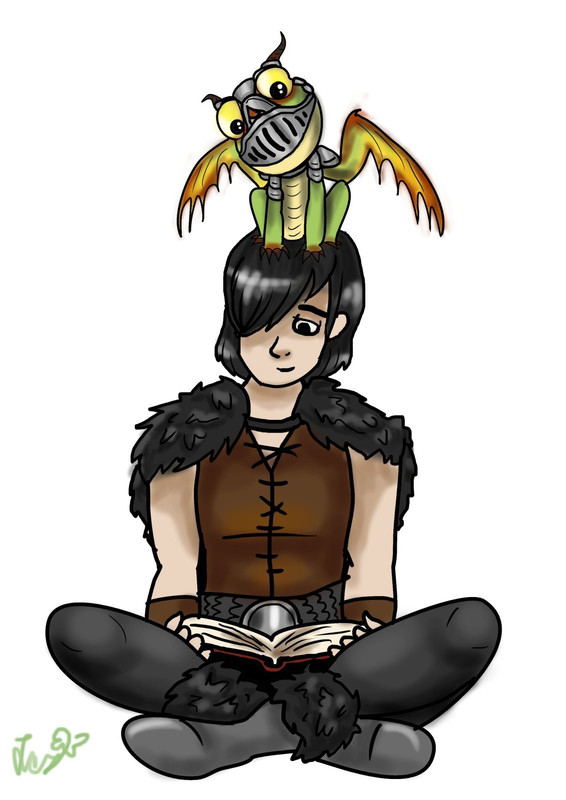 (the Terrible Terror)
Pose/Position: Artists's choice
__________________
Viking:
::::::::::::::::::::::::::::::::::::::::::::::::::::::::::::::::::::::::::::::::::::::::::::::::::::..
Name: Mychael (pronounced Michael)
Nicknames/Title: WIP
Gender: Male
Age: 19
Residence: With Earthguard
Personality: Michael is always thinking logically and doesn't understand jokes. He is smart enough to understand them but always takes things literally. For example "Mercy then replied "Hey look Michael's back!" Not understanding Michael asked "What! What's on my back?". Michael prefers to be alone and hates being the center of attention. He is always serious and doesn't understand why Vikings socialize. Michael isn't quick to trust people but once you gain his trust he will risk his life to save them. He is very intelligent and thinks outside the box. Not many people want to be his friend because he is so odd. Even though he likes to be alone that doesn't mean he doesn't feel sad about it. In fact often he is often depressed that he doesn't have any friends. Michael is brave though his main weakness is that he has low self esteem. All Michael really needs is a friend he can trust. Michael loves to learn new things and to explore new places. He is more interested in dragons than spending time with Vikings. Michael hates to make speeches and presentations. He loves to teach others and dreams of teaching young Vikings the history of Berk. He is a know it all and often is bullied because of that. Michael keeps a journal of all the dragons he knows about and their stats and it is his most prized possession.
History: For unknown reasons Mychael was forced to be a hunter at a young age. He hated hurting dragons but was beaten very badly when he tried freeing a couple. While there each hunter was given a dragon to control and Mychael was given Scuttles. They both were scared but found comfort in each other. Unlike the other hunters, Mychael was very skinny and smart. He was bullied and punched many of times and he knew he had to escape. Then all off a sudden one day he awoke on a shore with Scuttles, surrounding them were a group of vikings and dragons. They didn't trust him at all at first and when his book on how to kill dragons fell Eslig threatened him with her bow. After a while they trusted him a little and brought him back to their camp (Present RP)
​Likes: dragons, heights, cold, flying, swimming, exploring, learning, teaching, being near people he trusts
​Dislikes: Making speeches, being the center of attention, crazy people, huge dragons, chains, blood, people or dragons hurt, dragon hunters
Do you want to reserve a color for your Viking? If Yes, what color? How about Dark Cyan
Dragon:.
Name: Albatross
Gender: Male
Species: Shockjaw
Age: Broadwing
Residence: With Mychael
Personality: Albatross is aggressive to anyone he doesn't trust. Also he loves competition and hates to lose. Hates taking orders from other dragons or Vikings. Albatross is easily annoyed and super protective. In fact if anyone lays a finger (or Talon) on someone he loves, Albatross will attack to kill. His past was rough and hates most humans. Being easily aggravated many people call him a monster though he is only doing what he was taught. He doesn't understand how Dragons An day Vikings live in peace
History: The day Albatross hatched he was born into captivity. His parents had been killed by hunters and he was a runt and very weak since he had no one to teach him how to fight. He was immediately sent to work in the Arena and was bullied by the bigger dragons. In the arena he was forced to battle against Vikings to train them. After only a few days Albatross learned he had to fend for himself and only worry about himself. As he grew older he became stronger and soon everyone feared him (other dragons in the arena I mean) On night he finally broke free and escaped. As he flew out many dragons roared for him to free them too but he didn't for Albatross only cared for himself. Knowing the hunters were capturing and killing many dragons a day he set out to seek his revenge by attacking all the other villages not stopping until every Dragon feared him. Though one day when attacking Berk he was injured by their weapons and for years was stranded. Then one day a group of Vikings stumbled apron him and... (will be descided in the RP)
​Likes: Flying, being alone, Rue, Mychael, being in charge, fighting
​Dislikes: Young dragons, hyperness, having others help him, Drift, most dragons and Vikings, chains
Pet:.
(Without armor)
(With Armor)
Name: Scuttles
Gender: Male
Species: Terrible Terror
Age: Teen
Residence: With Mychael
Personality: Scuttles is very playful and has a ton of energy. Even with that said, Scuttles still can be calm when needed. He loves to explore new places and meet new dragons. He isn't very found of people, except for Michael who this little dragon thinks of as his brother. Him and Michael share a close bond even though both of them lost their memories and don't know why. Scuttles doesn't have nightmares of his past like his "brother" but still knows his past was awful. He is easily scared but feels safe around larger dragons and Michael. Even though We is easily scared doesn't mean he will back down on a fight, instead Scuttles loves to fight. Now what Scuttles calls Fighting is more like playing violently or in other words horse playing. He acts like an energetic wolf cub and is loyal like one too. Scuttles will protect those he cares for (even though he might not be able to help that much) even is it means risking his life.
History: Scuttles doesn't remember his past, all he knows is one day he awoke on the shore with a human. Even though neither can remember anything they still feel a deep connection with each other.
Likes: Playing, having fun, being around Mychael, being around larger dragons
Dislikes: Storms, bossiness, obeying selfish people, being cold
Who's online
There are currently 31 users and 133 guests online.