HTTYD 3 Theory!
So I have a theory about.... Grimmel! So when he was at Old Berk he said something like this ( I'm tired and don't remember the EXACT quote ) " I've missed this " or something to that extent. This leads me to believe that Grimmel USED TO LIVE ON OLD BERK ( and for some weird reason left Berk )! So I want to know what you think about my theory (please nothing negative I am very tired and sick but I am up anyways -_- so if I got the quote wrong be nice about it)
Fri, 05/31/2019 - 04:09
#2
"And that's for everything else." - Astrid
WAIT I love these theories, and I've got something to add.
So, you know that Toothless has a scar on his neck, right?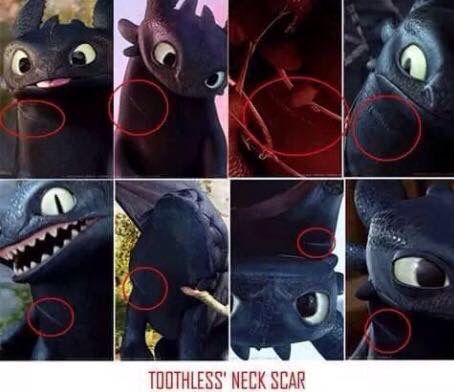 If you didn't there it is. I might be totally wrong, but follow me on this.
We know that Grimmel hunted all the Night Furies in exsistence, right? (Toothless could have gotten that scar from anything, but I just want to expand on my crazy theory before anyone starts to negatively critizise me XD)
Maybe Grimmel had met Toothless when he was younger, but either his mother or father Night Fury jumped into the attack, saving Toothless' life. They could've distracted Grimmel, but gotten killed in the end by him. If Grimmel had hunted down Night Furies, he could most certainly take down one or both of Toothless' parents. Toothless had the chance to run away while their parents distracted Grimmel for him to run off.
SO XD It's just a theory, and it's not true as I know of. Please don't negatively critizise me, it's my first time trying to figure out a theory. :D