HTTYD 3 Spoiler? From AMAZON??!!
So some httyd 3 books are coming to amazon and this one in particular has a title that prompts a huge question....
Possible spoilers for
httyd 3!!!
Don't read down if you don't want spoilers!!
Mon, 06/04/2018 - 13:35
#3
THIS IS SPARTA!!! No, actually its Main Street
You got my attention now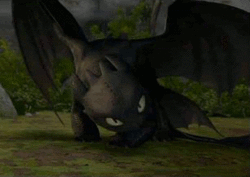 Man, if they dont have to part with the dragons ima be SO HAPPY!
It would be less heartbreaking and traumatizing for them... amd me
Mon, 06/04/2018 - 16:42
#5
"It's not what you get in life,it's what you do with it."-Xanadu
Mon, 06/04/2018 - 16:43
#7
"It's not what you get in life,it's what you do with it."-Xanadu
Mon, 06/04/2018 - 23:25
#8
Swoopin' In!
Hmmm, what I find very interesting about all these new books is their release date: a little over a month before the film's release. With that said, I don't think the book regarding the "New Berk" will be about Berkians going to the Hidden World and staying their forever, but rather to show how much more dragon-oriented Berk has become. However, I don't disagree with the theory of Berkians residing in the Hidden World either, and the fact that it's called "Journey to New Berk" does indeed imply that Berk is in a different location. Heck, I wouldn't mind it at all, I want (good) humans and dragons to stay together!
I also went on Amazon myself just now and I looked at the other book titles that are to be released on the same day (spoilers up ahead?): Meet the New Dragons (not surprising that new dragons are going to be in the movie), The Night Fury and the Light Fury, and finally a movie storybook for the. . .well, movie. All coming out on January 29th of next year at this moment in time (6/5/18 for me).
Do you know what this means? This confirms the female Night Fury theory: That she isn't a Night Fury at all and is indeed a Light Fury as most people have been calling it. This might also mean Toothless really is the last NIGHT Fury. . .although, that doesn't mean a real Night Fury won't show up in the film, right? Yes, the Light Fury is on the poster and is shown interacting with Toothless but. . .ya know what, I think I'll just make a separate post for this. XD
To wrap things up, good find! I look forward to these books and might even attempt to get them myself (especially "Meet the New Dragons" and "The Night Fury and the Light Fury"!).