Holk for the viking of the week!
This part of the Forum was not working for a while, but in the last weeks it was working again! So I'm giving a try!
What's up? I'm XxXPurpleHolkingXxX, for friends just Purple/Purp/Holking/Holk (but just Nix is allowed to call me Purp.)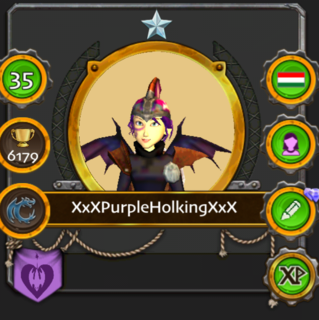 I'm a Night Terror expert, I love being with my winged buddies, Midnight (call her just Mid) and Sárki. In the game I love battles and exploring glitches. In life, I'm making artworks (I have a biiig project currently) and I'm reading HTTYD. Some days before I was an active racer, but I'm not anymore (due to the cannot-win-without-Toothless peeps & cheaters/hackers). Furthermore, I like being with my friends. We usually hang on the Sea Stacks before battle. Until recently, I've been an inactive farmer, but now I'm spend a few time on my farm. I have finished just four expansions so far (Icestorm Island, Battle for the Edge, Dragon Island & Wrath of Stormheart expansions), but I was near to the end of RoS when I could not continue it anymore. I'm playing SoD since 18/10/2015, so I have quite a few dragons (120+) and experience. If you want to find me, try to start searching on any island where you can find fun glitches!