Hideout Now Open to All Vikings!
An open space for Vikings and their dragons to spend quality time waits for them at the Hideout! This exclusive space will now be available to all Vikings and dragons with or without a membership!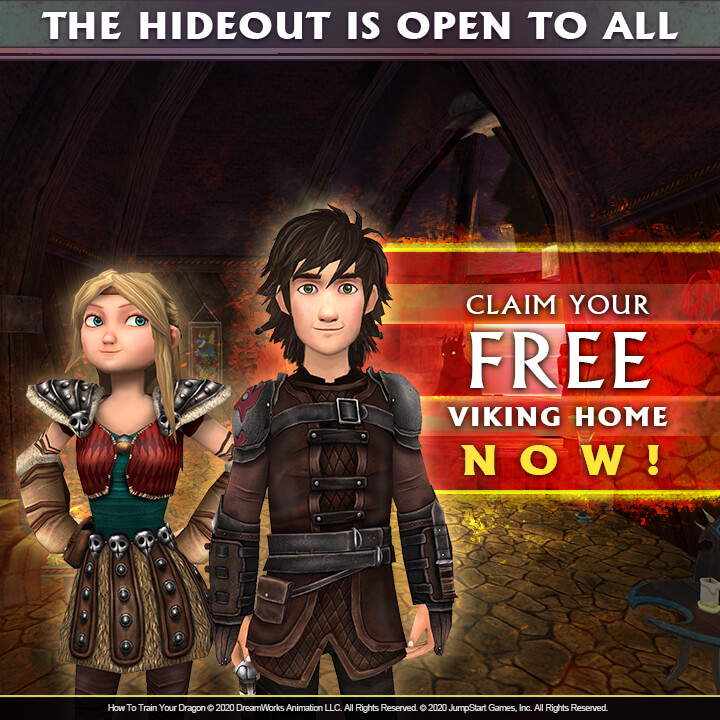 The Chief once said that the Hideout was not just a room but a safe haven where Vikings could spend time relaxing and preparing for the next adventure. Over time, Dragon Trainers noticed how much happiness it brought to their dragons and spending time there became a daily ritual.
Shortly after, Hiccup decided that this place needed a special touch and began making items that would help Vikings customize their place. He started out with a few wall hangings but then Ruffnut told him she wanted to take some time off to sleep in there, so he began making beds. Now thanks to the Chief there are endless number of collectible items that allow Vikings to decorate the place to their own unique style.
There are so many things to choose from and one of my ultimate favorite pieces must be my striker class bed! It totally represents my love for my dragon and fills me with joy every time we go to our Hideout to relax after a few rounds of Dragon Tactics. Overall, the Hideout is an incredible place that help Vikings and dragons feel cozy and at home whenever done venturing out for the day.
Head to New Berk to check out your Hideout before stopping by the Trading Post to gather a few pieces to furnish your place!
P.S. Don't forget to invite your friends over to your Hideout to check out your stylish taste in interior décor!
- Siren