Hacker?
Before i start, I was not sure where to put this so i hope putting it here is ok?
Anyway, I was gliding around at the school with my gronckle and noticed somebody being very suspicious, and it looked like they where trying to hack somebody! Their username was Willowolfthebrave. They where asking for somebodys account and then they later on kept asking to trade?
1. 2. (i got a warning because i types 'Dont do it :o' ?)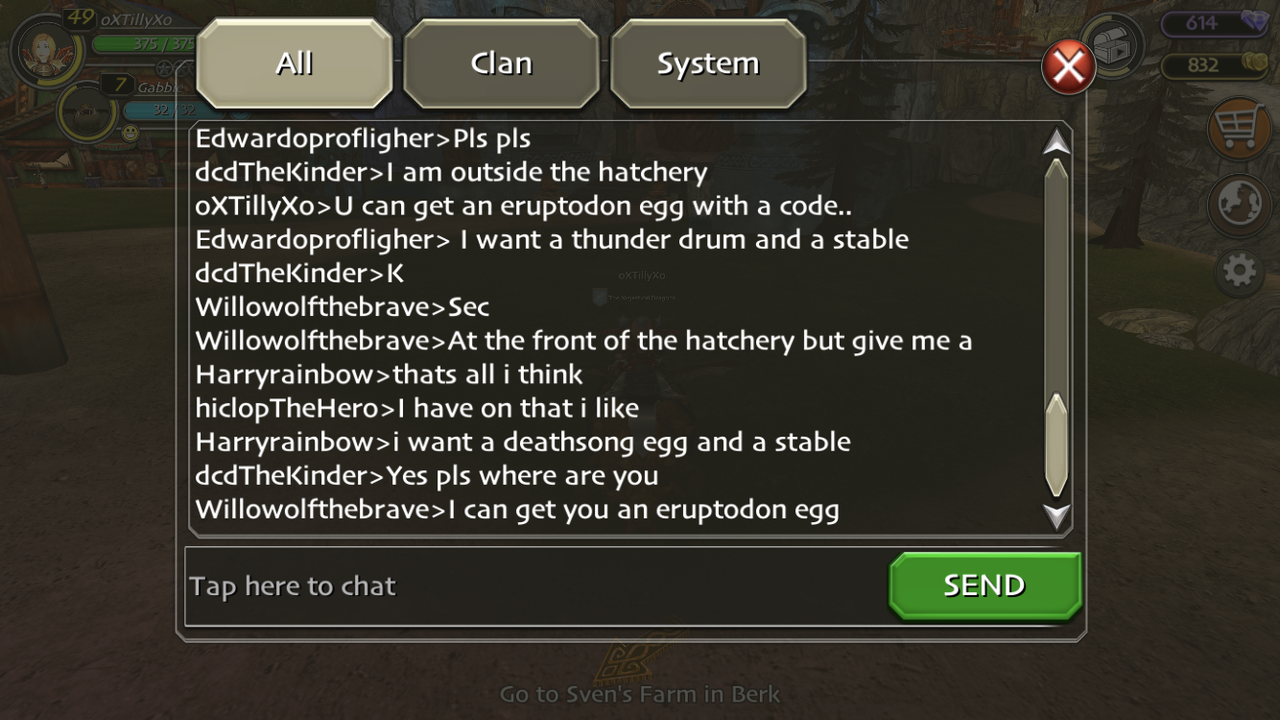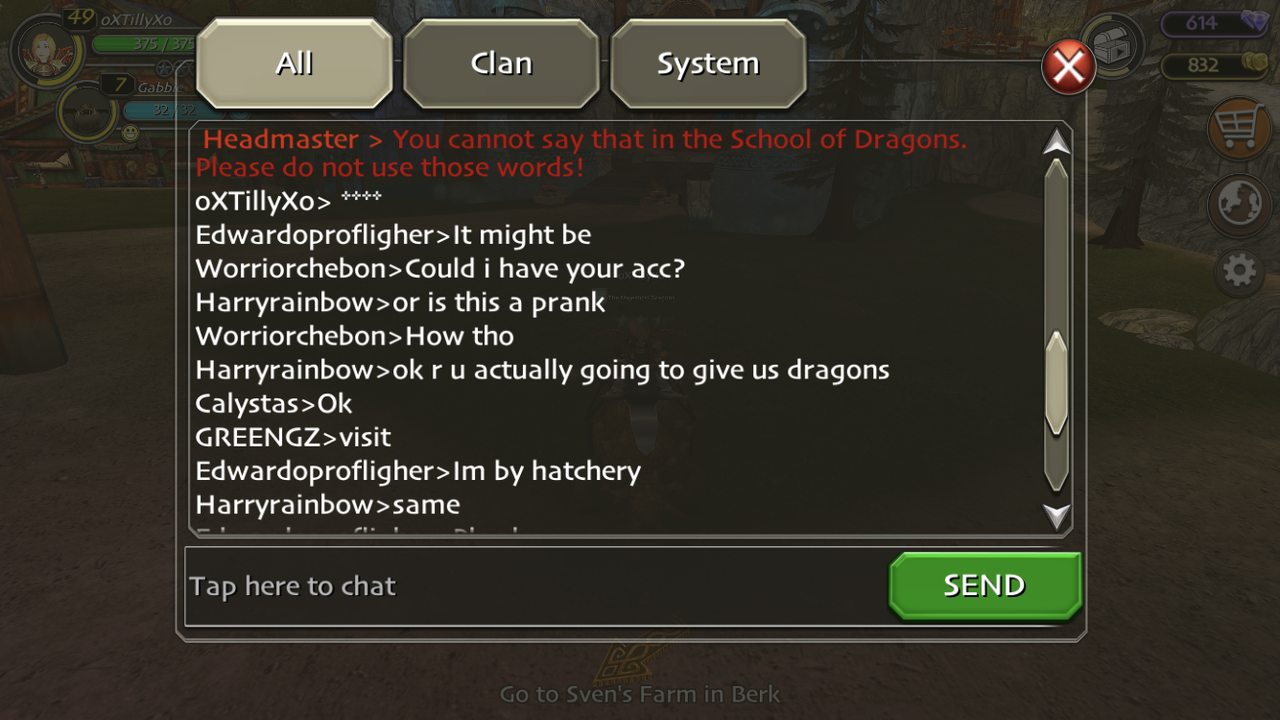 3. 4.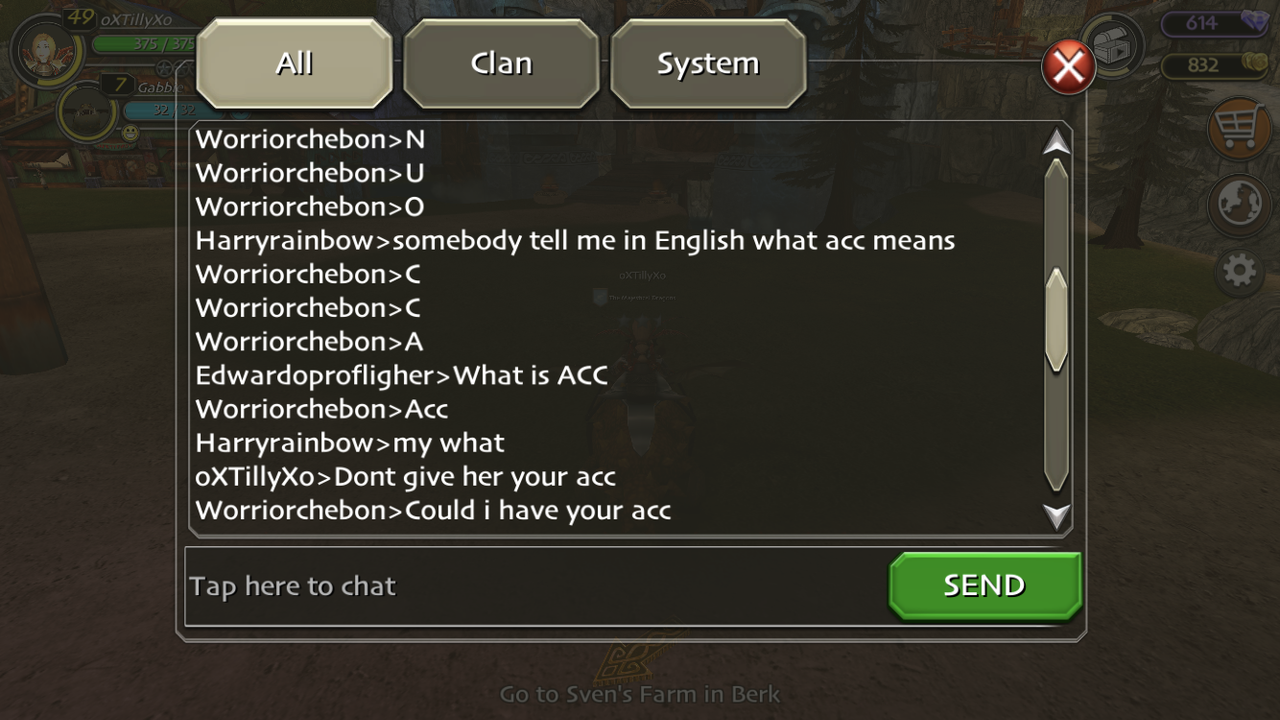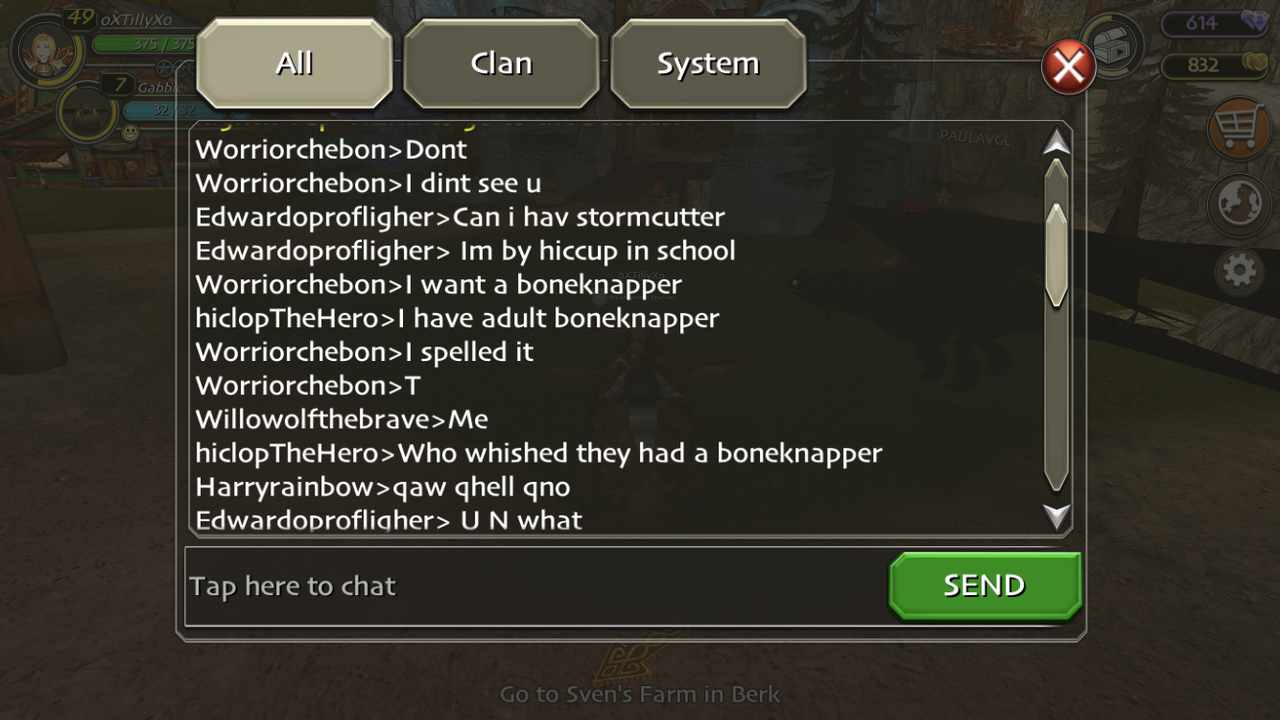 5.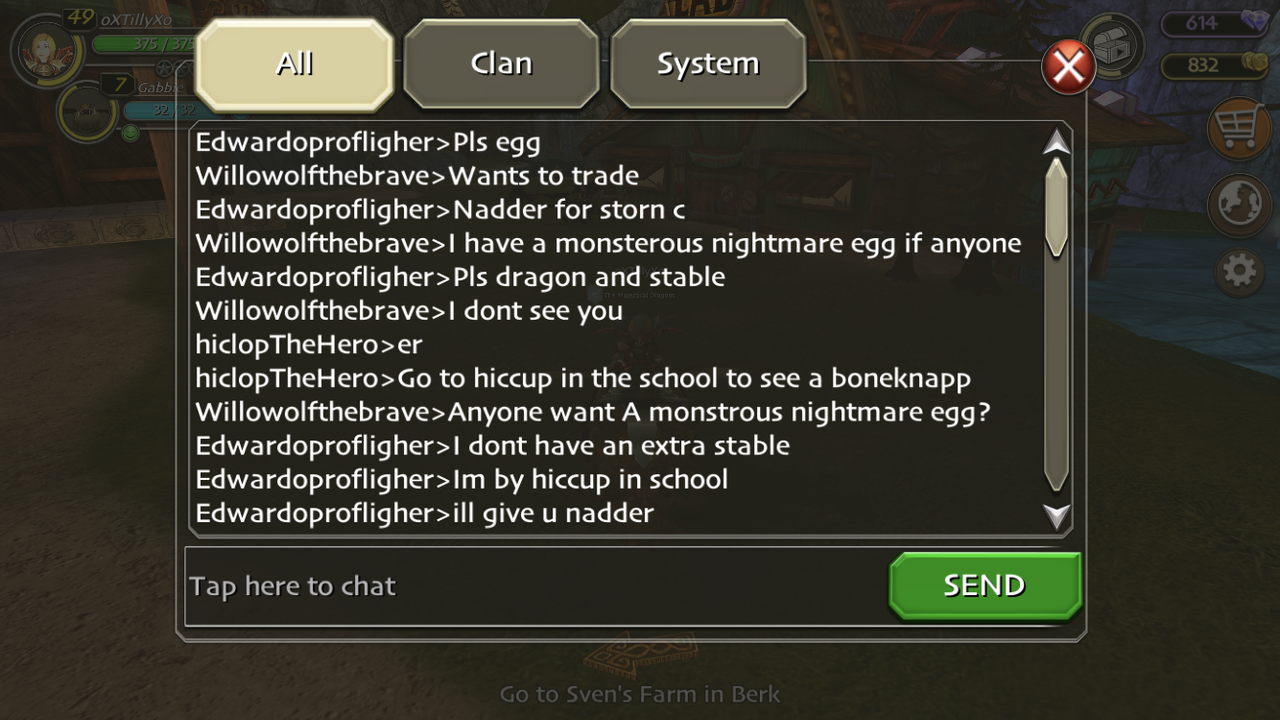 Tue, 05/28/2019 - 07:46
#1
~My coat wont keep me warm anymore~
She doesnt need to be a hacker if those other players are really so naive and give her the information. Its a typicall trick that ppl use to harm others or steal the account of them. If they dont listen they gona find it out in the hard way. You could send this to Brynjolf in a pm.
Tue, 05/28/2019 - 12:09
#3
Wiggles the whispering d.eath ate my subject.
Deleated because apparently despite the question mark on the word Hacker in the title answers on that are not welcome.
Tue, 05/28/2019 - 12:11
#5
Wiggles the whispering d.eath ate my subject.
No one is making an excuse for this person. Scamming people is awful regardless. Just because someone says they don't think something is hacking does not mean they are saying what the person did is ok. They just disagree with the word used to describe it.
Also, you do not offend me. You do however confuse me.
Tue, 05/28/2019 - 11:34
#7
~
I don't think that asking people for personal info counts as hacking.
Tue, 05/28/2019 - 12:07
#9
Wiggles the whispering d.eath ate my subject.
Wait....you made a thread titled Hacker? Suggesting you're not sure whether it's a hacker or not with the question mark and yet when people answer the implyed question you tell them that their opinion is not needed or helpful in any way?
And you say you didn't make this thread for people to agree and disagree with each other?
Don't you think that's a little bit of a mixed message?
Tue, 05/28/2019 - 12:23
#11
Wiggles the whispering d.eath ate my subject.
Me taking this too closely to heart?
Instead of assuming I have some sort of vendetta or something maybe you should read over this thread again and pretend you weren't the one who wrote it. I know you don't think your wording is confusing but trust me it is. All I wanted here was to figure out why you're snapping at people when they seemed from an outsider's point of view to be giving you what you wanted. I'm not here to attack you or whatever. If you like blunt honesty I don't see why a question is so threatening.
Tue, 05/28/2019 - 12:36
#13
Wiggles the whispering d.eath ate my subject.
If you're going to put all the blame on me instead of even trying to look at it from another point of veiw this conversation is over.
Thu, 05/30/2019 - 02:50
#15
~
Well, you can believe it counts, but factually, it simply doesn't. People can just choose to say 'no' when someone asks for their info. Scamming- sure, there was definitely an attempt to scam someone, but in no way this can actually be considered hacking.
You are actually coming across as rude. If you didn't want comments you personally 'didn't need', you should have clarified that you only want comments from people who agree with you in the OP.
PS: Publically accusing someone like this is pretty uhh... silly... There's a report button in-game.
Thu, 05/30/2019 - 14:47
#17
~
Wait, what? I haven't received a single PM from you regarding this.
Thu, 05/30/2019 - 15:49
#19
~
Sorry, what? You were clearly replying to me, so I replied back. How am I not part of a conversation between us?
Fri, 05/31/2019 - 02:10
#21
~
Check the reply chain. That we had a conversation and someone else also wanted a say in it doesn't mean the original conversation between us didn't happen.
Fri, 05/31/2019 - 04:19
#23
~
I think you're misunderstanding. I'm just surprised that I'm not part of a conversation I'm in because of something unrelated. I'm not offended, I just find it weird how that works. I'll just steer clear of talking to you next time, no worries.
Fri, 05/31/2019 - 10:53
#25
~
Look, when two people are talking, and someone else has a say in it as well, that doesn't mean that the original conversation never happened.
I was replying to you. Not to Hypergoof, not to your replies to Hypergoof, but to your reply to my comment. Whatever you talked about with them has nothing to do with me. But like I said, don't worry about it.
Fri, 05/31/2019 - 11:04
#31
Wiggles the whispering d.eath ate my subject.
I think I might see the confusion here? Sorry if this isn't right? Just trying to help sort things out. If it doesn't turn out helpful I'll just leave again.
Varku and I are separate people. Any agreement you made with me doesn't necessarily apply to Varku even if the conversation is about a very similar topic. It doesn't matter if most of my posts happened under hers ether. We're not partnered in any way and just happened to have been confused over the same topic. I think what might be confusing Varku here is that you brought up your and my conversation when Varku was not actually involved. Just because one person has gone through the whole discussion does not mean someone else can't think they might have something else to add or that they might want to add their two cents. It can be a bore to try to have the same conversation twice but it can happen sometimes in a situation like this. (Not that you can't just refuse to take part or anything but still)
Tue, 05/28/2019 - 12:33
#33
Hey Tilly! :)
Hiya Tilly!
I know you private messaged me about this player. I was wondering though, did you manage to take a look at the profile of that person? It would help to know if they had any hacked items or dragons, because that way we can know for sure if they have hacked. Thank you for posting this though, I'll keep an eye open for that player. :)
Tue, 05/28/2019 - 16:15
#35
Don't worry, I won't attack you XD
That's okay. But I will keep the player's name in mind as I check the chat every once in a while. :)
Same here! I hope that we can find and check the player's profile to see if they have any hacked dragons. If they have a Golden Toothless...it kinda gives the player away XD
Thu, 05/30/2019 - 05:15
#37
"We're Vikings. It's an occupational hazard." - Hiccup
So, I don't know how the hackers do it, they manage to find ways to change their Toothless' color. If the player's a hacker they know ways to get Toothless turned golden, or any other random color pattern. THey looks really messed up. If you find a messed up Night Fury color, then quickly click on the person's profile and see if they have any more hacked dragons or items. :)
Tue, 05/28/2019 - 12:43
#39
*Grabs popcorns*
*Grabs popcorns intensifies*
Tue, 05/28/2019 - 15:30
#41
Tue, 05/28/2019 - 15:09
#46
* BOOM BOOM *
Thanks for the warning I will help watch out for this person!