Glide through NEW Flight Club Levels!
Put on your best flightsuit and head on over to the latest Flight Club levels!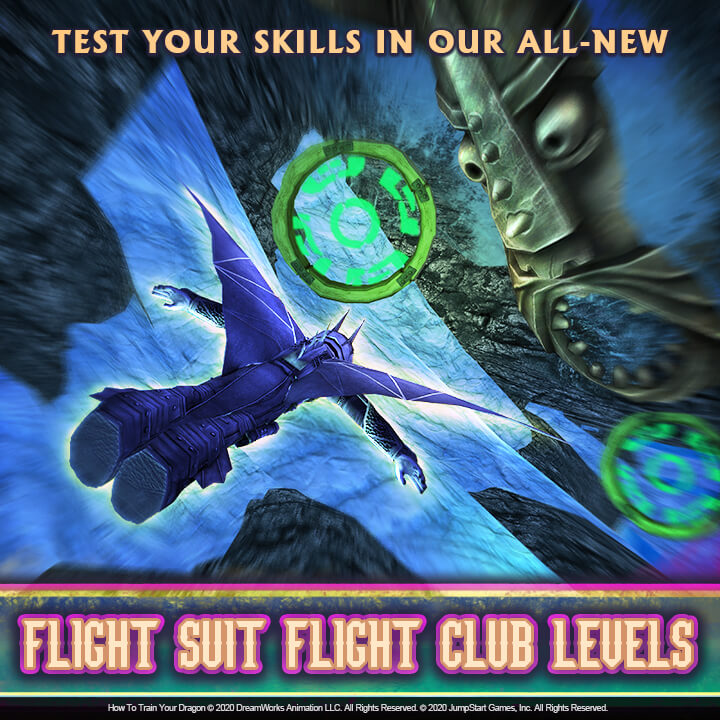 Everyone on campus knows how much Hiccup loves flying alongside Toothless and wanted to share that feeling with all Vikings. However, he knew not all Vikings had the experience needed so him and Fishlegs got working and have created new Flight Club levels! These levels will allow Vikings to glide through the skies and perfect their skills before venturing out into the campus.
Get your skills in tip-top shape and start practicing! Head on over to campus and see how fast you can complete the levels, don't forget to share your time below!
Fri, 05/15/2020 - 15:56
#6
*burps*
Oh my gosh, what a super cute idea! I love this!
Great job you guys. You've been putting so many new features into the game this year & I really appreciate your hard work. My Zapplejack is just precious & I'm so hyped for the other one, if the rumors I've heard about the next hybrid are true. All the items are great as well! I love the purple/yellow colour theme you guys picked this year. One of my favourite combos!
I hope this is somehow adapted as a racing option! Like, I adore dragon racing, but flight suit racing would be so much fun! I think a neat trap could be tossing eels at each other, depending on how many we had in our inventory. That'd give eels a cool new purpose. Maybe our speedboosts could be gusts of wind, or maybe a like... one of the nighlights comes and helps propel you farther or something? The gas trap & red boxes seem like they'd carry over well enough! Man, that'd be so fun.