Gif Banner Tutorial!
I have no idea where to put this, but some people are asking me how or where I made my banners. So I want to make a tutorial for those who are out of the loop.
GifCam
First of all, you need GifCam! There are probably other methods, but GifCam is by far the easiest and free-est program for making gifs out there.
Download link: Here
Offical website: Here
Using GifCam is a breeze. It allows you to record gifs live at whatever size you want. You can even edit the recorded gif with it afterwords to some extent, though I prefer to use Photoshop.
Recording
So now that you have GifCam, boot up the game and figure out what you want to record. Recording your dragon flying is always cool, though it can be tricky since you're moving. Just make sure you're in a wide open area. Keep in mind what's behind you. You can get some really cool shots with this game in the right areas!
Don't forget that hold+right click is how you change the camera view and the middle mouse button can be used to zoom out.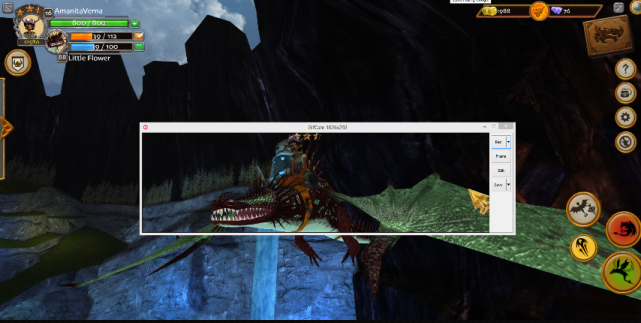 You can choose what size you want your banner to be right from the beginning, but I prefer to make it a little too big so that I have room to edit and resize. Once you've planned out and rehearsed what you want to do, simply click record. Don't worry about the timing. You can delete frames later. Don't make the gif too long, because then it'll be a huge file and you'll have trouble opening it later. Press stop when you're done recording. Don't forget to save!
This would be where I start using Photoshop. For people who don't have it / can't get it, GifCam itself offers minimal editing features. Also I believe there are Gif editing websites out there that can help. Keep in mind that using these websites can cause your Gif quality to lessen every time it's reprocessed.
Photoshop
For those who do have Photoshop, this is the fun part! (note: I have Photoshop CS4 and some features on older and newer versions may be different/nonexistant). Open Photoshop and click on File and then go down to Import. From there click on Video Frames to Layers... (Note: the 64-bit version of Photoshop does not have this. You need the 32-bit version.) Enter "*" as the file name. This will allow you to select gifs. Locate your gif and open it.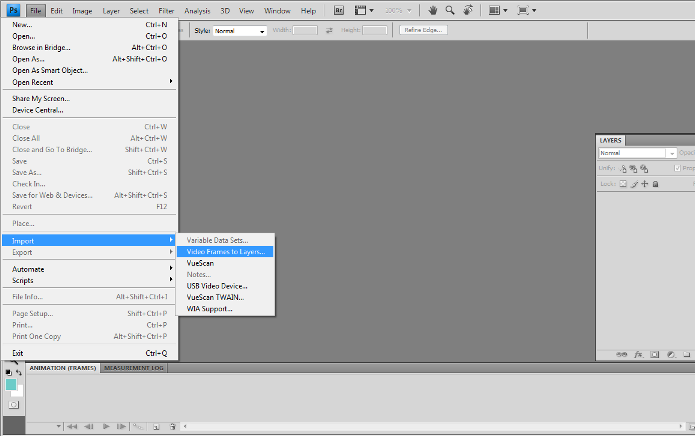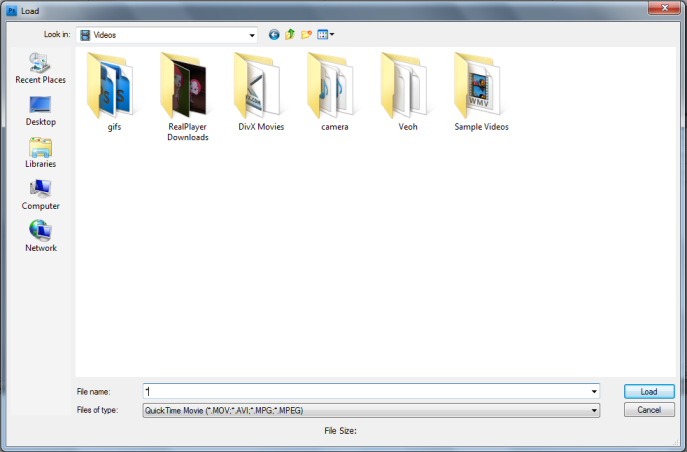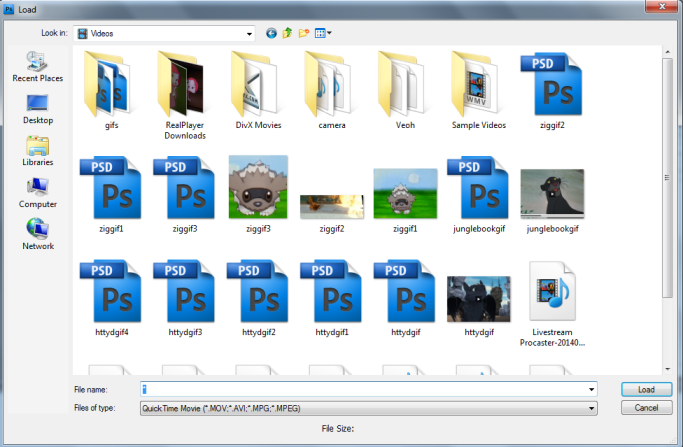 Click okay for the default options. If the animation tab doesn't open automatically and show all the frames, go to Window and click Animation. You will then see all of your frames. There's a lot! Probably too many to keep all of them. Trash the ones you immediately know you don't want by Shift+clicking them all in a group. Then go to the button on the top right corner of the animation tab and delete them.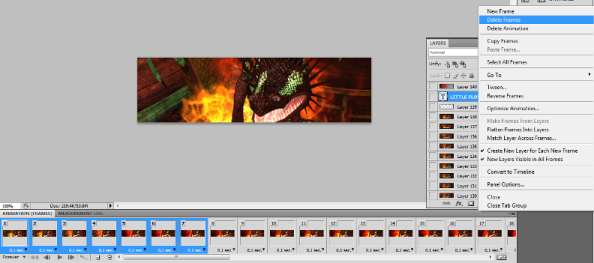 It is not suggested that you make the animation any more than 60 frames long, because that's going to wind up being a pretty large gif file. If you want a longer animation, you will have to lower the size of the entire image. In the end, try to keep the finished gif no larger than 3 mb. But we can worry about that later.
I try to make my gifs look like they're looping. Since all of the animations in the game loop, this isn't difficult. Just try to find a frame that is almost identical to the first one. Try to make it easy for yourself. If your dragon ducks its head suddenly, start from there and find another frame where it ducks its head again. Click from the first from to that frame to make sure they're the same. Delete all frames before and after those moments. After that, delete either the first or last frame so they're no duplicates. The loop needs to look seamless. Don't worry about the backgrounds, there's nothing you can do about that.
Editing
Now you can start editing if you want! Crop the image if necessary using the Crop Tool. Remember that the bigger it is, the larger the file will be.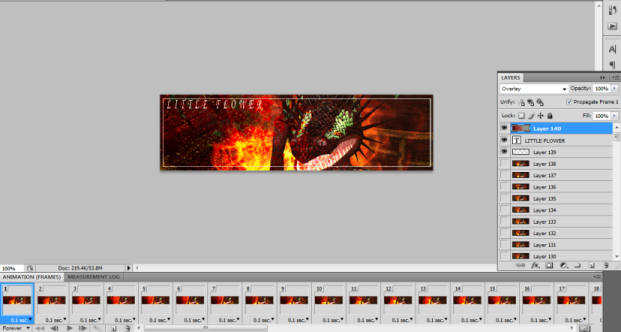 Make sure all added things are put in a layer above all of the frames. Also make sure that the first frame in the animation tab is selected. I added a 1 pixel white border around mine and some pretty little text. After that I threw on a texture I found online and put it in a new layer with Overlay as the blending mode. If the texture or pattern is too strong or the wrong color, you can lower the opacity or adjust the colors with Image > Adjustments > Selective Color. You can also play with anything else in the Adjustments and Filter tab. Go crazy!
One you're finished and happy, go to File > Save for Web and Devices... This is important. This is how make sure your gif file will not be too big. It will show you in the bottom left corner how big your file will be so far. If it's a huge number like 6M or higher, you need to go back and either resize the image or shorten the length of the animation. 5M and under can be worked with. The easiest way to lower the file size is by lowering the amount of colors. This will obviously lower the gif's quality. You can compare the original gif to the edited gif. If you're not happy with the lower quality gif, go back and resize it. I had to resize my original banners to 75% before they were a small enough size. Bigger isn't always better in this case, especially since the signatures on this forum get cut off if they're too long.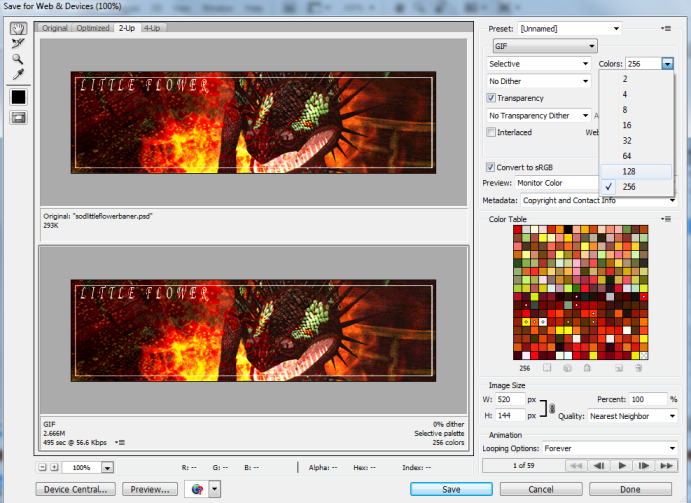 Once you're all done with that, save! Upload the final gif to Photobucket or whatever and slap it on your signature! Note that if it takes a very long time to load up to your signature, it might be too large a file.
Anyway! Hope this tutorial helps. Came out a little longer than I planned, but I made this for people who just don't know what to do to make themselves some really cool banners of their dragons. Happy flying, guys!
Sun, 10/04/2015 - 12:26
#6
My GIF Image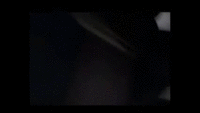 I guess I found out how to....make it...but not using photoshop I just watched
https://www.youtube.com/watch?v=YiD2jZkXdqk
But if you have a way easier to do it instead using photoshop, I'll be glad...
I used OBS and convert the FLV file to mp4 and then used Windows Live Movie Maker and
http://gickr.com/
But anyway thank you so much!