Get Rewards With The Help of a Candy Sale!
Vikings who are close to their dream Dreadfall reward can get a boost with the latest sale on all candy at the Trading Post!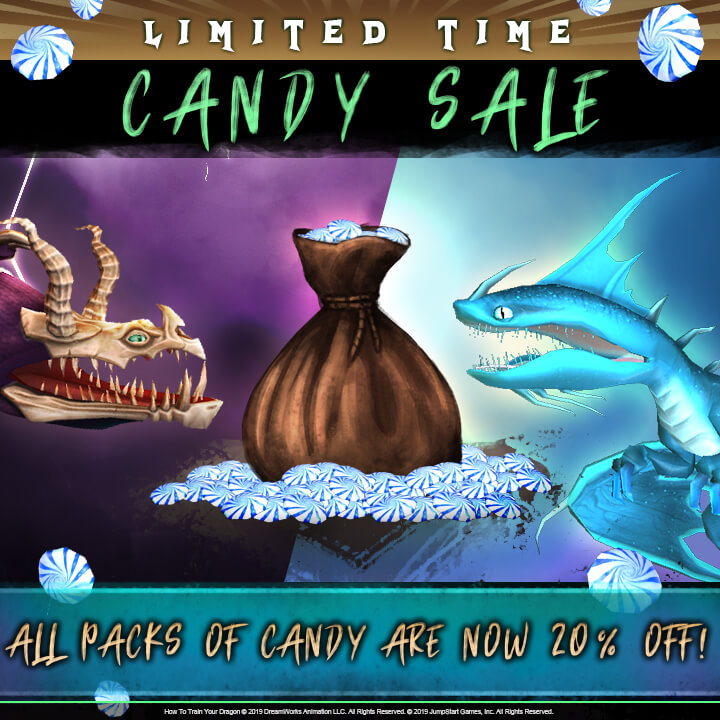 With Dreadfall in its final days, Vikings have been endlessly collecting candy throughout the maze, quests, and Dragon Tactics… they are EVERYWHERE in hopes of gaining their last rewards. With Hiccup seeing the determination in Vikings, he has decided to place a limited-time sale on all candy!
That's right! Vikings will have one last chance to gather more candy for their favorite rewards. The top rewards to take advantage of this season are:
2.
Flightmare Flight Suit
3.
Light Fury Legendary Sword
Candy has never been more valuable than during these last 4 days of Dreadfall!
Vikings who are uncertain will not have long to decide, for the sale will only last a short time. Vikings can head to the Trading Post for some final treats! Remember, Dreadfall rewards are limited-time so hurry before time runs out!
Thu, 11/07/2019 - 13:47
#1
I want a spaghetti hat
I'm sorta sad I payed for candies like four days before they went on sale but oh well.
Fri, 11/08/2019 - 01:11
#2
~
Good luck to the people still working on those candies!
Fri, 11/08/2019 - 05:50
#3
Heh.
Thanks. I'm gonna need it (or a glitch that magically gives me about 3500 candies... :P XD).