Get a Little Thankful With LIMITED-TIME Sales!
As you continue your adventures, you definitely don't want to miss out on these greatest deals! Gear up for our latest promotion at Johann's Trading Post!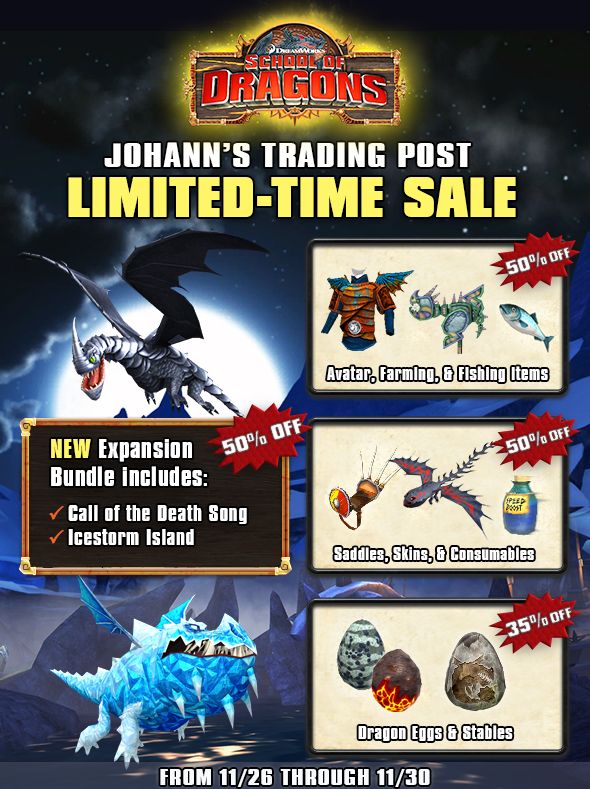 You've been saving up your gems to get a new Viking Armor, and you're debating on what to get next to boost your racing performance or to fly around campus or Berk with a new look. Maybe you're in the mood to get adventurous with farming, or you really want that composter to clean up your yard.

Your dragons are hungry for more of the sneakier fish, and you could really go for a new fishing rod to boost your fishing skills. Or maybe instead you have your eyes set on getting your dragons some new saddles or skins upgrades. So many options to choose, and only so many gems! What do you do? Looks like this Black Friday sale just might do the help you out!

Through this weekend, you can start splurging and take advantage of this weekend sale on:

· 50% off avatar, farming & fishing items
· 50% off dragon saddles, skins & consumables
· 35% off dragon eggs & stables

But wait, that's not all! Are you yearning to help your fellow Vikings out with the Call of the Death Song or have you been itching to explore the Icestorm Island--but you just haven't yet? Well, you're in luck! Because along with these delicious discounts, we'll be releasing a new expansion bundle that includes BOTH expansions for HALF-OFF of its base price! LIMITED TIME only, before it bundles up to a regular price of 2250 gems!

So if you haven't already, now you can go try out your new items on the latest expansion pack adventures! Come on down to the Trading Post before it's too late! http://smarturl.it/SoDBlackFriSale
Sun, 11/29/2015 - 23:13
#1
Wow! Thanks! I might pick up
Wow! Thanks! I might pick up a new dragon egg or something tomorrow.
Mon, 11/30/2015 - 02:03
#2
(.....)
Brynjolf, your announcements are very late. :P
But, yeah, I would like to give a bigger thanks to the SoD Team to bring this huge limited time discount sale!
I am very, very greatful for this! :D
Since this discount sale has arrived in the store. I am finally able to purchase my second most FAVORITE DRAGON IN THE SERIES!!!!! SNAPTRAPPERS!!!!!!! 8D <3
I've been so desperate - willing to get one, and finally did it!!!! XDDD :D :D :D
THANK YOU THANK YOU THANK YOU THANK YOU THANK YOU THANK YOU THANK YOU SO MUCH!! (You guys couldn't imagine how HAPPY I am right now!!! <:D)