*Gasp* No Spam?
Anybody else appreciate our first weekend without forum spam in Odin knows how long? Many thanks to the Admins if you're the reason the why.
__________________
Sun, 11/18/2018 - 12:27
#1
I noticed!
Wonder what they did? Maybe something new for new accounts?
__________________
! ! ! ! ! ! ! !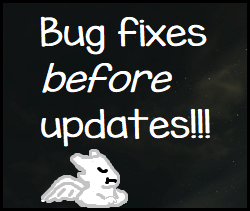 ! ! ! ! ! ! ! !
Dragons:
Rivu (Starter)- female Titan Monsterous Nightmare (50) ll Nasail- male Titan Monsterous Nightmare (47) ll Fioled- female Adult Monsterous Nightmare (19) ll Fellous- male Adult Monsterous Nightmare (13)
Deniz- male Titan Scauldron (50)
Halvard- male Titan Whispering Death (50) ll Terra- female Adult Whispering Death (34) ll Azibo- male Adult Whispering Death (15) ll Rosey- female Adult Whispering Death (13)
Glacia- female Adult Groncicle (40) ll Icelee- male Adult Groncicle (35) ll Frostbite- female Adult Groncicle (17) ll Iceland- male Adult Groncicle (14)
Hagedorn- male Titan Deadly Nadder (50) ll Tuija- female Adult Deadly Nadder (19) ll Eiche- male Adult Deadly Nadder (14) ll Buckthorn- female Adult Deady Nadder (12)
Rain and Cloud- female Titan Hideous Zippleback (45) ll Thump and Wallop- male Adult Hideous Zippleback (19) ll Twist and Turn- female Adult Hideous Zippleback (14) ll Snare and Trap- male Adult Hideous Zippleback (13)
Solveig- male Titan Gronckle (37) ll Avanti- female Adult Gronckle (19) ll Anaru- male Adult Gronckle (14) ll Drusilla - female Adult Gronckle (11)
Toothless (3-month skin) (50)
Hestia- female Adult Singetail (33)
Corentine- female Adult Typhoomerang (32)
Volkan- male Adult Eruptodon (29) ll Houri- female Adult Eruptodon (14)
Nereus- male Adult Tide Glider (37) ll Tethys- female Adult Tide Glider (22)
Algar- male Adult Armorwing (18)
Sigrdrifa- female Adult Deathsong (50)
Lagi- male Titan Razorwhip (34)
Flugurite- female Adult Skrill (35)
Taima- female Adult Thunderdrum (31) ll Donar- male Adult Thunderdrum (10) ll Esen- female Teen Thunderdrum (5) ll Boran- male Baby Thunderdrum (1)
Morana- female Titan Boneknapper (39) ll Undertaker- male Teen Boneknapper (6)
Hoshi- female Adult Flightmare (30) ll Toshi- male Adult Flightmare (16)
Datura- female Adult Flame Whipper (28)
Yamanu- male Adult Changwing (21)
Elysia- female Adult Shockjaw (28)
Oseye- male Adult Hobblegrunt (28)
Sana- female Adult Fireworm Queen (14)
Beowulf- male Adult Sweet Death (13)
Gavina- female Adult Smothering Smokebreath (12) ll Mack- male Baby Smothering Smokebreath (2)
Horus- male Adult Sand Wraith (19) ll Bast- female Adult Sand Wraith (10)
Elfriede- female Adult Scuttleclaw (10)
Vilhelm- male Adult Triple Stryke (10) ll Alfdis- female Adult Triple Stryke (10)
Gerda- female Adult Elder Sentinel (9)
Cahal- male Adult Raincutter (11) ll Yanyu- female Teen Raincutter (8)
Light Fury (10)
Thanatos- male Adult Deathgripper (9)
Cattibrie- female Teen Snafflefang (5)
Who's online
There are currently 12 users and 95 guests online.