FUSION DRAGONS?
I am not convinced by the fusions of dragons and that they pass them off as new species. However I have created MY FIRST FUSION OF DRAGONS ..
Because my brain want try. I hope you like it.
Zippleback + Triple Attack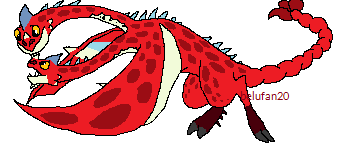 Wed, 01/16/2019 - 13:09
#1
Awesome..
Man that would be terrifying to encounter on your journeys... Just... two heads with three tails...... Looks awesome tho!
Wed, 01/16/2019 - 22:17
#2
Hi! :)
I like it looks really cool! :)
Thu, 01/17/2019 - 15:44
#3