Foxy Thoughts | What makes a dragon untrainable?
"With patience, any dragon can be trained."
This is my statement to the dragons of the Httyd world, from the biggest and badest to the ones who just want a little attention - or so I hoped. Turns out, not all dragons are trainable no matter how much I want them to be. Notable dragons in the 'no train' category are the Smothering Smokebreath & the Snow Wraith, but what I'm wondering is why. Why can't these legendary beasts be trained?
Now before anyone goes quoting Hiccup on his training skills, just remember Season 3 : Episode 13 - Defenders of the Wing part 1.
Heather: "So Hiccup can really train any dragon?"
Astrid: "Well sort of. Everything except Whispering Deaths, Changewings -"
Hiccup: "And Speed Stingers."
To that quote, I say ha! Look no further than this picture right here.
Groundsplitter seems pretty calm to me. Way to go Alvin!
Then we have this precious gem.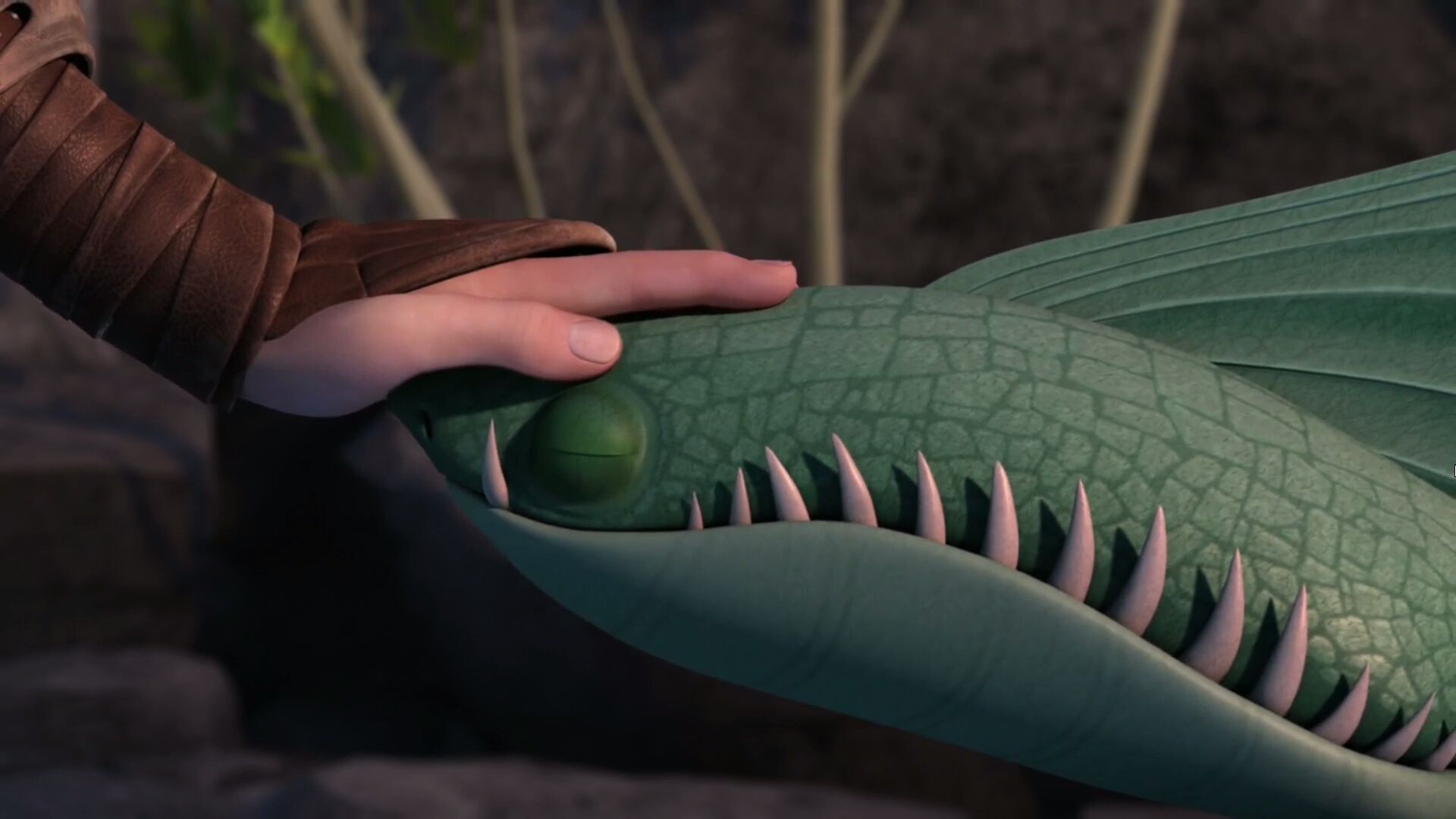 No Speed Stingers eh?
Then take the Deathsong. Sure, the adult Deathsong was a unruly, but then came this little guy, who was trained by song.
Technically speaking, it's possible that one could train a Deathsong by singing a perfect tune.
Of course, there is a difference between bonding and being able to actually ride it. There are cases of an agreement, as with Hiccup and the Legendary Skrill.
While the Skrill was now in an agreement, that didn't mean Hiccup could get a ride anytime soon as the Skrill preferred to be free rather than in the presence of more humans - understandably.
So again, why can't every dragon be trained? I'm sure that in cases like the Skrill, with time, the dragon could be trained by the more experienced dragon riders. Wouldn't this be true with dragons like the Snow Wraith and Smokebreath, if one could find that special spark like with the Deathsong?
Mon, 05/01/2017 - 08:55
#2
Trainability
Do I have enough time to comment on this? ...I have time to comment on this. XD
What makes an animal trainable? Well, any animal can have habits trained into it in a controlled environment, but that doesn't mean it can form a bond with a human trainer, which is most likely what is being referred to here. And there are two positions necessary for that to happen:
1) The animal must be social. Most dragons, we see, are social creatures. This is required so they can form social bonds.
2) They must be able to empathize with humans. In other words, they must be able to see humans as just as much potential friends as members of their own species. It's similar to what humans feel toward their pets. We see pets as friends despite being different species, and for there to be a bond between you, the feeling must be mutual.
Now with the Astrid's and Hiccup's statements of what dragons Hiccup couldn't train...those were dragons that Hiccup couldn't train. (And in fact the statement of him not training Changewings is only half-true; he did train a Changewing named Phantom in on of the Dragons: Riders of Berk comics, but he had quite a bit of trouble and could never manage to train her to be ridden. They more...came to an understanding. In fact, for the first half the comic, everyone was trying to convince him that Phantom was completely untrainable. Anyway...) Hiccup can't train a Whispering Death, Changewing, or Speed Stinger if he's dropped in a pit with them. But that doesn't mean he can't train them under special circumstances or that other people can't train them. And Skrills? The website calls them "nearly untrainable" but "nearly" is not "completely." More like "this is one of the most difficult dragons to train, and we highly discourage you from trying."
The only dragons completely written off are the ones you mentioned: the Snow Wraith and the Smothering Smokebreath.
Now there is a canon reason given for why the Snow Wraith is untrainable. To quote the official online RTTE map:
"[Snow Wraiths] are solitary creatures, with a dangerous and reclusive temperament that prevents them from forming any relationships with humans and dragons alike. Unlike most other species, these dragons are untrainable."
They are untrainable because they are solitary and don't form relationships. If they are unable to form relationships, they are unable to form bonds.
But the Snow Wraiths in "Snow Way Out" rescued the unconscious one correct? Yes, when I saw this episode, it irked me because this came into direct conflict with this statement. But we learn later from Rise of Berk that these three Snow Wraiths are siblings. It may be that, while they do not form new relationships, they do form relationships with their birth family. Does that mean a Snow Wraith could be trained if it was raised from an egg? Well...maybe, but we know they survive on their own just fine, and if they have problems forming relationships with other dragons, humans are a huge stretch. They might not ever be able to equate humans with their own kind at any point in time, even as babies. The only way I think you could really overcome this is if it never is exposed to other Snow Wraiths its whole young life, and even then, will that bond hold long enough to keep it from wandering off on its own when not hibernating? I don't think so.
And that is why my main dragon is not a Snow Wraith. Otherwise, she would have been. But I've always stuck to canon; it just feels like the most respectful thing to do in a franchise. If the Snow Wraith is untrainable, I won't go against that. (Besides, having to go without your dragon for 3 months while its hibernating sounds inconvenient the more I think about it. I think I made the right choice.)
So what about Smothering Smokebreaths? Well, we only know they're untrainable because of a throwaway line in the show, so we don't know why they're untrainable (and up until that episode, I assumed they were). These are highly social creatures, so social bonds shouldn't be a problem. But are described as very introverted, which is an odd word to use for a creature that clearly always moves in groups. It may be that this refers to its position with humans and other dragon species. It's clearly fearful of other dragon species, so much so that it builds its strong nest to defend against them. It may be that, like the Snow Wraith, Smothering Smokebreaths just have trouble being able to equate humans (and potentially other dragons) as being worthy of the same friendship it shares with its own kind. Again, you might be able to overcome this with a hatchling if you keep it separated from other Smokebreaths, but in this case, not letting a highly social animal grow up among its own kind can have terrible mental repercussions. (That's why people tell you to have your puppies and kittens properly socialized.) Separating a baby Smokebreath from its own kind for its entire young life can turn into its own form of cruelty. So...untrainable.
And actually, I disagree on the Death Song being "shown" to be trained. The Dragon Riders never "trained" Garffiljorg. They just cared for him for a time. They never trained him not to eat what he wanted to eat (hence him continuing to try to eat Chicken) and they never got him to listen to their commands; they only "managed" him by trying to shut him up by singing. And there's no telling whether or not this "bond" would have held; the website claims the Death Song a solitary creature, and SoD says they don't care for their own young. Garf is adopted by an adult when he has the right song, but the adult will probably get rid of Garf as soon as he's old enough to care for himself. A parental bond is not the same thing as a friend bond.
Though they've not been stated outright as being untrainable, my personal headcanon is that the Slithersong (including the Death Song subspecies) belongs on the list of untrainable dragons due to its solitary nature, the impossibility in the requirements to keep one (one cannot physically constantly sing - that's why Garf had to go), and the fact that it does not bond very well, if at all, with fellow adults.
But who knows? The franchise may go back on its word on any of these dragons. The Skrill and Speed Stinger were both labeled as untrainable due to their high human aggression, but the TV show - the very ones who first stated that - has since revoked that rule for both of them. They may one day revoke the untrainable status on the Smokebreath and Snow Wraith and may show the Death Song actually being trainable.
One thing we can always be sure of in this fandom: canon is never consistent. XD
(Oh, gosh, I spent twice as much time as I meant to on this! Eek! I have to get back to studying!)