Flying into School ALL-NEW Helmets!
After a prank gone right, these NEW winged helmets have made their way to the shelves of the Trading Post where Vikings can now take one home!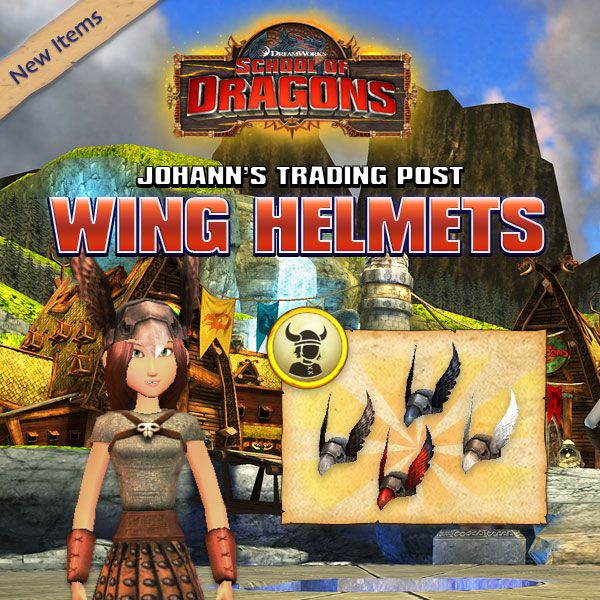 Tuffnut and Ruffnut had been pranking each other nonstop throughout the week, so it was no surprise when Ruffnut was spotted with chicken feathers on her head. Used to the twin's antics no one thought to let her know, assuming it was just another one of the twins' shenanigans.
It wasn't until right before dinner that one of the younger vikings on campus complimented Ruff on her great fashion sense. Hearing this Tuff burst into laughter and promptly explained the prank to his twin. However, Ruff was not one to be dissuaded and insisted that she thought it to be a great looking helmet.
She decided to ask for Heather's help and between the two of them they created this colorful and more appealing winged helmet! Vikings were slightly apprehensive, but once they saw the helmet up close they too took a liking to it.
Don't wait too long and make your way to the Trading Post to get your very own Wing Helmets!
Tue, 04/11/2017 - 08:38
#1
In game i am known as Hannah the Wise
Yea the red helmet looks like a Phoenix while the black and white ones look like ravens-the beak makes it look a little like one of those docters masks' in the Beauty and the Beast movie,but they are still cool looking :)
Tue, 04/11/2017 - 14:01
#2
They're amazing
They're amazing, thank you so much! *-*
Tue, 04/11/2017 - 14:07
#3
M'um m'aloo!
well
with those wings they sure did
fly
into the School
...
I'm not even sorry.
Anyways they're awesome guys! I love 'em! :D
-Squiid