Fly in style with the Crimson Goregutter Hero Skin!
The Crimson Goregutter is already striking on its own but Vikings can now add a unique touch to their outer appearance with their very own Hero Skin!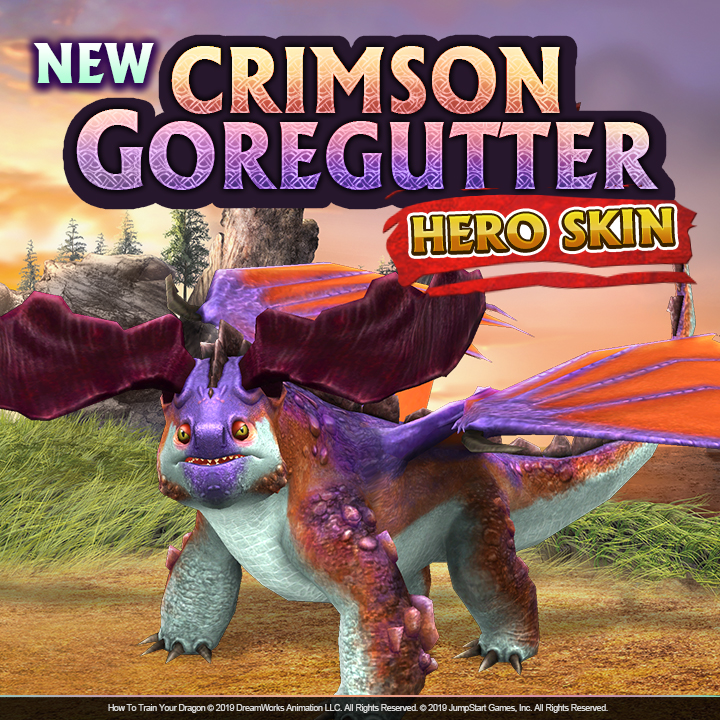 Hero's aren't born, they're made! With the brand-new Crimson Goregutter Skin Vikings will feel unstoppable as it reflects the mighty personality all Crimson Goregutters have. We have all been witness to the protective actions they'll take when someone they care about is in danger. Standing up for what you care for is what heroes are made of and the Hero Skin is sure to complement both the dragon and rider.
By adding a new skin to a dragon, Vikings will rush to mount and fly just to flaunt these vibrant colors in the sky. The Crimson Goregutter Hero Skin is the latest addition of dragon skins at the Trading Post but there are plenty more to choose from.
Radiate the sky with a vivid orange and purple skin on the Crimson Goregutter! Wear the skin that was made to be worn by a Hero!
Tue, 04/09/2019 - 12:54
#3
...
Not to be rude or anything but I don't really see a point to this skin. It's exactly the same as the default colors when you hatch a Crimson Goregutter. Why spend 750 gems on a Crimson Goregutter egg and then another 300 on this skin when you could just leave the default colors on your Crimson Goregutter and basically have this skin? I'm a fan of most of the dragon skins but this one seems like a waste of gems to me.