Experience NEW Flight Animations with the SNOW WRAITH!
Word was that Vikings have been itchin' for the SoD team to revisit a certain Strike Class dragon accustomed to these colder climates. If you've been craving a more wintry setting for your next adventure, strike now because the Snow Wraith is back with new ANIMATION UPDATES!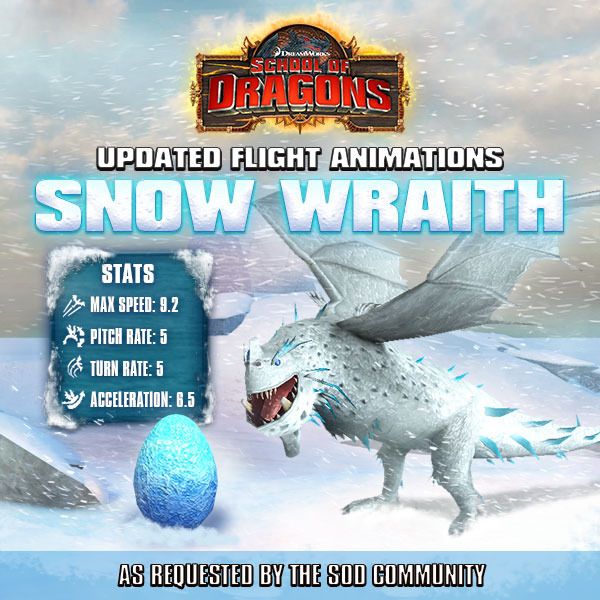 With the speed and a fierce attitude of a true stealthmaster, the Snow Wraith knows how to use its icy surroundings to its advantage. And now it's adapted to campus with a flurry of revamped animations fit for this highly-esteemed member of the winter wonderlands! Taking effect immediately as all incredible updates have before, this release has already captured the attention of Vikings all around with its ability to maneuver the skies or stalk across campus eager for its next adventure!
Haven't gotten around to experiencing the loyalty of this primal Strike Class dragon? Well you definitely don't want to miss out on this latest release, so hurry onto campus now! And just as before, these animation updates won't stop with the Snow Wraith, so keep an eye out for the next dragon release that has the campus going wild for! http://smarturl.it/SnowWraithUpdate
Fri, 04/08/2016 - 10:29
#1
Amazing!
Absolutely love the animations! Thanks so much admins!
Also, what is this qa.schoolofdragons.com website? I've seen some stuff about it and I'm curious. I sent you a pm about it and also some things about farming and the tournament, just waiting for a reply! Thanks!
Edit
What happened to over level 20? Is that only for members?