Exotic Griffin
Sat, 10/13/2018 - 23:46
#52
<>
Awwwwwwwww, thank you :3 I enjoyed writing the story, I love things that remind me of... ehhh... other things? I'm so uncreative I even chose the colors of the griffin after the clothes of my favorite band member (favorite musicion in general) in the Paradise City music video lol.
He looks great! :D thanks you so much for coloring him for me! Thanks you for coloring all the griffins for me, even if, in Flockenkauz's case, I hadn't even decided on the name and backstory. Your griffins are amazing and coloring them for others is really nice!
Sat, 10/06/2018 - 07:20
#54
*mumble mumble*
Oooh, another gorgeous griffin! :D Reminds me of my OC, Parrot... Could you save me a spot, please?
.
Name: Parakeet
Backstory: Gimme a sec...
Base color:



Secondary: Third: talons: light silver
Eyes: Olive green
Beak: upper - black, lower - light silver
Tufts of ears: Face: Same as third color
Facial stripes: Same as tufts of ears
Branch?: Dunno... Artist's choice?
Sun, 10/07/2018 - 05:37
#56
*mumble mumble*
Thanks! I'll write the backstory once I get an idea for it.
.
Also... I came up with a different coloration. Sorry for being so undecided... Here it is:
.
Base color:



Secondary:



Third: talons: Grey
Eyes: Same as secondary color
Beak: Tufts of ears:
Face: Same as third color
Facial stripes: Same as base color
.
Again sorry for changing the color sheme. Hope you don't mind.
Sat, 10/13/2018 - 01:53
#57
*mumble mumble*
Alright, here's the story!
.
Parakeet and her mum were always beated by the father. He was completly different in public and everyone seemed to like him, so they were too afraid to report it to the police. One day he beated his wife so hard that she died. Parakeet had enough of it all. She murdered her dad when he was asleep and fleed from the house. She started selling her paintings on the street. That was the only thing she was good at, but it didn't earn her a lot of money. Once a famous art critique saw her creating a piece. He loved it so much that he suggested putting it in an art gallery. Now Parakeet earns millions of dollars for her work.
Sun, 10/14/2018 - 03:33
#59
*mumble mumble*
Thanks, she's perfect!
Talonted, nyehehe XD Colombo? Hey, I like the name! But I really hope she won't get arrested, she had enough to deal with as a kid...
Also thanks for the majestic Griffins! All your designs were so original!
Sorry for confusing you with the colors. But... Do you think I could actually use the original as Colombo? ;P
Thank you once again! Parrot says 'bye'!
Sat, 10/06/2018 - 05:25
#62
Thu, 10/18/2018 - 15:18
#64
Thank you for holding my spot
Thank you for holding my spot this long! Trixie says hi!
Name: Kesheth (Biblical Hebrew for rainbow/war bow)
Backstory: Spring had come to Alaska. The sun finally returned from its long months below the horizon, melting the ice and snow and coaxing the wildflowers into bloom. My bees had come out of hibernation and were out gathering nectar for honey, and Tiny was finally free to flit about outside again, rather than staying in the greenhouse underground. And, as per any spring, new life was popping up on the farm. I had hatched new chicks, guinea keets, quail, and was now experimenting with hatching peafowl and geese. Koseet (my barn griffin) had found a mate and given birth to a litter of kits, which I helped bottle-feed Bossy's milk to help them become tame. Glacia, Trixie, and I herded the reindeer back to spring pastures to graze and have their own calves, but something wasn't right. Glacia liked her work helping me out on the farm, but she wasn't happy. She had no mate of her own. Several promising young male snowy griffins had brought her wolves, small bears, and caribou as prey, but she rejected them all. She was too sad about having lost her mate in the winter prior. You see, she had befriended a gorgeous black male griffin and even had a litter of youngun's with him, but he fell to a grizzly bear that was after my reindeer during a blizzard back in January. I had buried him on one of the hills overlooking the winter pastures, and Glacia would often spend hours a day laying beside his grave, grieving. I would bring her inside and try to play with her, but if I tossed her a deer bone, she wouldn't even catch it. It would bounce off her beak and hit the carpet, where Trixie would pick it up, get in the play bow postition and growl, and try to coax her to play with her. Glacia only turned her head away and stared out the frosty window at the grave site. Things were pretty bleak for her, and I wasn't sure how to help. I felt really sorry for her and tried to help, but it was getting to the point where she would even refuse her regular mealtime food. If she didn't cheer up soon, I feared she wouldn't last long, and she still had a litter of young griffins to raise. She needed another mate soon, but I wasn't sure how to help her find one. As I mentioned, she had already turned down many new suitors. Finally, one day when Glacia did nothing but mope, even to the point of neglecting her babies (not on purpose, just out of grief), I had had it.
"Glacia," I sighed, "how would you like to just get away for a while and go for a flight?" She lifted her head and gazed at me with her deep blue eyes in gratitude at my offer. I got out Tiny's wrist feeder so he could go with us (after all, he had been cooped up all winter), got Trixie's service dog vest, packed the bags with supplies and strapped it on her, and packed my backpack. I wasn't sure where to go, and was just intending on letting Glacia do the navigating. I called a native family I knew from church to arrange care for my critters while I was gone, and they were happy to help. They had noticed Glacia's grief last time they visted and were glad we were going to try to do something to help her.
We set out within the hour, with Trixie in my lap and Tiny on my hand. Glacia flew dead south towards Juneau, where the spring weather was even warmer than my town. When we got to the bustling city, we perched on the rooftops overlooking the docks, where servel ships were situated. There were colorful yachts, colossal cruise ships, and several barges carrying an assortment of supplies.
"It's a pretty sight, isn't it girl?" I asked petting her soft white feathers. She purred back and half-closed her eyes and I stroked her. Trixie sniffed the air and jumped down to the ground and sniffed the air again.
"What is it, girl?" I asked. Glacia watched the doodle closely and also sniffed the air. Trixe looked at us and barked, then took off running towards the docks. Glacia beat her wings and took off after her, staying low to the ground for some reason. Trixie stopped behind some crates near a large ship with a deep hull. Glacia landed beside her and started growling. I had no clue what the pair were sensing and dismounted, trying not to be seen. I peered over the crates and watched as two men were loading large crates onto the barge. One crate started rocking and screeching, and a claw broke through the wood. I squinted and looked and realized it was a snowy griffin! These men were poachers, and they were trying to steal Alaska's snowies! I drew my gun and motioned for Glacia to attack. She sprang from her hiding spot and swooped in over the men, screeching and clawing at them the whole time. She ripped the wooden planks off the crate with her beak, freeing the other snowy. The two of them then teamed up to cause as much confusion as possible while Trixie, Tiny, and I climbed on board the boat and went below deck. Sure enough, there were cages upon cages of griffins! Not just snowies, either; there were classic, Philippine, finger, rainforest, and other griffins! Thankfully, I didn't see any guards. I opened my backpack and pulled out my lock picking kit. Most cages I just had to unlock, and the locks were simple. As soon as they were free, they raced out of the ship to escape. My plan was to round them up later and return them to their native homes. One rainforest griffin didn't have to be unlocked, however. It was a bright, colorfuol male that resembled a lorikeet. While I was down in the ship unlocking cages, he was biting at the metal bars of his cage, and eventaully chewed right through them and bent them until he could squeeze out. He was a very self-confident fellow who did NOT appreciate the confinement of the ship. Instead of rushing above deck however, he merely puffed his chest out and let out the loudest scream I had ever heard. I turned around as the two poachers stumbled into the doorway, beaten and bruised by the flock of griffins. Glacia pushed them through the doorway, knocked them down, and pinned them with her talons. As she did, her blue eyes landed on the rainforest griffin. He cocked his head and looked at her back, then in an attempt to impress her charged the two pinned men and screamed at them again, knocking poor Trixie and Tiny for a loop! Long story short, the two griffins fell in love. I turned the poachers over to authorities, rounded up the wild griffins, and was going to fly them home to be returned to their lands. As I did so, I noticed the male rainforest griffin didn't want to leave my farm. He and Glacia would lay around in the barn, preening each other's feathers, and I smiled at their newfound love. I named him Kesheth, which means both rainbow (for his colors) and war bow (for his spirited personality).
Base color: Dark green from color scheme below
Secondary: Same orange in color scheme
Third: The yellow
talons: Same grey as in pic
Eyes: The middle green, please
Beak same orange as below
Tufts of ears: the middle green in the color scheme
Face: Same blue as below
Facial stripes: None, please
Optional:
Branch? yes
Fri, 10/19/2018 - 06:04
#66
Sure thing! Here's the pic
Sure thing! Here's the pic with the colors: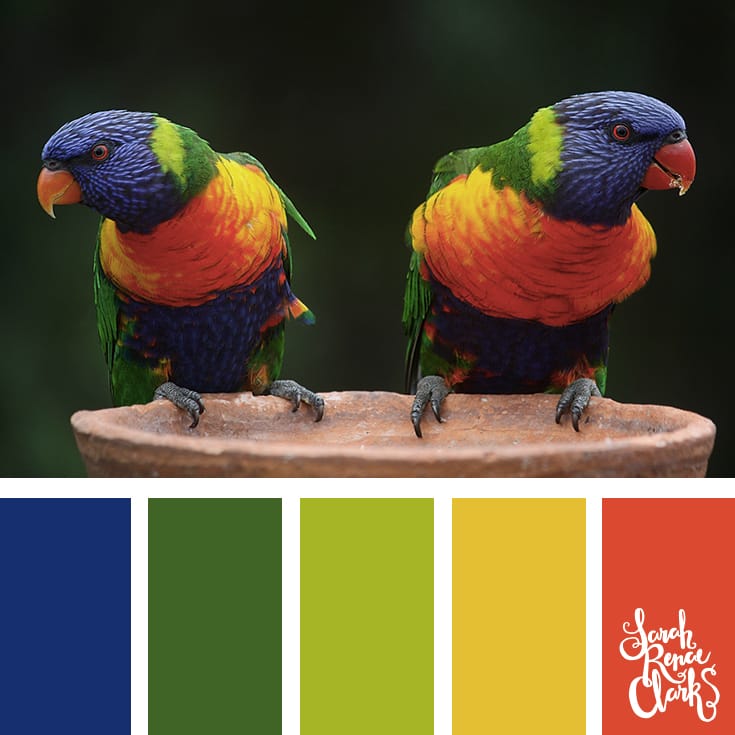 Thank you so much for making these adoptables! I loved writing the stories for them!
Update: Kesheth and Glacia are doing well. The kits have adopted him as their new stepfather and he loves to let them play on him. Also, they have had kits of their own now that get along well with the snowy kits. They are very cute little fluffballs in every color of the rainbow! Some of them resemble owls, and some have the parrot-like characteristics of their father. There is even one little kit that is black with rainbow feathers. Although Glacia and Kesheth are good parents (biological and adopted alike), this little boy reminds Glacia of her lost love and she pampers him. I named him Nehemiah, which means "God has comforted," since Glacia is happy again. The other kits are growing up just as nicely and get along well with my other farm critters. I returned the other griffins rescued to their native homelands, but kept one little female finger griffin that fell for Tiny and named her Jewel. I hope to someday add a classic and Philippine griffin to my flock, but I'll wait until you open up adoptions later.
I look forward to seeing your fan dragons! You have really inspired me with your animals. I developed my own historical fantasy idea some years ago but haven't really worked on it, and your griffins have inspired me to keep working on it. Maybe I'll have adoptables of my own soon!
Tue, 10/23/2018 - 13:26
#68
Thank you so much! I love
Thank you so much! I love both versions of him! I'm actually going to keep your first picture as the real Kesheth, and give this one to my sister.
Yes, I do plan on doing adoptables. I'm currently developing my own griffin species and other fantasy animals for my fantasy world I created, I just don't know which set of animals I'm going to go with first!
Sat, 10/06/2018 - 07:08
#70
Can I request one with a
Can I request one with a random color design, please? Im gonna name him Cracker!
Sat, 10/06/2018 - 07:22
#71
O.O
My Nadder's called Cracker c;
Sat, 10/06/2018 - 12:04
#72
And he's the most intelligent
And he's the most intelligent Nadder of all time ;)
I love him tho
Mon, 10/15/2018 - 12:27
#78
HES SO PRETTY I LOVE HIM I
HES SO PRETTY I LOVE HIM I JUST SAW THIS THANK YOU SO MUCH!!!!!!!!!!
Sat, 10/06/2018 - 19:15
#79
Could you save a spot? I will try post my form in a little bit!
Sun, 10/07/2018 - 18:15
#81
Here you go!  Form:   Name:
Here you go!
Form:
Name: Vipra
Backstory: I met her when I was exploring through the rainforest flying just above the trees on one of my dragons, and I heard this absolutely awful screeching noise. And I saw a brief flash of orange out of the corner of my eye and by the time I looked to see what it was, it was gone. I then saw something on limb of a tree, but darker than the leaves of the tree start to move and take off. It looked like a parrot of some sort, but it had paws also. The creature flew directly for us and then collided with us mid-air. The creature, my dragon and I plummeted and got closer and closer to the trees. My dragon recovered and was able to fly again, but I was still falling. My dragon tried to save me, but couldn't get to me before I fell into the trees. Then suddenly I landed on the back of the strange creature who had started this all, and was brought back up to my dragon, and I had remembered I found some fruit earlier and offered it to the creature. It quickly ate the fruit and then we flew together for awhile, but I figured it needed to go back to it's pandemonium, so we sort of said our goodbyes, and parted ways. I still go visit his rainforest regularly though!
Base color: (currently red): DARK green
Secondary: (Currently Yellow): Light blue
Third:(Currently blue): Orange
talons: Dark gray
Eyes: pale green
Beak (upper and lower): Lower: Dark gray (Like the example) Upper: orange
Tufts of ears: Light blue
Face (currently white): Black
Facial stripes: Pale green
Optional:
Branch? yes/no: Ok
Thanks!
Sun, 10/14/2018 - 16:46
#83
WOW! Thanks so much! He is beautiful! I have enjoyed requesting your Griffins! :D
Sun, 10/07/2018 - 17:35
#84
Form: Name:
Form:
Name: Sparrow
Backstory:
Sparrow was harched from an egg that fell into my Viking's bag while she was traveling through the jungle with her Nadder, Garnet. She found Sparrow and decided that since she had no idea when he got there, she would just care for him from then on.
Base color: Light blue
Secondary: Cream
Third: Off-White
Talons: Same as base
Eyes: Same as base
Beak (upper and lower) Same as base
Tufts of ears: Cream
Face (currently white) Same as base
Facial stripes: Light grey
Optional:
Branch? yes
Fri, 10/12/2018 - 18:26
#86
second exotic griffin
Name: Pharaoh
Backstory: Turns out my first tropical friend had a big brother! Iris seemed pretty anxious when I found her in the words. I had been in Africa on business studying griffins and dragons and how they lived together. Imagine my shock when Iris snatched me off my Philippine Griffin ShadowStorm and zipped me to a part of the forest I hadn't seen yet. Shadow and my Nadder Garenth followed us to a quicksand pit. That was when I saw the trouble. A slightly larger Exotic Griffin was stuck in the quicksand! From what I could see, he resembled the Lilcal Breasted Roller bird in terms of color. He was slightly duller than his sister, but some tropical birds had females brighter than the males. I could see he wasn't going to last much longer. So I got the dragons, a few vines, improvised a lasso and rope and managed to loop the griffin. "Easy big guy, I've got you! We're gonna get you out of there!" I called to the griffin, struggling to pull him out. He seemed to relax, realizing we were there to help. He cawed a distress signal and so did Iris. With help from Garenth and Shadow, we managed to pull out our new jaguar sized friend. Imagine my surprise when we got him out, the first thing he did with splatter us with sand from his feathers before chirping a perfectly human sounding "Hello" that nearly scared me out of my skin! Apprently, he spent some time around humans, unlike his little sister. I could tell they were related from the way Iris pounced on him and tackled him in a hug, twittering like a songbird. I had to laugh as I got the video on that. I was there to observe Rainforest griffin behavior after all. It was clear they cared about each other and put family first, at least that was the case with these two.
Base color:
<-- this is the color scheme I want for Pharaoh
Secondary: (Currently Yellow)
Third:(Currently blue)
talons:
Eyes:
Beak: black (bottom) silver (top)
Tufts of ears: same blue as the edge of the wings
Face (currently white)
Facial stripes: off black
Optional:
Branch? both one with and without please!
Sun, 10/14/2018 - 11:20
#88
Iris stole my subject!
Wow! He looks gorgeous! And Iris already wants to play with her new brother!