Eret Thawfest Flightsuit NOW Here!
Amid the competition a new flightsuit has made its way to campus, the Eret Flightsuit and the colorful Thawfest Flightsuit!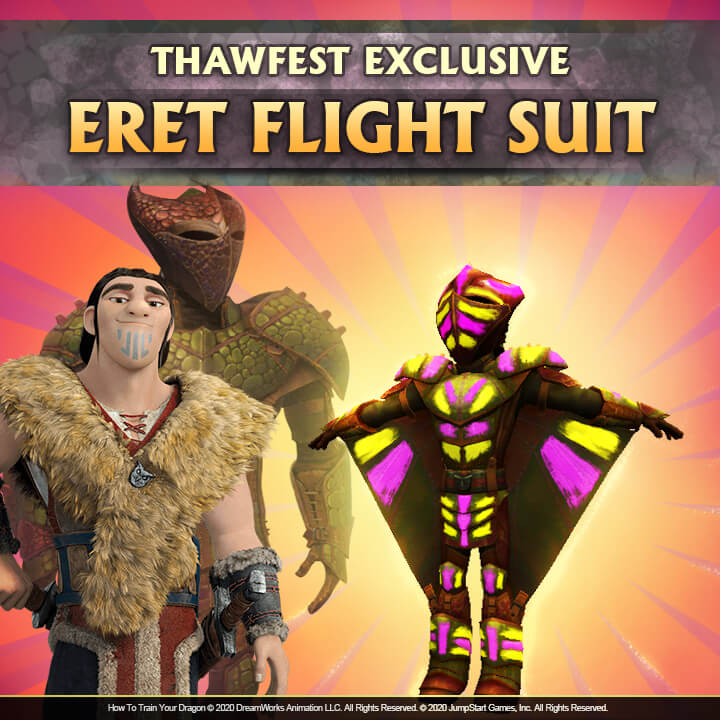 Vikings that have been competing in Thawfest may have already seen the Thawfest Flightsuit as of the prizes for this event. This item is covered in the colors of Thawfest with bright purples and neon yellow to help you stand out against the competition. It will only be available through Thawfest, so make sure you give it your all and earn those medals.
For those Vikings, who may not want to wait the original Rumblehorn-inspired Eret Flightsuit can be found in the Trading Post! This impressive outfit will make Vikings ready to adventure out into the archipelago or battle away in Dragon Tactics.
Don't waste any time, head on over to campus and get your own Eret Flightsuit!
Tue, 05/19/2020 - 02:22
#1
Was the original Eret
Was the original Eret flightsuit limited time? I cant find it in the Trading Post. Do i need to update the game again? I almost have the Thawfest flightsuit anyway so im not too fussed if i dont find it but still...
Tue, 05/19/2020 - 10:28
#2
...
The original Eret flightsuit is available only through the Mystery Thawfest chest in the store. The chest costs 110 gems(for nonmembers) and it's random what you get from it. The Eret flightsuit is very hard to get from it. The SoD wiki has it listed at a 1% chance of you getting it from the chest.
Tue, 05/19/2020 - 20:26
#3
Only in the Thawfest mystery chest, oh dear,
Only in the Thawfest mystery chest, oh dear, it makes me wonder if anyone will win it with those slim possibilities. Good Luck to all possible winners and have fun to all who do win it. :)