Earn Your Way to a Powerful Dreadstrider!
This year's Dreadfall is full of unexpected surprises and filled with incredible rewards. Today, we welcome the mighty Dreadstrider to the list of Dreadfall exclusives!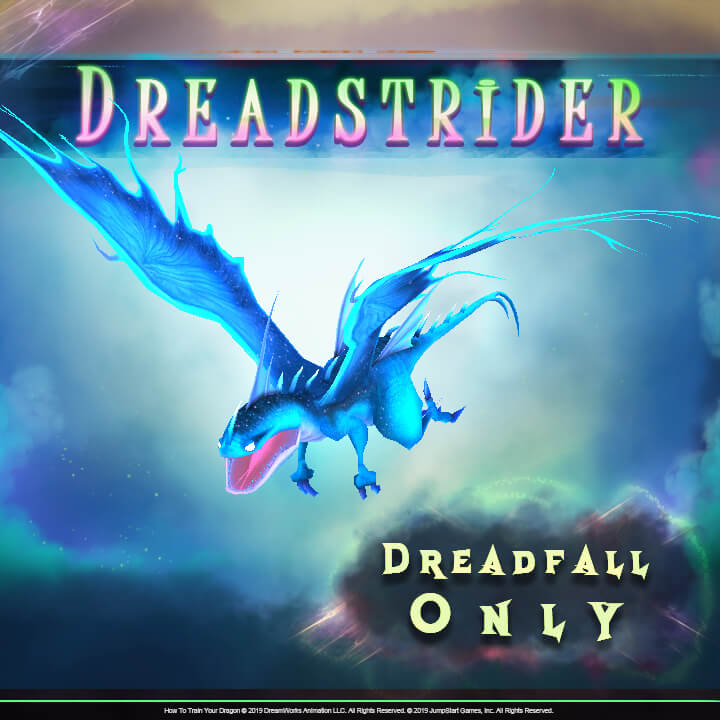 As we all know, this is the eerie mystery that several Vikings wanted to learn more about. Indeed, a new dragon species was found when Hiccup and Toothless went out exploring. Same as the Skrillnapper, this hybrid dragon possesses the traits of two separate dragons, both the Flightmare and the Speed Stinger.
Hiccup was afraid to share the news because he didn't know why these dragons were suddenly appearing, but he began training them in hopes of learning more about hybrids. Combined from both a mystery and a sharp class, this dragon reveals it is brimming with strength, speed, and power. With high speeds that can outrun and dodge any attack to having a glowing body that blinds every prey, these dragons are powerful beyond belief.
Hiccup has now allowed all Vikings to train the astonishing Dreadstrider by making it an exclusive Dreadfall reward. Vikings looking forward to earning this powerful ally can head to the School and continue their candy collection!
Fri, 11/01/2019 - 02:41
#11
~
Ohh very much this!
Not everyone's going to be able to get the dragon, and the intention to not make this an easy grind is pretty obvious. If it was steamrollable, people would be complaining about how the special prize dragons are 'too easy to get' or 'too common' and therefore 'not special/cool enough' or something.
"Instant satisfaction bad. Hard work also bad." - Many people on this forum.
Fri, 11/01/2019 - 07:02
#12
♾
I understand that these dragons are meant to be rare, and I agree that it shouldn't be super easy to get otherwise it's not special but let's be real here, 15,000/20,000 is a lot of candy.
This game is aimed at children who do not have money to spend on the game, most parents aren't going to pay so their child can have a dragon on a screen that will most likely end up in a dragon stable never to see the light of day again.
£100 (or however much it is for you) is a lot of money for 11,500 candy and even then that isn't the full amount of candy for one of the dragons.
I understand that they should make it a bit difficult to get the dragons but they've practically made it almost impossible.
Children have school, maybe school clubs after, activities to do at the weekend, they have a life that isn't on a screen full of dragons and they can't play hours on end to earn this candy.
The same goes for people with jobs or people going to collage, etc
People have things to do and as I've said previously, we can't all spend hours upon hours to earn candy for a dragon.
They should make the candy goals more reasonable or make the rewards better so people don't feel down hearted about not standing a chance.
I mean have you seen the recent poll about who actually has the dragons? Hardly anyone has and I get that makes it special but it also makes the event unenjoyable.
Let's not forget it's a Halloween event, so it's obviously going to be around Halloween. People are going to be busy going out and enjoying the holiday.
Instead of it being a fun Halloween event it's now becoming a stressful/annoying and for some, upsetting event because they can't get the dragons.
People like me who are stacked up with things to do and have to study, and doing other things are struggling to achieve this so from one point of view this event is extremely unfair but for those lucky people who have the time to sit In front of a computer for hours or can afford to spend money on a game can actually enjoy the rewards and event.
I just think that this was all a big money grab personally, they focused on something new people will want to spend money on instead of making it fun and achievable for the young children who play and the people with busy lives who play
Fri, 11/01/2019 - 07:31
#13
~
I don't think I implied that people have to pay for the event.
What about people with school/jobs, who don't spend money on the game and yet are well on schedule/track regarding the event?
Fri, 11/01/2019 - 07:41
#14
♾
No, but the point is that people who can't spend hours upon hours to earn candy have to spend money if they desperately want the dragons.
well good for them, they can have the dragons but what about the people with school/jobs and other things in life who don't have the time to play constantly and/or don't have enough money to get the dragons.
Fri, 11/01/2019 - 08:13
#15
~
I think you missed my point there.
There are people who work long jobs and don't spend money on the game, like I said in my other post. I'm one of them and I'm sure I'll be able to reach that 20k before the event is over. Sure, I'd be done much quicker if it weren't for my job and other responsibilities, and yeah, the dailies can be absolutely agonizingly un-fun, but eh. With the compensation we've gotten so far the event has become much more doable.
Sure, people can spend money on the game to make the grind much easier, and I would have tossed in some cash if the event wasn't so broken. Money makes things easier, but it's not impossible to do this without money.
Fri, 11/01/2019 - 08:21
#16
♾
I never said it was impossible and I understood your point but there are people out there with busy lives who don't have the time to play and earn enough candies or don't have enough money to spend on a game.
Fri, 11/01/2019 - 13:51
#17
~
That's not exclusive to SoD, though. They cannot please everyone or guarantee absolutely everyone gets the things they want. I've missed out on events or didn't manage to reach a goal in many online games that have special events. Tough luck, but ultimately not too big of a deal.
Fri, 11/01/2019 - 08:24
#18
Wiggles the whispering d.eath ate my subject
I would like to know who these people you're talking about are and what their stratigys are because on the forum you seem to be the only person who finds the event easy. If you make a thread sharing what you and your friends have been doing that might help a lot of people. I've been farming for as much of the event as I can (all day every day for the whole event minus one or two days so glitched nothing worked) and while I earned most of the candy I needed I did end up needing to put some money into the game as well so I'd really like the tips myself as if another event like this happens I'll probubly skip out on it given how much work it was to do this one.
Fri, 11/01/2019 - 09:47
#19
Aa
This site is just one massive argument, eh?
Fri, 11/01/2019 - 10:48
#20
!!!
Ikr? It's sad, it's an event. As hard as it is (not really hard at all) if you have the correct resources and several maxed out ragons makes it so much easier. Plus watching adds on mobile (if you have that opportunity or platform) gives about 10/50 gem boost for purchasing dreadfall animals and exchanging dreadfall boxes for candies. Really, it isn't that hard. If you use every single thing that the devs gave you to collect candies you can get it probably (considering you have enough resources, dragons, farm animals, etc ...) within a span of three or four days no less. Now it doesn't matter if you have enough time to come back and play the game often but rather how well you do in the event.
20,000 candies isn't a lot. Be thankful the developers & SoD team didn't decide on forcing you to lose all your candies after you reach a prize. Then you have a valid arguement of saying the event would be difficult within the amount of time given to us.
Fri, 11/01/2019 - 11:46
#21
Wiggles the whispering d.eath ate my subject
My computers don't support the add watching thing (I don't play Mobile).
How many animals do you need to get this stuff quickly? I had 33 spiders and 16 dreadfall sheep that I payed for with 20 dollars worth of gems. I was able to work with this using daily rewards, daily quests the daily candy maize reward and battles but I basically had to be online all day for at least two full weeks amount of time farming nonstop with some breaks for ether overly buggy days or things I had to do. Dragon tactics has been too buggy for me to get far with too.
I'm glad some people have managed to do it easily but that's just not everybody's experience. I earned my skrillnapper and payed the difference to the dreadstrider because it wasn't that bad (and I wanted to be done grinding) but would not have been able to finish this off if this event had not happened to fall so perfectly into a patch of time where I had nothing else to do.
Am I missing something?
(Edit for a P.S. I'm not JUST talking about the dreadstrider but as the event as a whole. I think the event was good. I just think maybe the difficulty was raised a little too high for a game like this. A children's game should not be geared towards h.ardcore gamers. It should be a challenge to its playerbase but it shouldn't make the majority of the fanbase complain like it did. If most of your players say something is wrong that means there's an issue with the game. I do not think this was a money grubbing attempt like some do as the devs have clearly been trying to fix the messy parts and this was their first event. It can be h.ard to hit that sweet spot. I think things would only have to be adjusted very slightly to make it geared more twords the target audiance and of course the next time they do this there hopefully will be less bugs too. Dragon tactics being broken really hit this event h.ard. Some people were able to push through it but some couldn't.)
Fri, 11/01/2019 - 11:22
#22
Wiggles the whispering d.eath ate my subject
I'm just wanting tips. If someone knows how to do the thing without spending all day every day it would be nice if more people could know how to do that.
Fri, 11/01/2019 - 12:44
#23
!!!
The only advice I can give you had you not already done so is trying to at least get first place in battle (USING A THUNDERDRUM) it helps dramatically. And that alone gives you 30 candies every two hours, so about 60 candies in total. It would be more if you turn mmo back on and off multiple times hoping to find another ship or glitched one. I have caught several and earn an extra 10 candies or two.
Also, about farming out the items I have about 6 spiders, 8 dreadfall sheep, and four chickens. So that alone gives about 18 candies every 20 minutes. Should be enough to pull through a few days.
Fri, 11/01/2019 - 12:47
#24
Wiggles the whispering d.eath ate my subject
I hope this advice will help somebody. Thank you.
Fri, 11/01/2019 - 13:55
#25
~
I do all the once-a-day dailies (not always as I have terrible work hours) except battles and racing. I may have done two battles in total. I do AFK farming for the rest. 12 sheep, 4 chickens, 2 yaks, 2 boars and 3 spiders. All animals but sheep are kind of... bad though. But I did spend gems on them, not real money though. I also make sure to always have the stable quests going.
I did receive the 700 candies from the android issues and the extra 1000 candies that were given out later.
It's not really anything thread-worthy so a post will suffice.
ETA: I did turn in some decoration for candies. I happened to have a barn and it was worth quite a few candies. The other decorations don't give much, but I don't care for them so in the pot they go.
Fri, 11/01/2019 - 13:57
#26
Wiggles the whispering d.eath ate my subject
Stable quests! Thanks for reminding me. I actually made a advice thread just because after saying it I thought it sounded like a good idea. I'm going to add that because I forgot about it despite the fact that they were very helpful for me.
Mon, 11/04/2019 - 01:37
#27
~
Eyy np.
Also, if you play on pc, get the phone version of the game so you can speed up quests with videos. To those who can't get videos to work because of murrican shenanigans, use a US VPN server.
Mon, 11/04/2019 - 13:49
#28
Wiggles the whispering d.eath ate my subject
Thanks again!
I have copy and pasted this advice to my advice thread (with note of who it came from of course).