Dreadfall Season Is Here!
Spiderwebs, pumpkins, and candies – oh my! Dreadfall has arrived at campus and has brought a long list of new features, rewards, and items!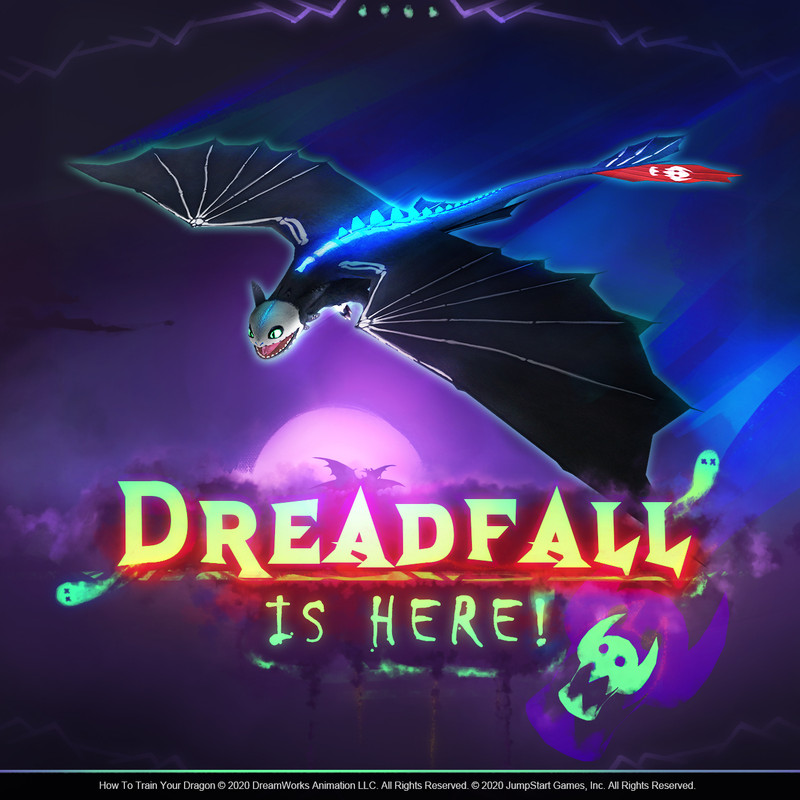 The spookiest season of the year is finally here and Hiccup and the rest of the Dragon Trainers cannot wait for Vikings to see everything that it has brought to campus, including:
New hybrid – Bonestormer
Bonestormer Dreadfall skin
Bonestormer weapons
2 Dreadfall themed racetracks
8 Dreadfall themed Dragon Tactics levels
4 Dreadfall missions
24 daily quests
Dreadfall themed stable quests
Dreadfall maze
& more!
Along with these items, the twins have set up the Dreadfall event where Vikings can collect candies to earn time-limited rewards! The top prize being the chilling Bonestormer, a hybrid between the Boneknapper and the Stormcutter.
Vikings can earn candies by completing races, Dragon Tactics levels, quests and more! The more candies
Vikings earn the better the rewards they can collect. Those ready to take part of the seasonal festivities can start making their way to campus for this bone-chilling adventure!
Tue, 10/13/2020 - 07:21
#3
Tue, 10/13/2020 - 10:15
#4
Tue, 10/13/2020 - 08:56
#5
Diagonally Parked in a Parallel Universe
Also the prizes for LNF and BLF are signifigantly less
Tue, 10/13/2020 - 21:53
#6
Wed, 10/14/2020 - 01:30
#7
Wed, 10/14/2020 - 05:35
#8
Diagonally Parked in a Parallel Universe
No but it is not a hoard of gems anymore and the chest is labeled "Long Night Flight Rewards" so I can only assume that it is candies for the event or more likely significantly less gems. It looks more like a chest of gems than a hoard of gems. I don't remember exactly but I think that a chest of gems has 50 - 400 in it? I may be wrong.