Dragon Training Licences Request
Dragon Training Licences! I am now doing dragon Training Licences. They will look something like this:
Form:
Name:
Clan:
Age:
Trophies:
Membership:
Main Dragons:
Dragons Trained:
Expires when:
DNR
__________________
Siggy will always be under Construction
In game name: Hestiathegreat
Trophies: 200+ and still counting
Level: 35
Friend Code: EWAY1Z (please give me a pm if you add me)
Main Dragon: Firespitter and SkyMist
I currently have 200 trophys
A proud member and new member of the Unique
Legacies
Clan banner made by Crystalwings
My Dragons in the order I got them
1. Freeze (Female Flightmare) Main Racer
Freeze is a very shy dragon she dosen't hang around dragons much she prefers to be by herself but when other dragon are in trouble she dosen't stand in the shadows she will always step up and help. She is a very fast dragon and loves doing thunderdrum racing with me. She gets upset sometimes when I send her on stable quest especially when she is with Speedy.
2.Speedy (Female Hidious Zippleback) Second
Battler
Speedy is a very social dragon she loves playing around with other dragons and is never shy. She loves flying around with me and doing stable quest with other dragons. She is a very fast dragon for her species but despite the name she hates doing racing competitions as she always thinks that she will lose.
3. Frostwind (Male Groncicle) Main Battler, Second
Racer
Frostwind is a very guarded dragon he may look fierce but inside he has a heart of gold. He loves attention and enjoys watching the sunsets with me and helping me in my far work and getting around Icestrom island as Freeze and Speedy don't quite like the cold. He also loves taking down Outcast or Berserker ships with me and once we also saved an egg.
4. Firespitter (Female Whispering Death)
Firespitter is a very protective dragons she will roar whenever an unknown person and their dragon comes close she loves flying around and meeting new dragons but will get protective if they come close to me. She enjoys roasting eels and sleeping in the sun she dosen't like going on stable quests if her brother is also in it.
5. Groundfire (Male Whispering Death)
Groundfire is Firespitter younger brother like her sister he is also very protective actually he is over protective and roars at everyone friend or foe. He always is on the guard and tends to stay very close to me which means that we gets in my way when I'm doing farm work. He hates all types of dragon even his sister he also doesn't really like doing fun stuff he thinks that he should be protecting me instead and prefers staying at the stables when me and the other dragons are out on a scenic flight or playing ball. Dragon nip and eggs are the only thing that makes him happy.
6. Riptide (Male Shockjaw)
Riptide is the newest member of my group, Frostwind and I saved him from a ship we took down. Like Freeze he is very shy but once he gets to know you he loves to play. He is a very engetic dragon and despite just hatching he is already trying to fly. He is a very eager learner and is learning a lot from my other dragons. He is also a very sweet and kind dragon that sometimes Freeze will also play with him and teach him on racing. When he grows older he will probably replace Fristwind as my second Racer.
My Other Characters
Melina Hofferson
When you first meet Melina she is very shy hardly speaking and staying in the shadows but once she gets to know you she is fun and bubbly. She can get protective when she is angry or threatened. It is best not to make her angry because she takes her anger out on everyone. She is very down to earth and hardly dreams and even though she likes to play she can become serious all of a sudden. She is very trustworthy, you can trust her to do something to the best of her abilities.
Appearance: Coming soon
Lillian: More coming soon
Destiny
Drawn by the amazing Dogloven
Art Done by Me:
Coming soon
Art Done for Me:
My Adopables:
Flamedust the Glow wisp
Made by the amazing nightfuryatom4
Thu, 12/07/2017 - 23:43
#4
:)
Ooh, I love it! May I save a spot? I can't post pictures until tomorrow.
__________________
Hello! I'm Brynne.
This gorgeous lil' gem of a picture drawn by TosiLohi. :)
By the wonderful Katarile!
Made for me by the lovely Georginia47
so cute XD
by me
Pudding Cup by ShiroKageFox. TYSM! :D
~The Amazing Pudding Cup~ by the talented KittyLlama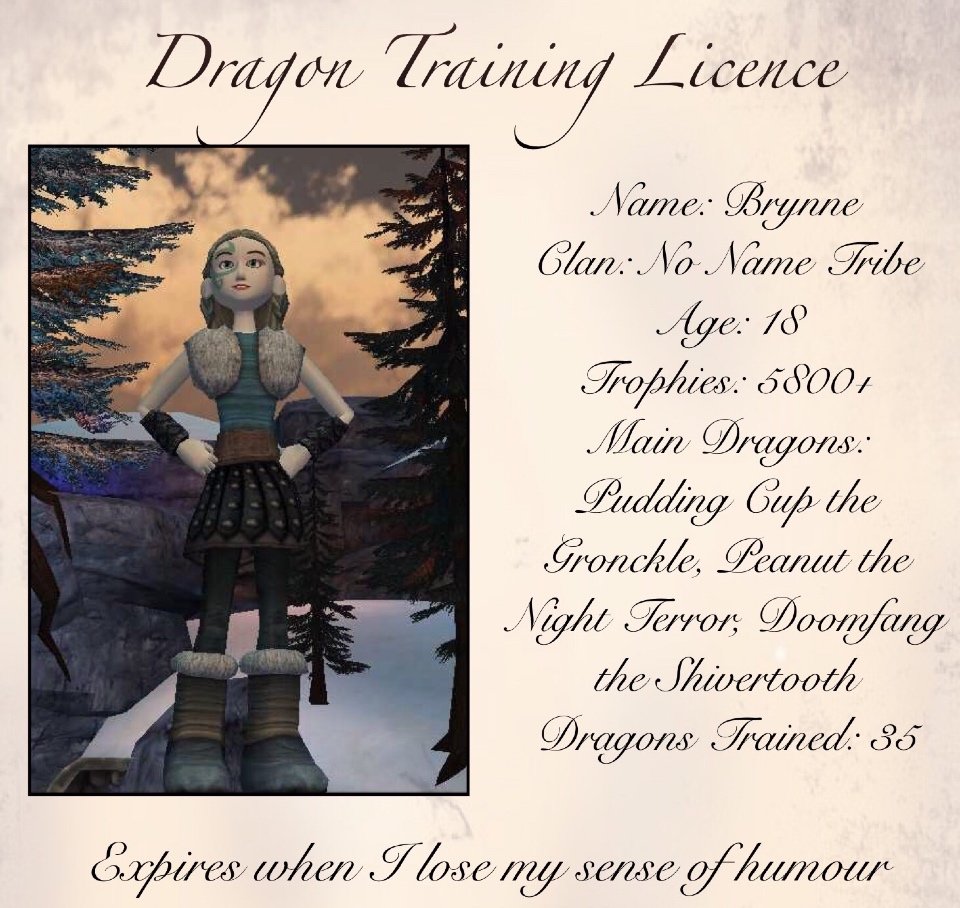 license by the sweet Hestia82 :)
UDT:
400,000 points. >:D
Friend Code:
ENJIYH
Dragons:
Pudding Cup, Female Gronckle- Sweet and always dependable. She sleeps cross-eyed.

Violet, Female Changewing- Named after Violet from The Incredibles. Fond of swimming, and up for any adventure.

Norbert, Male Death Song- Really likes firing at other players. He's... not quite right in the head, and may retain some cannibalistic instincts. Not afraid of the disgusting smell of the Dragon Bloom.

Zappy, Male Shockjaw- Fast. Really fast. We do a lot of racing together, and he doesn't put up with nonsense.

Oddmund and Dinkly, Male Zippleback- When I first

hatched

these guys (this guy? who can tell), I took them to practice their fire skills at a fire pit. They lit it successfully, then promptly laid their heads in the flames and went to sleep. True story.

Lucius, Male Groncicle- Named after Frozone from The Incredibles.

Adelaide, Female Raincutter- Named after Snotlout's little sister from the HTTYD books. Likes battling Berserkers.

The Hulk, Male Rumblehorn- Likes going on stable quests, doesn't really like to be ridden.

Dash, Male Speed Stinger- Again, named after Dash from The Incredibles.

Puddles, Female Mudraker- She's pink, and lives up to her color.

The Whisperer, Male Whispering Death- Cranky, stubborn, tries to eat me occasionally. His name sounds uncreative, but I love the Mysterious Benedict Society. :P

Horrorcow, Female Razorwhip

Eggingarde, Female Flame Whipper- Helpful and good at racing.

Tony

Stank

, Male Armorwing- Iron Dragon? No?

Dr. McCoy, Male Boneknapper-

hurhurhur

i'm

so punny

Doomfang, Male Shivertooth- Named after the Doomfang from the books. Affectionately nicknamed Dinosaur.

Old Wrinkly, Male Smokebreath

Susan Storm, Female Typhoomerang- Because she looks like Torch's sister.

Cinnamon, Female Monstrous Nightmare

Emergency, Male Singetail

James, Male Eruptodon

Florence, Female Hobblegrunt

Squirrel, Female Moldruffle

Dottie, Female Sweet Death

Furious, Male Terrible Terror- Even Furious was a baby once. Hard to imagine, isn't it?

Max, Male Skrill

Madgesty, Female Stormcutter

Thunda

From Down Unda, Male Thunderdrum

Lloyd, Female Thunderdrum

Tricycle, Female Triple Stryke

Peanut, Female Night Terror

Innocence, Arrogance, Patience, and Huh?, Male Snaptrapper

Tater Tot, Female Hotburple

Hairy Scary Librarian, Male Wooly Howl
Second Viking:
CrystalSnowdrop
Clan:
Isle Of Gazoo
Main Dragon:
Rhonda, Female Flightmare
You can PM me for art requests if you like. :)
Who's online
There are currently 27 users and 73 guests online.