Dragon Training 101: The Windwalker
Dragon Training 101
{_______________________________}
THE WINDWALKER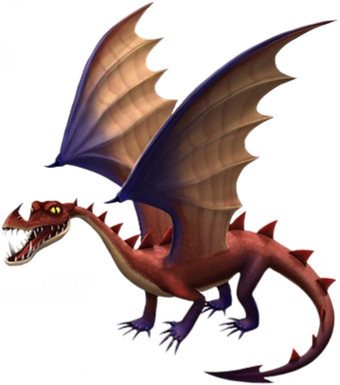 Class: Tidal
Length: 46 feet (average)
Weight: 1862 lbs (average)
Wingspan: 52 feet
Diet: Exclusively Fish
_____________________________________________________________________________
A dragon that lives and breathes the thrill of the hunt, the
Windwalker is definitely a dragon that is not only rare to find
but are very difficult to tame. They aren't as swift as say a
Fury, but they are definitely able to keep up with a Sand Wraith
as best with its long, wide wings. Furthermore, these dragons
are one of the very few that use electrokinesis, an ability
mainly seen in Strike Class dragons. So, are you ready to take
on such a unique and interesting dragon? My name is
Jyharri and I will explain the basis of dragon training, the
Windwalker.
Windwalkers are very kind dragons yet they know how to throw
their weight around when need be. They love to stay out of
sight of both prey and predator and love to gather in packs of
their own species, which if threatened in this pack would result
in your hide being roasted alive. Roasted, you say? But isn't
this a tidal class dragon? Well, these particular specimens are
able to shoot water turrent blasts as well as stemaing balls of
fire. Talk about an array of abilities! Training and taming is
technically the easy part, trying to find one... well, that's the
true challenge.
Disclaimer: A majority, but not all information on the Windwalker can
be summed up from my experience with Windwalker (raising them,
training, etc), so take these words with a grain of salt.
Step 1: Location
As I have said before, these dragons are relatively rare.
Searching the Unnamed Islands give little result to finding an
individual alone or in a group. The best place to search as I
have seen is old Berk and anywhere that has to do with the sea
- which is basically the same as the entire archipelago.
Step 2: Track and Map
When you do find a Windwalker, it will most likely be on the fly,
literally. These dragons make it very difficult to follow them,
even from a distance. So this sort of tracking would be best
done using one of your fastest dragons. As long as it's not
larger than the Windwalker, it will not try to engage unless you
get too close. Definitely follow it for a while and map out
wherever the Windwalker goes. These dragons, as I have seen,
genuinely stick to long, sweeping patterns when they travel.
Taking note or even memorizing this route is the best way to
beat this dragon at its own game. Its own little race if you will.
Step 3: Live and Let Fly
Once you've either memorized or mapped out the route the
Windwalker takes, it's time to meet at the starting line. Make
sure to gather an assortment of fish at the spot before waiting
for the dragon to show up. No matter if it takes minutes or
days, your competitor will show itself eventually. You'll know
the Windwalker has come when you are suddenly wind gusted
and covered by dirt. Now is the time for you and the
Windwalker to get into position. A friendly game of hide and
race is what many individuals love the most. Now you should
know the route as well as your new racing buddy does.
Step 4: The Chase Begins
The race is on! Both dragons will signal each other to start,
smacking their tails into the floor. It is then that you must
prove the bond you have with your current dragon to catch up
to the speedy Windwalker you want to tame. No matter how
the race goes, it's best to hop on the Windwalker's back when
you get the chance. This drgaon will make it very difficult to do
so, so remember to coordinate with your dragon to stay on
pace. Once your opportunity strikes, jump and hold on for dear
life! If all goes right, then by the end of the race you'll be knee
deep in smoked fish and a gentle touch to the snout to aid the
initial bond.
Step 5: Training and Racing
Training is very simple lest your Windwalker is the more playful
than playful type, simply commad what you want it to do and it
will do it, it is one of the more intelligent dragons, almost as
much so as a Fury or Skrill. As for racing, definitely train your
Windwalker to use its wide wings as an advantage in both
speed and turning sharp. Be careful of steep inclines, they don't
do as well with these dragons when tamed down. It may take a
little reassuring depending on how your specific dragon
responds, but it'll get the job done.
-----------------------------------------------------------------------
Dragon Suggestion Time
As of late, have been pretty distant from the forums and know
my 101 series does get feedback. SO I'd like to ask those who
love these to suggest different dragons I can do. It can be any
suggestion and if there's more than one vote for a dragon I'll be
leaning to doing that one within a few days time.
Tue, 01/14/2020 - 10:16
#1
thanks !!!!
i really appreciated u for all of the dragons information u have written in the past to this day its really interesting reading about ur dragons thanks u very much
Wed, 01/15/2020 - 04:34
#3
Magnificent arnt they?
:DDDDD
I love these!
May I recomend the flamewhipper?
I heard that they very difficult to train and I really need some tips! :D
Wed, 01/15/2020 - 08:53
#5
:D :D
Yaaaaaaaayyyy!!! :D :D :D Thank you so much for doing a Windwalker!!! The info was great!! :) I have a question for ya, though :3 Why do you think some Windwalkers have barbed tails (RoB version) while others have fin tails (SoD version)? What's the difference between the two? Are they subspecies or something? Just wanted to know your opinion--thanks! :)
Thu, 01/16/2020 - 05:43
#8
Swoopin' In!
Ah, Windwalkers! Such fantastic and elusive dragons. Great read as always my friend, maybe I'll roll up my sleeves and bond with another Windwalker; one came from the wild but isn't as friendly as the average Windwalker (no limbs were lost in the training of that dragon, thankfully) and the other was a rescue who, thanks to a near-death experience with hunters right after hatching, is as sheepish as a. . .sheep. Surrounded by a dozen hungry Goregutters. Maybe a third one will bring'em together! For a suggestion. . .hmm. . .I can't remember if it's been done already or not (and if it has, apologies) but what about the Thunderpede? They're not exactly the most liked dragons (from what I've seen at least) but it'd be nice to give them some love. Or the Hobgobbler; so cute yet so destructive!
Fri, 01/17/2020 - 05:26
#10
:)
This is incredible, Rider Jyharri :3
Maybe for the future:
Shovelheim
Groncicle
Prickerboogle (I'm not sure if it was already done, sounds like it)
Thanks! :D