Dragon Training 101: The Monstrous Nightmare
Dragon Training 101
{_______________________________}
THE MONSTROUS NIGHTMARE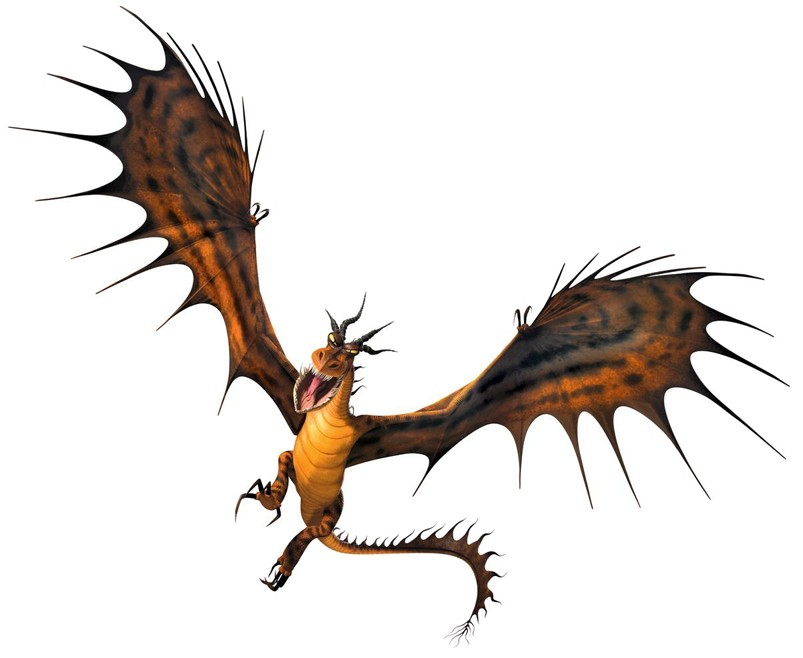 Class: Stoker
Length: 61 feet (average)
Weight: 5000 lbs (average)
Wingspan: 68 feet
Diet: Fish, Corn, Scented Flowers, Rats, and more...
_________________________________________________________________________________
Stocky and ferocious, the Monstrous Nightmare is one of the
more difficult dragons to train due to their contrasting
personalities. It make take a strong viking to bring one of these
down, but with a bit of training, any viking will be able to tame
and train it to the point of firebreathing frenzy. My name is
Jyharri and I will explain the basis of dragon training, the
Monstrous Nightmare.
These dragons are the representatives of their class, Stoker,
and can breath a lot, and I mean a LOT of fire! Able to tango
with a Night Fury in an open field, these dragons often
challenge for dominance within their pecking order (even to the
point of another fire happy dragon). Make sure to bring a
fighting spirit, you'll most definitely need it!
Disclaimer: A majority, but not all information on the Monstrous
Nightmare can be summed up from my experience with Nightmares
(raising them, training, etc), so take these words with a grain of salt.
Step 1: Location
These dragons are common throughout Berk's Archipelago
along with Deadly Nadders, Gronckles and Hideous Zipplebacks.
However, the best places to find them are on densly forrested
islands surround Dragon Island. It may be dangrous with more
aggressive dragons roaming about, but it is highly
recommended.
Step 2: A Flareful Dance
When you approach a Monstrous Nightmare, there are several
methods to sooth its anger (calmly petitng its snout, pulling its
horns to the ground, etc). However, the method that I found
was most effective involves a little bit of crazy. The Nightmare
will most likely sets its sights on you and attack, so prompt it to
charge and grab onto its horns. Make sure not to let go when
the dragon lights itself on fire, this will help in teaching the
dragon an early lesson on dominance. When the Nightmare is
tired out, it will land and let you off without a hitch. After that,
you can calmly let it nuzzle you, you are now bonded!
Step 3: Who Is Number One?
Much like Snoutlout's Hookfang, a wild Monstrous Nightmare
will still try to challenge your authority over it. When this
happens, expect fire from both ends. The loophole for
counteracting this outburst is to calmly, and carefully, sway it
from not going insane. After about a week's worth of tries,
along with offering the dragon's preferred food, scented
flowers, they become as manageable as Meatlug. Just don't
take it for granted, because your dragon can also learn to sway
YOU into its control.
Step 4: Frequent Flying
Although Monstrous Nightmares are found on the ground
rampaging through forrests, they love to fly as much as they
love breathing fire. Frequently join your dragon in the air and
do test runs around an area you're familiar with. As long as you
don't steer your dragon in the wrong direction, you'll be able to
keep up with the likes of a Psyquake (spoiler, OC dragon).
Step 5: Training
When training a Monstrous Nightmare, try not to mimic
Snotlout. His dragon may still have love for his rider, but it is
equal to his annoyances. I recommend throwing objects into
the air, letting the dragon's natural instincts kick in for a while,
then proceed onto more tame, yet challenging courses. Be it
racing or defeating dragon hunters, your dragon must always
be rewarded for a long day's work, as with many other species.
Extras: Titan Monstrous Nightmares
When any dragon becomes a titan, it does becomes twice as
strong and aggressive than its broad wing stage. The titan wing
Monstrous Nightmare is more of an exception though, as it will
consantly spew fire from its maw every 2 hours! Even though it depends
on the personality of the dragon, make sure to have a shield arm ready
when going out on your next training run. Also, if you're present when
your dragon grows, RUN!
Thu, 03/21/2019 - 17:14
#1
Swoopin' In!
Good read! *thumbs up* Though I can't say the horn method works for me; none of my Nightmares like that (at least at the moment). ^^; Especially my oldest one, though she has the temper of a Grimora-ridden Red Death. When I saw the "Flareful Dance" section, I was anticipating something like Toothless' mating dance. xD