Dragon Training 101: The Gronckle
Dragon Training 101
{_______________________________}
THE GRONCKLE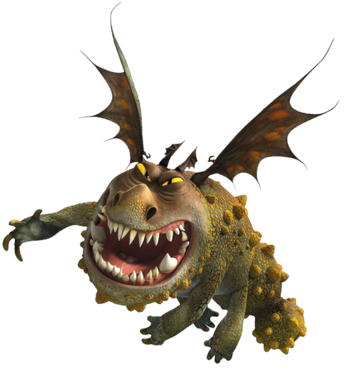 Class: Boulder
Length: 14 feet (average)
Weight: 5700 lbs (average)
Wingspan: 18 feet
Diet: Rocks, Fish, and Mutton
_________________________________________________________________________________
A quite common and easy to tame for a Boulder Class, these
dragons are considered the pugs of the dragon world. Although
they may seem friendly as individuals... always expect the
unexpected. My name is Jyharri and I will explain the basis of
dragon training, the Gronckle.
If you want a friend that will keep you company, and is loyal
and pestilent at the same time, look no further than the
Gronckle. They may be slow, but with all that dragon power
wrapped into them, they most often do not need to run from a
fight. Making sure to track the personality of the Gronckle you
want to train before taming will benefit both you and the
dragon in the long run.
Disclaimer: A majority, but not all information on the Deadly Nadder
can be summed up from my experience with Nadders (raising them,
training, etc), so take these words with a grain of salt.
Step 1: Location
Gronckle are quite hardy for their form, and easily able to
withstand a decent smack to the face (at least at the best of
times). They are very common in the Archipelago, but the best
places to search for them are caves filled with the rocks that
these dumplings love to gorge on... but forests work as well.
Step 2: Play Rough
As tame and dog-like that both Meatlug and Shattermaster
have become, a wild Gronckle can be especially dangerous.
If caught offguard, the dragon won't hesistate to use its magma
blasts of molten fury. However, there are several ways to calm
them down, such as the traditional dragon nip. The best way to
calm them down is actually play fighting with them as if you
were one of their own kind, making it easier for the dragon to
get used to your scent and personality.
Step 3: Personal Time
Unlike many other dragons, the Gronckle prefers not to be left
alone for too long. If your Gronckle feels lonely, let it in on your
personal life (cleaning, cooking, sleeping, etc). When the
dragon knows how your day goes, it will in tandem grow closer
to you.
Step 4: Dragon Training
After you've strengthened your bond with your Gronckle,
teaching it to fight for you is rather simple. Being sturdy
dragons, they are best suited for close combat, similar to its
cousin, the Hotburple. A gronckle that knows its master is
happy will be happy too, and will defend said master even after
just a day of training. Yep... nothing to it.
Step 5: Friendly Fire
On occassion, your Gronckle may have quite a problem in
digestion. if that is the case, it may've been the wretched
boxite that has made your dragon sick. Make sure to duck and
cover in case of unpredicatble magma sludges, then hit your
Gronckle's stomach repeatedly to dislodge the mineral from its
intestine. After that, your dragon will be your best friend (if it happens that is).
Extras: Titan Gronckles
When any dragon becomes a titan, it does becomes twice as
strong and aggressive than its broad wing stage, and the titan wing
Gronckle is no exception. They actaually lose their dog-like nature and
become much more aggressive than other gronckles in its herd, and
may even threaten the herd. Just keep a close eye on your dragon to
make sure nothing terrible happens, then proceed with training as
usual.