Dragon Clan Wars (Unlimited Spot Httyd RP)
Original idea by Yimie. This is an old Httyd RP based on Warriors that got little attention, so I'd like to reboot it. I'd also like to add onto it. I hope that is fine with the creator.
Plot:
Three clans of dragons have held rivalries against each other for years as they all continue to thrive and grow stronger. Not only are there clan dragons, but rogues as well, who also threaten these rivalries. How long can this last until the clans declare war on each other? Can they join forces when a strange force arises?
Clans:
-Mountain Clan: These dragons make their homes on the highest points of mountains and cliffs. Their main prey consists of birds, goats/rams, bears, rabbits, occasionally fish, and yaks. They are known for being stubborn, sturdy, determined, and very strong. Their east and south boundary are with the Forest Clan.
-Forest Clan: They reside within the forests. Their main prey consists of squirrels, deer, bears, elk/moose, occasionally fish, and sometimes wolves. They are known for being very smart, agile, and strong. Their west boundary is with Tide Clan while their northwest is with Mountain.
-Tide Clan: This clan takes roost on the beaches and caverns surrounding the sea. Their main prey consists of birds, crabs, wide range of fish, narwhals, sharks, and turtles. They are known for being very agile, quick, and proud. Their northeast boundary is with Mountain Clan while their east is with Forest.
(( I will probably draw a map of the boundaries later if my descriptions have confused you.))
Ranks:
-Leader: Leads the clan, pretty understandable. In charge of the dragons, decisions about battles, decides when to make dragons warriors or hunters, gives dragons their ranks of warriors or hunters, and assigns apprentices to the clan. Calls for clan meetings and speaks at gatherings.
-Co-Leader: Takes the leader's place when they are unable to lead. Also works closely with the leader and helps make decisions.
-Healer: Heals clanmates. Self-explanatory.
-Warriors: Fights for the clan and defends the camp. Must complete training as an apprentice before becoming a fully-fledged warrior.
-Hunters: Hunt down and kill food for the clan. They must work hard to keep the prey pile stocked. Like warriors, they must complete their training as an apprentice before becoming a real, true hunter.
-Apprentices: Younger dragons are mentored under the rank of either warrior or hunter, both rank and mentor chosen by leader. Must complete training, then their mentor and leader will decide when to make them true warriors and hunters. There is also one apprentice for the healer to mentor.
Rules:
No godmodding (controlling others, killing them, etc.)

Multiple characters are allowed.

First come first serve for leader, co-leader, and healer spots.

Don't fight over mentors and apprentices.

Any NPCs I make are free to control.

I will limit the amount of Night Furies allowed.

No "alpha" dragons allowed.

Hybrids and fan-species are allowed.

Feel free to start drama, battles, or anything to keep the RP rolling. This is mainly free-plotted.

Do not reply to the DNR post.

Put your favorite Warriors character as your subject so I know you read the rules.

Have fun!
Form:
Name:
Gender:
Species:
Rank: (specify warrior, hunter, or healer for apprentices)
Clan:
Appearance:
Personality:
History with Clan:
Mentor: (only for apprentices)
Apprentice: (only for mentors)
Mon, 11/26/2018 - 04:47
#14
Firestar
Main focus
Name: Eggnog
Gender: Female
Species: Terrible Terror/?
Rank: Hunter Apprentice
Clan: Mountain
Appearance: (She's blind)
Personality: Timid and a pacifist.
History with Clan: She processed extrordinary power that even exceed some of the mentor warrior but she doesn't like fighting therefore train for skill and mentality to be hunter. Not many dragon know about her strength though and would dismiss her as just a bling terror. Very close to Golden. If a dragon doesn't know her before they would likely to misgender her as male. She was left at the border when Rag first found her (but would reunite and become mentor-apprentice years later) and make sure the clan took her in. No one know who or what her parents were.
Mentor: The eel named Rag
Name: Raggedy
Gender:Male
Species: Giant Electric screaming eel
Rank: Self-proclaimed "Hunter"
Clan: He's not part of the plan but he live...between mountain and forest border? (I think in the map it's forest border) He's mentoring someone from Mountain clan so...
Appearance: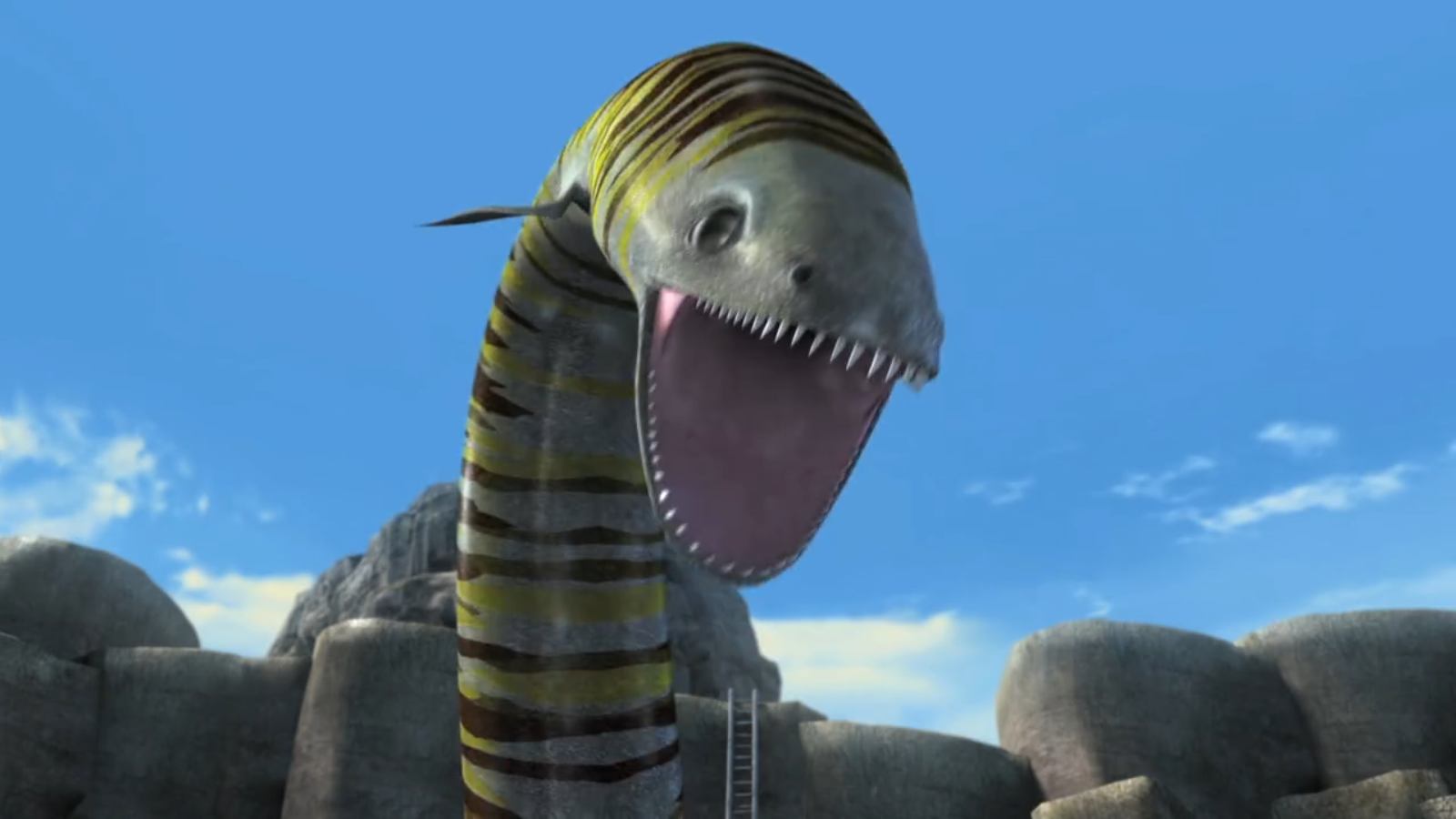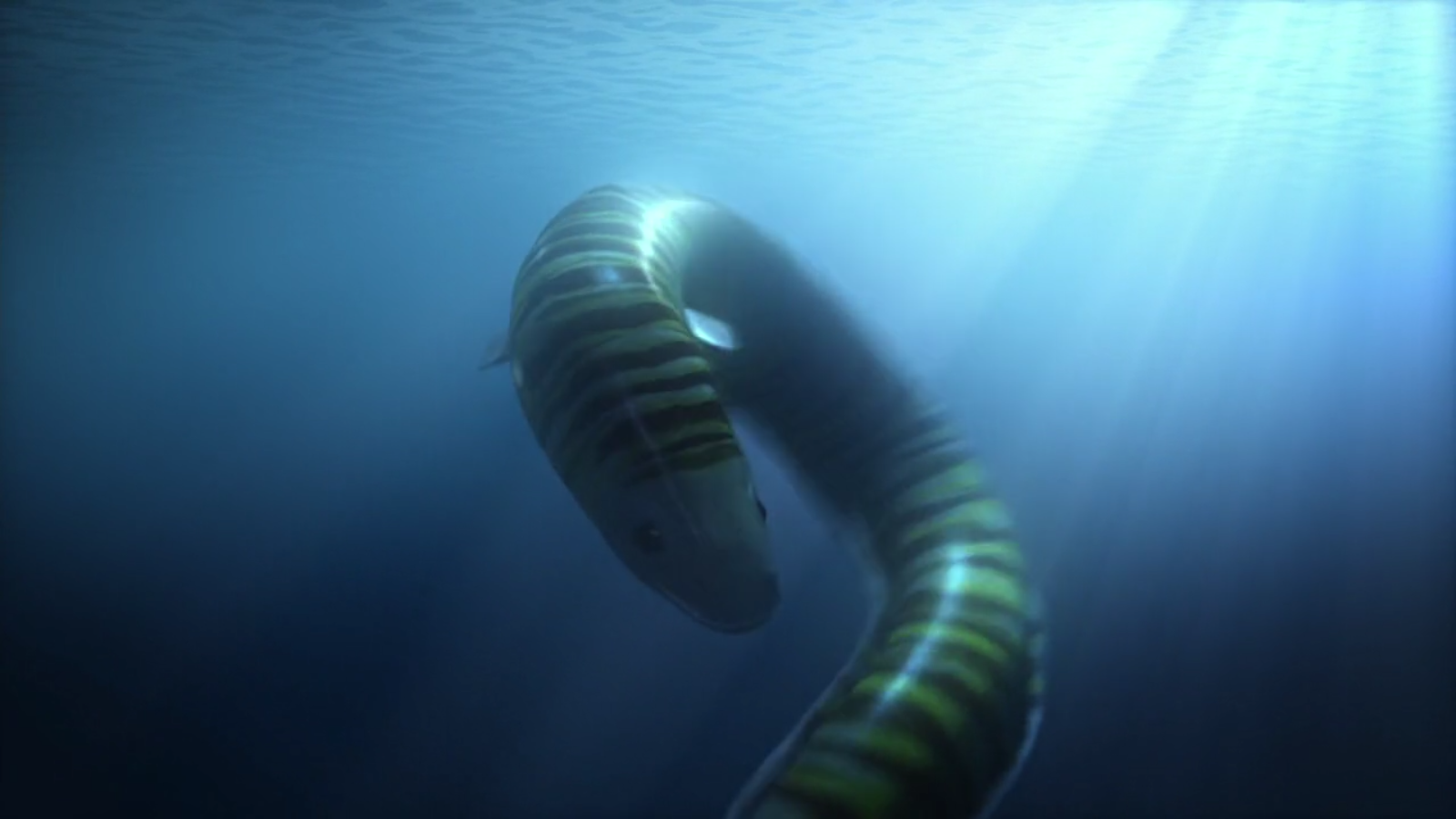 Personality: Slimy but caring
History with Clan: He stuck in the frozen pond within the boarder. Egnog mistook him as the tidal dragon in her blind state so he pretend to be her hunter mentor for protection and food. End up caring for the young dragon greatly and sorta responsible in raising her. Live long and know lot of dragon gossip. Most dragon are scared of his species.
Apprentice: Eggnog
Name: Golden Shadow
Gender: Male
Species: Triple Stryke/Dramillion
Rank: Warrior Apprentice
Clan: Mountain
Appearance: Look exactly like normal colored triple stryke(no Dramillion thread shown other than a bit of glittering texture you-blink-and-you-miss) but with scar on his left eye and ear horn (got from Eggnog)
Personality:Confident and competitive. Loyal and soft(with a hint of bashful) around certain someone. Both of his parents are rougue and out of the picture.
History with Clan: A Promising Young Appentice. Very close to Eggnog
Mentor:Open
NPC-Esque
Name: Dug
Gender: Male
Species: Sweet death
Rank: Leader
Clan: Forest
Appearance:
Personality: An Old raccoon. Equally Silly as he is shady and dangerously witty. Love to laugh at his own joke. More brain than brawl(perhaps not brawl-able at all)
History with Clan: He used to be a trickstery co-leader who masterfully help with strategy all while being a goof. After the old leader retired. He reluctantly become the leader as he's more comfortable pulling string from the shadow or spending his time as a laid back. Everyone is the clan known he's pretty dangerous despite his carefree attitude thankfully he's good to eveyone in the clan so they don't have anything to worry about him being their backstabber (it's the other clan that should be worry)
Name: Lucia
Gender: Female
Species: titan groncicle
Rank: Healer
Clan: Tide
Appearance: White and blue Groncicle. With long tail(much like the statue/ROB original design)
Personality: Loyal but cold. Stand by her principle in the way that she would heal those in need even if they're from different clan. Would k,ill or jump in to save life with little to no hesitation depending on the situation.
History with Clan: Respect elder of the clan. Serve as Healer but also a very skill fighter (although would do so only if needed)
Apprentice: Splashdancer
Name: Bashinbold
Gender: Male
Species: Hackatoo
Rank: Warrior
Clan: Mountain
Appearance: Normal brown Hackatoo but instead of red stripes they're dark blue
Personality:Obnoxious, Over-confident, daring, hot-tempered, battle-thirsty and a bit of a drunkard.
History with Clan: He's annoying and stupid but they know he's strong and skill warrior
Apprentice: Golden Shadow
Name: Paragon
Gender: Female
Species: Prickleboggle
Rank: Warrior Apprentice
Clan: Forest
Appearance: Normal mint green miniature-type prickleboggle
Personality: Work-freak, down to bussiness, easily annoyed, small but feisty
History with Clan: A Promising Young Appentice who get a lot done.
Mentor: Sunlight