Dig Into New Sand Wraith Egg Sale!
Astrid was taking a mid-morning flight, when she spotted a few chests floating out at sea. It was to her complete surprise when she discovered the chests were filled with Sand Wraith eggs!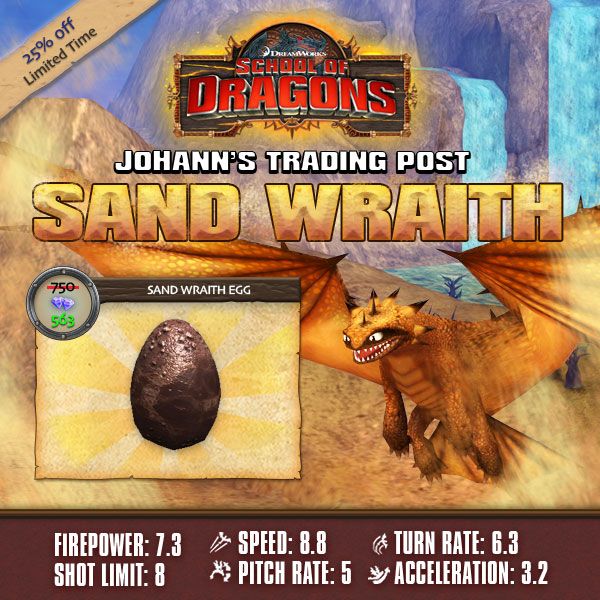 It was during a relaxing flight right before lunch that Astrid noticed the remains of a ship floating not too far from Ship Graveyard. Changing course she headed closer to the shipwreck, but there seem to be no Vikings anywhere near the remains. The dragon trainer was about to fly back home, when a sudden shimmer coming off from some of the wreckage drew her attention.
Hovering straight above the boxes, Astrid was able to give the remains a closer look and realized they were filled with eggs. It seemed the shimmer she had seen were coming from these egg filled crates, which meant these were Sand Wraith eggs!
Realizing this was most likely a dragon hunter ship, the dragon rider grabbed the crates and began her journey back to campus. Upon arrival, she headed straight to Hiccup and Valka and told them of her discovery. As the Chief of Berk and Astrid decided where to keep the eggs, Valka remembered the newly arrived
Titan Sand Wraith
who was staying at the Trading Post. Who better to keep an eye on Sand Wraith eggs, than a bright and clever Titan Sand Wraith!
The Tidal Class eggs have been moved to the Trading Post, where the Titan Sand Wraith can look over them until a Viking decides to bond with these swift dragons. Will you be adding the stealthy Sand Wraith to your stables?