Deathly Galeslash Bundle Sale
Dragon Skins, weapons, and more! This week's bundle is all about the Deathly Galeslash as it's arrival on campus has cause quite the stir!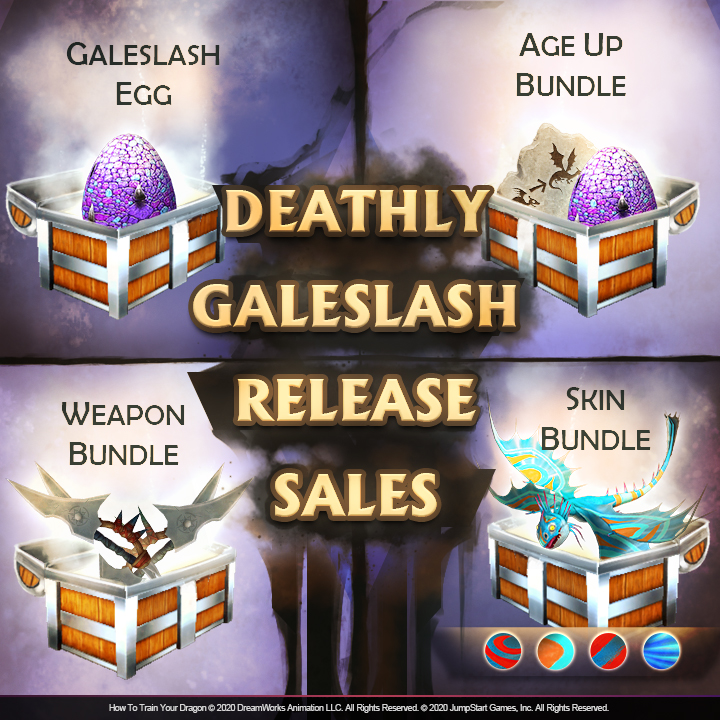 Vikings have already noticed the arrival of the mighty Deathly Galeslash, but along with it has arrived a new weekly sale! This time the Trading Post is filled with Galeslash eggs, two new Galeslash-inspired weapons, and a handful of dragons skins!
These bundles will only be available for a week, so Vikings need to rush if they want to get their hands on this items. While the dragon skins will look great on a dragon, the two new weapons are sure to give any Viking the boost needed to succeed in Dragon Tactics.
Those ready for this new adventure can make their way to the Trading Post where they can find all four bundles!
Fri, 07/03/2020 - 08:13
#4
.
DUDE. SERIOUSLY?! STOP IT!

You know what's causing a stir? NOT THE GALESLASH, IT BREAKS THE GAME. THE BREAK IS THE STIR, ARE YOU BLIND??? ARE YOU ****ING BLIND??? How about you do us a favor and ADVISE AGAINST THE GALESLASH OR ITS BUNDLES AND FIX IT FIRST THAT WAY PEOPLE HAVE A SHOT AT PLAYING THIS GAME!
Do you have ANY idea how completely FURIOUS YOUR PLAYERS ARE?! No? WHY DID YOU MAKE A FORUM FOR THIS THEN? WHY DON'T YOU GET YOUR HEAD OUT OF YOUR WALLET AND PAY ATTENTION? IF PLAYERS CAN'T PLAY THEN PLAYERS CAN'T PAY. THAT OUGHT TO BE COMMON KNOWLEDGE.
STOP
WITH
THESE
UNWANTED
BROKEN
BUNDLES
WE DO NOT WANT A BROKEN GAME YOU censored.