To the community and our admins - Please read!
So... The forums... There's been plenty of discussion lately now, hasn't it?
Don't worry! I'm not here to start a new problem. Just a random Viking girl who feels somewhat responsible over what needs to be done.
As I was reading through some forum posts dedicated to players calling out the admins to fix the game instead of adding new stuff, I found myself agreeing with the vast majority.
However, there is one thing that many (myself included) have fallen on: a negative response in part of the community about asking for change.
I'm not blaming anyone, I fully comprehend that you're exhausted, angry, frustrated, etc., about these sorts of features being added into the game. Personally, I'd like to apologise for being one of those who reacted out of impulse so that the developers saw what a lot of us want in the game.
But as I read through posts on the disagreeing side, I couldn't help but notice there was a key point they had in their favour: about us not explicitly showing which changes needed to be made, and overall, our attitude in asking for change. And as I read through the Bug Support thread, I realized the admins do ask us to propose evidence to what the game is failing us.
I know many people have reported these or even shown evidence, but for everyone's sake, I shall propose what I think a large portion of players are asking to be fixed:
#1: Battle Events
· More often than not, many players find themselves unable to beat the Battle Event boats given their health bars not going down.
· Besides this problem, other boats' health bar does go down, yet before it reaches 0, the 'Victory!' window does not appear and thus freezes on a random health count.
#2: Fireball Frenzy
· As many people said before, entering Fireball Frenzy is such a gamble simply for the occasional glitch where a player is bound to the end line, with the 'Waiting for other player to finish' line on top. Nothing happens, and thus prompts the player to exit the game and lose 15 trophies.
· A minor bug, but in a certain obstacle course there's an accuracy glitch where the dragon's fire is propelled upward, ignoring the direction of the red circle.
#3: Thunder Run Racing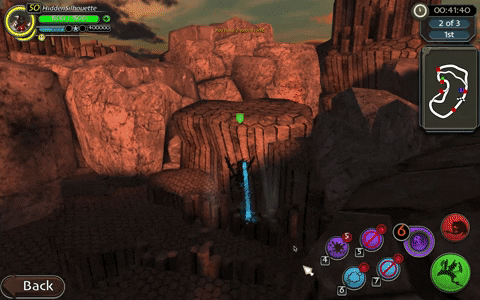 · Occasionally, players are forced to a phantom countdown, without anyone crossing the finish line after the third lap. This causes everyone to stop and lose 5 trophies immediately.
Now, I know there are numerous things that the developers should look on, but taking multiple forum threads and their repetitiveness on the same glitches, I do think these three need to be adressed the most.
But hear me out! I didn't come here on the 'Suggestions' thread just to complain about these giltches. In fact, I placed it here to ask the community and the developers (should they read this thread) if we could all work around and come up with solutions that benefit both sides.
I know many of you who decide to join in will have even more brilliant solutions, but from the back of my mind, I propose these ones:
· Frequent Maintenance: the developers could choose a day that fits their calendar the most, and alert us of their chosen day so we don't crowd the servers and let them work peacefully. Personally, I'd wait for as many hours/days as they need!
-> A bonus note: and that they're announced so that the community is well-informed!
· A Mediator (massive shoutout to Néon for this idea!): someone who'd work as a bridge between the community and the developers for better communication. NOTE: I'd like to point out that, if this idea (again, from Néon!) was ever considered, that we as a community can't bombard the mediator. It would have to be in an orderly fashion to not stress them out.
· Voting Poles: just like the voting poll at the starting page in the forums, I think it would be a lovely idea if the developers could add more options about what the community would love to see next/see fixed rather than jumping to just additions.
-> An example: adding options from this question: Which would you like for us to focus on next?
A. New Hybrid B. New Expansion C. Bug Fixes D. Old Features
But yes, these are all that I have in my mind right now, hahaha. As I said, I'm sure many of you will have hundreds of other ideas that I'd love to see discussed here.
Admins! Don't think we hate you or wish your game the worst. Quite the contrary: we love this game! Talking from personal experience, it has given me so many memories and online friends that I'd be devastated if something were to happen to School of Dragons (as I'm sure many people would agree).
So, let's all propose something, Admins and Community, for a better game!
(picture taken from the concept art of HTTYD 2; credits to their owner/s).
Fri, 09/18/2020 - 07:00
#2
Diagonally Parked in a Parallel Universe
came here to say this and to track.
HMM, in my 6 years of being on the forum, I have never seen Brunhilde
Fri, 09/18/2020 - 08:27
#3
PFFF Nah, we don't claim
PFFF Nah, we don't claim them. They're useless. The forums are useless.
There's a reason why as years go by the forums have less and less active and serious users, because in time, players start to realize what a pointless joke of a platform the forums is, and they just know all too well that it's undeniably clear that the SoD admins/developers work with 0 feedback
Really all the admins do here, and the rest of SoD social media platforms is just to come and drop some announcement and leave the place to burn down in their players' on-going endless list of discontent... or sometimes, if things seem to get out of hand, they just pull out the typical "wE tAkE tHe IsSuEs iN tHiS gAmE sErIoUsLy" card just to get everyone to shut up.. We just know all too well, it's just the truth... there's a reason why the forums is now like a Sahara Desert, compared to how it was years ago when players were still more passionate and hopeful with the game.
And I'm sure 'they're' all probably by the same one person running those accounts, just that each of them (Siren, Brush, Hyuckster, Brunhilde, Brynjolf, Snod the Sneak) have different characters/roles on the forums.
There was once an actual decent mediator for awhile, called Justin Prate/KastroLeeP. But, very unfortunately he doesn't work for SoD anymore. It's such a shame since with him around that time, a lot of problems in the game that actually matter got fixed. I mean not just problems... if I'm correct, back then we requested and got Snoggletog Raceway back in TRR by DMing him on Discord.
Yes! We need an ACTUAL and PROPER 'Mediator'! Someone from the SoD team who players could have candid and direct communications with would be great, such as through Discord!
Fri, 09/18/2020 - 23:25
#4
Never fear, for Blobby's here!
Well, to be fair, after a particularly aggressive thread about gem quests, they returned them. That means that they must occasionally look on here.