Collect Wall Decor with the Limited-Time Items!
Add a few art decors to your walls using this week time-limited items at the Trading Post!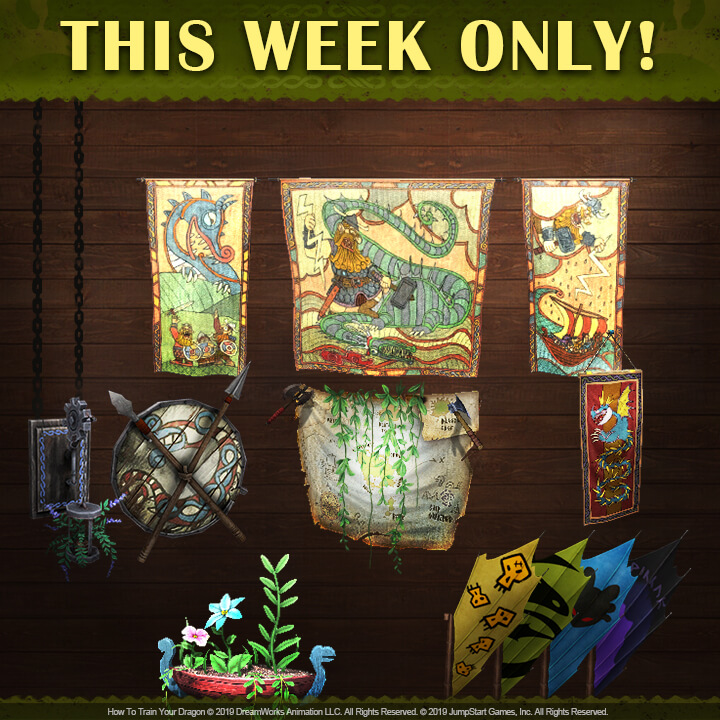 This week Toothless fans can bring some items home to honor the Alpha dragon. Personally, I love my Toothless because he truly is the Alpha of the pack. I decided to add a few wall hangings of Toothless tails all over my place to show my appreciation for all that he has done for dragons, and they totally give my Hideout an edgy style. Toothless tails come in a variety of colors that are sure to go great with any other décor in your Hideout. But they aren't the only things visiting the Trading Post! Many artwork pieces can also be found, many of these highlight important events of the Berkian life.
Check out all the limited-time items:
•
Map of Berk and The World
•
Encounter with a Great Dragon
•
Toothless' Blue Night Fury Tail
•
Toothless' Purple Cryptic Tail
•
Toothless' Fireproof Tail
•
Creeping Charlie Plants
Vikings wanting to add a few decorations to their walls have many options to choose from. Whether they're plants, tails, or artwork banners Vikings are sure to find some that show their interests. Fly to campus to add a little life to every wall!
Have fun,
Hyuckster