Clash of the Clans Round 2 Begins!
Week 1 of Clash of the Clans has officially ended and the results are in! We want to thank you all for an amazing start to this year's tournament. We know it must be difficult to earn all the trophies needed to pass on to the second week, however, every viking gave it their best and demonstrated what it means to be a Viking!
Now allow me to introduce the TOP 8 clans who will be facing off on this week on round - which starts NOW!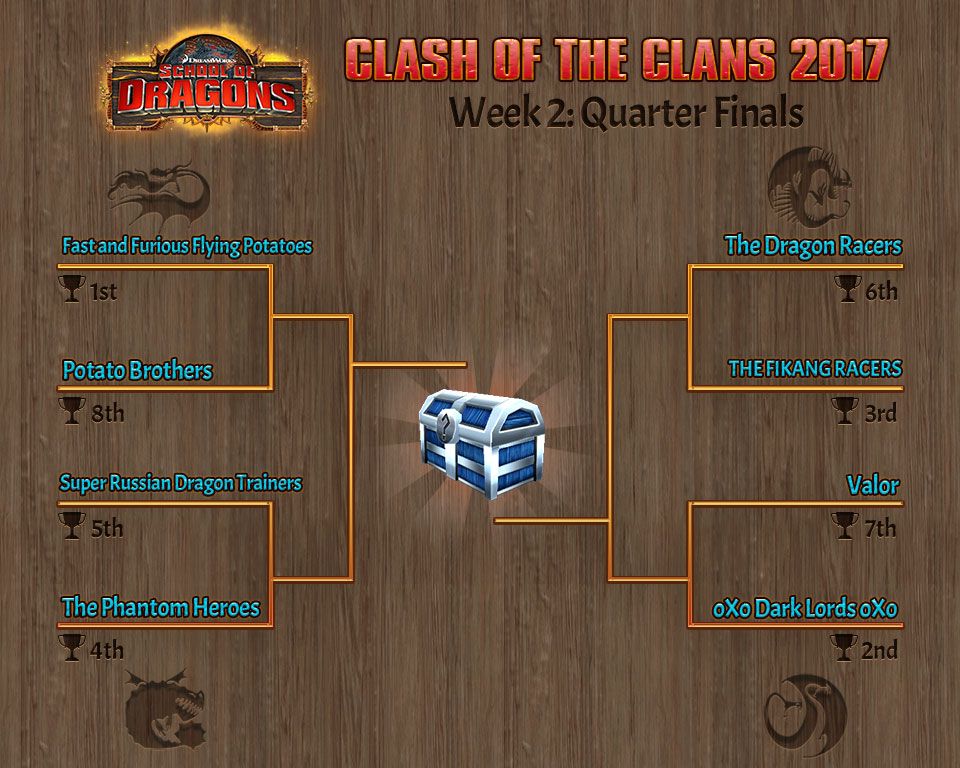 Fast and Furious Flying Potatoes (#1) v. Potato Brothers (#8)
oXo Dark Lords oXo (#2) v. Valor (#7)
The Fikang Racers (#3) v, The Dragon Racers (#6)
The Phantom Heroes (#4) v. Super Russian Dragon Trainers (#5)
If any viking needs a refresher on how our annual tournament is broken down, be sure to check out this
link
to get more details. Otherwise, cheer on your favorite Clan and see who will stick around for next week's Semi-Finals!
*An earlier version listed some clans as quarter finalists, we have now updated the image to reflect the correct clans who made it into the quarter finals. This was caused by a technical error when pulling the results report. We apologize for the confusion*
Mon, 03/06/2017 - 16:00
#2
...
Wait, what? Do you have any evidence to back this up?
Mon, 03/06/2017 - 22:36
#3
Quick, Hide the finish times
Evidence has been sent to Admin. Admin is well aware of its inability to track these clever codes
Admin DO NOT TAKE HACKING SERIOUSLY
What Admin takes seriously is using a ingame GEM FEATURE more than 200 times or in some players cases as little as 10 times.
Bravo Admin you do a wonderful job catering to most players needs.
Thanks Admin, for showing yourselves up by posting incorrect results first before you drew straws and posted what you got. Hilarious
Mon, 03/06/2017 - 23:15
#4
...
I'm sure the admins are doing what they can. As players of the game, what we need to do is take a deep breath, step back, and let them do their thing.
I am well aware that there are players who hack. I raced one just a few days ago. What I wanted to know was whether there was specific evidence that Dark Lords was a hacking clan or has hacking members, because it is unfair to anyone that is up against them. As a member of Valor, I would obviously prefer that we beat them and get into the next round, but if we do get beaten, I would prefer that that be in an honorable way by an honorable clan. Please, if anyone has any evidence that specific clans are hacking, please send it to the admins! They can make their own decisions about what should happen, we just need to let them.