Clash of the Clans 2019 is Here!
Today, we officially welcome the annual event of Clash of the Clans! Vikings everywhere can now head to the school grounds to battle for this year's championship title. Their skills will be tested as they enter countless rounds of Thunder Run Racing and Fireball Frenzy, in hopes to rise to the top. All clan members shall work together to have a chance to reign in glory together!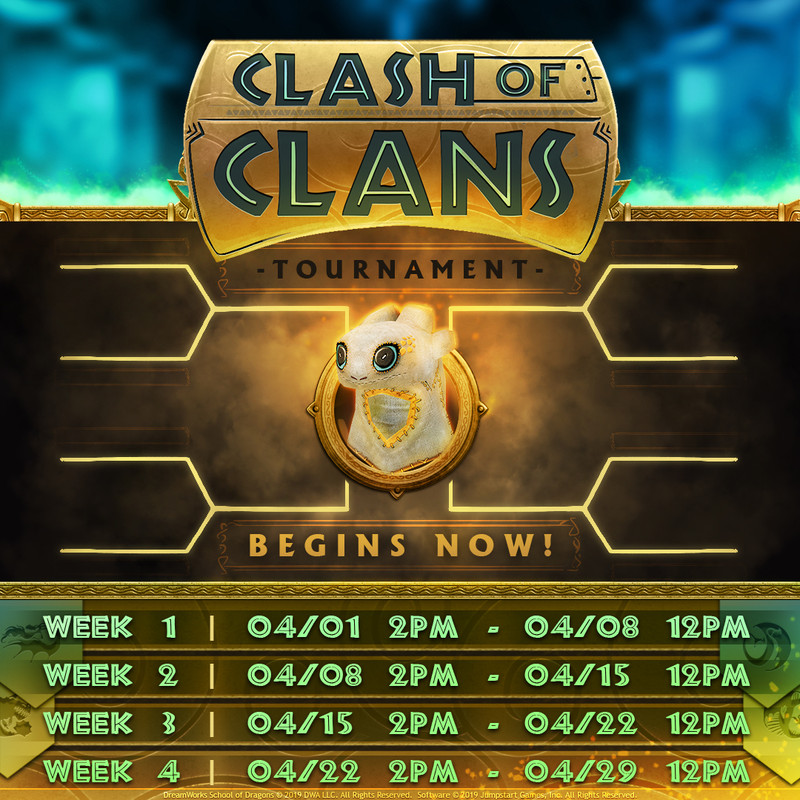 This year's tournament commences on April 1st and will end on April 29th. All clan members who are participating will have to earn as many trophies as they can, these will count towards the entire clan's trophy count. Clans who accumulate the most trophies will move on to the next round. Please be aware that trophies earned during the week will be counted specifically for that week's round, any trophies earned before each round will not be counted for the tournament. It is fair game when it comes to participating in small or large membered Clans, as the average of the total number of members and number of trophies gathered will be counted. Therefore, leaving an equal chance for both small or large clans to take the win.
Like previous years, the tournament is separated into FOUR different rounds, each round will start on Monday at 2 PM PST and will conclude the following Monday at 12 PM PST. The two-hour break will be used to manage the brackets and announce the clans who will be moving onto the next round. During this time feel free to give your dragon some time to rest for the upcoming ride or give some pep talk to your fellow clan members.
Tournament Schedule and Rules are as follows:
WARNING: Based on previous feedback reported by fellow Vikings, changes have been made to this year's tournament rules. Please read carefully.
NO One-Single Member Clans
NO Clan Hopping
Clan members found violating the rules will have the entire clan disqualified
Week 1 (04/01 – 04/08) – Pool Play
This round includes all participating clans to gather as many trophies possible for the hope of becoming part of the top 8 clans in the following week of Quarter-Finals.
Week 2 (04/05 – 04/15) – Quarter-Finals
Once the top 8 clans have been announced, all clan members must post their Clan Name and Viking Name on the thread
"CoTC Top 8 Clans"
by 1:30 PM PST. This will allow our team to lock in members and keep Vikings within the same Clan. You may have the Clan Leader report all members if you wish to do so. Please keep in mind that members added after this date, will not be counted as this will help us prevent clan hopping.
The second round consists of all Top 8 Clans, competing against one another in pairs. The clan with the highest trophy count within the pair will continue onto the next Semi-Finals round.
Week 3 (04/15 – 04/22) – Semi-Finals
Advancing into the third week, the Top 4 Clans that have made it this far will continue to battle for the title in pairs, same as the last round.
Week 4 (04/22 – 04/29) – Finals
Victory is near for the last Top 2 Clans by this week. In this last round, both will go head-to-head for this year's Championship title.
The Last Clan standing will be crowned this year's champion for Clash of the Clans and each member will receive an ultimate prize that only they will be seen with. Participating Clans who do not make it to the end, your courage and hard work will also be greatly rewarded. Keep your eyes open for future updates and the release of the grand prize!
Vikings, the time has begun to raise your shields and mount your dragon. May victory fall on yourselves and Clan!
smarturl.it/CoTCAncmnt
Mon, 04/01/2019 - 13:51
#12
~
"No one-single member clans" .... soooo... a 2 member clan is ok then? o.O
The new "No clan hopping" rule will have the most affect on the clans struggling to move forward since they can no longer join forces by consolidating tour clans or add "helper" vikings in the later rounds. So, this should be interesting. I suggest those clans, who have some "benched" players as backup, add them now... because you won't be able to later. This rule also means not being able to rotate your side vikings (if you were planning to add trophies to them) or being able to switch to your main viking in the last round for the prize, unless you don't mind the prize going to your side viking.
At any rate, anything to make tour more challenging is always refreshing. Now if only it had more... variety.
But... a Light Fury plushie costume mask? Like... seriously? You realize that most of your tournament junkies are... older, right? lol
Unless it has +10 speed, there's no way I'm wearing that goofy thing. I rarely see the purple Toothless one being worn... I even own it but I won't wear it. lol
Ah, whatever. I don't wear the golden goggles from last year either. It's less about the prize for me anyway I guess... I was just hoping for something more epic... like golden chest armor or another exclusive dragon skin. Meh.