Clash of the Clans 2017 Official Winners!
Vikings, we have officially reached the end of our annual month-long tournament where clans throughout campus have gone head to head for the honor of becoming the reigning champions of Clash of the Clans 2017! This year's tournament was like no other and on some accounts, Vikings were faced by a few more hurdles than usual. However, we saw just how strong and determined your focus was in this completions, which seemed to never slow down. And without further delay and as some of you might have already heard, this year's winning clan is the Fikang Racers!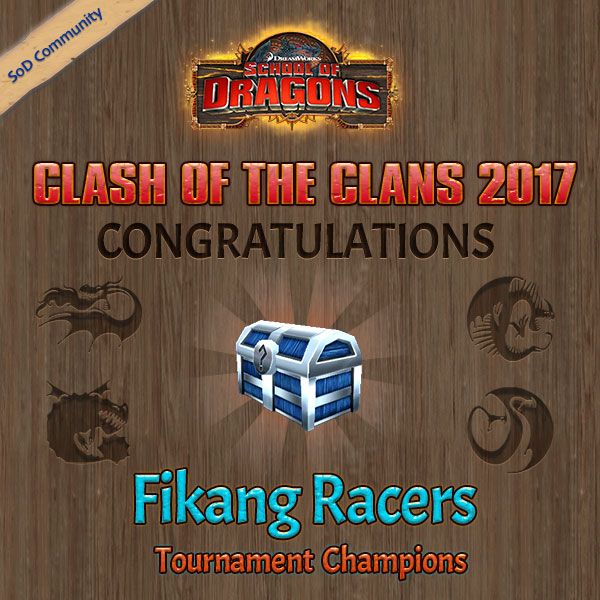 Congratulations to all members and thank you to all vikings who participated in this arduous adventure! The Winning clan will be given a special golden racing skin that will be added to their inventories in a few days time – stay tuned!
And while we are at it, we'd also like to congratulate Sun and Moon Guardians, their hard work and perseverance earned them a spot next to the Swift Champions. The two clans will be taking home a high-demanded prize…. 5 mystery box of fish, to maintain their dragons in tip-top shape!
All three clans should expect their winnings at the end of the month, once again congratulations to the Fikang Racers, and thank you to all vikings for giving it your all during this year's tournament.
Mon, 03/27/2017 - 19:36
#13
:D
Yes Lord Maijic, we shall do as you (and Master) command! :D
Mon, 03/27/2017 - 20:09
#14
Our Master Commands Thee!
Oh yes! Our Master commands this as well. Though I have not spoken to her directly about it, I know her wishes. For it is written, in her 47 commandments!
Commandment 41.) Thou shalt not be greedy while recieving highly demanded, not so demanded, gifts. Thou shalt also not be greedy in any other aspect of ones life. Tis unbecoming.
Which corresponds directly with,
Commandment 43.) Thou shalt give with abundance to those who are less fortunate AND more fortunate than thyself.
We actually aren't sure why 43 isn't 42...But our Master has a plan! And 42 was not in the plan at the time. So it is written.
**So, for those where were offended to not be included when I said "people with less fish", twas only an example, meant for shock value. Our Swift members may share with any and all, just as our Master of 47 commandments demands. Go forth and spread thy fish!