Chameishida's OCs storage
I made this thread because I looked at my signature and thought it's kinda long now and all those gif are gonna fired people's phones. So I need a thread to moved everything here so I can finally shorten my signatue, and now that we're at it might as well made this thread to stored all httyd related OCs, not just the one in the signature.
The actual post will be made below so I can edit and catergorized them.
__________________
!!Look at my daugther now!!!
++~~~~~~~~
~~~~~~~++
+++++ Dragons and Hybrids enthusiastic, TNR RR enjoyer, RP addict, Fan dragon artist +++++
I've been login in the game more usaul lately so, Hi! My Viking's name is 'Tahno'. I'm in Zesty's Humbanger Studio clan now. Come say Hi! Friend Request is A okay but need to notify me outside of game first otherwise I will ignore.
(Both Renders in this signature are done by LPS100! Thank you!)
------------------------------------------------------
Fan dragons Customizables
(grey means closed)
+++
+++
Come get your random Dragon Pixels!
HUMANIZED DRAGON l OC STORAGE l HUMAN + VIKING REQUEST
l THUNDERDRUM HYBRID BEST HYBRID l CHAMEISHIDA'S QnA l DRAGON RAFFLE
Wooly Razor adoptable l Deathly Singflyer Adoptable
Swiftwing and Relentless Razorwing Customization l Laxing Blizzadorn Adoptable
HTTYD Dragon Quiz l Titan Comparison l Hybrids Comparison l Hybrids Skin
Modern SOD Info Thread l Rescue Riders Tierlist l Dragon Fusion Generator
+++
+++
Wed, 08/29/2018 - 09:59
#1
Do not reply directly to this
(DNR, still underconstruction)
Tahno and the Drake seven
(By timilucy)
(By the lovely Tosilohi)
(By Katarile)
Tahno
From Signature: The seemingly mute viking who prefer isolation and dragons over human social, She marks a territory in a cave in a forest and lives with her dragons. After her traumatic past, she and Manta the thunderdrum then started exploring, away from civilization and get to know more dragons. She's currently an alpha of a pack of dragons known as the drake seven an ellite dragon that with Tahno's lead would protect the area from all viking and human's harm!
From Victoria's 150 words story request thread: Tahno is a mute 19-years-old. who become isolated from any human interaction and live with her own pack of dragons in the wilderness for 5 years now. She doesn't talk and the only mean of human communication for her is through body language and the words written on the small stone she carried around. Only when she only surrounded by her dragons friend that she's able to let loose a little. showing her cheery, free-spirited adventureous side. She communicated with dragons through touches, body languages, and some animalistic growl. Not exactly a dragonese but it's enough to get the intention across, not anything specific(Like 'I'm harmless' , 'I'm angry', 'I'm happy' etc.). Most of it was through trust. In front of other human though, she appears cold, straight forward, almost feral when angry. She's pretty stubborn with lots of dramatic flare no matter who or what she's with though and she sure have a lot of pen up anger.
From Scalecake's art trade thread: The seemingly mute viking who prefer isolation and dragons over human interaction. She's been away from civilization to be with her group of dragons for years. She may appear like a cold, stoic, animal-like dragon warrior but when away from human and surrouded by dragons she's much more open wonderlust and adventurous and happy
From TosiLohi's request thread: She's the silent-mystery type character (Mute, communicating through word written on the pocket rock like post it note) who's on the constant 'fight me' mood but can be precious/'need a hug' in some situation.
From The Raver Rp: It could be said that there's two Tahno, the one around human is a secretive quiet and reserved person, She came across and cold, blunt and rude to the others without saying anything, yes, she doesn't speak and only communicate through the stone that she wrote words onto. She might even throw that rock to a person if she's too angry to say(write) anything. Being isolate for so long, she's really antisocial and occasionally behave almost feral-like. She's brave and got lot of dramatic flair, especially when saving dragons.
However, around dragons, hers or wilds, and without other human around, she's this curious adventureous girl who just really really love dragons
Her biggest fear are death of her dragons or someone close to her, being responsible for someone's death and human interaction.
From The Rescuer RP: Mute, though not natural by birth, she communicate through grunts, body languages and words written on stone she carrying around. She doesn't live on berk, she doesn't live with other human for a long time now and instead living with her little pack of dragons in the wood, She and Hiccup knew each other though, so he probably contract her for help
From War of the Dragon Rider RP: Tahno is a really isolated viking, she's off exploring and studying dragon on her own with her dragons for so long she's really bad at human social skill and probably prefer dragons over vikings. She can be seen as a mute since she often communicate through writing or charades and almost never talk (but the word written on those paper/rock sometime oppose to her personality) have a hearing problem but she's very good at reading lips so this can went unnoticed. She is more of the adventurer than the fighter but Tahno can use her crossbow as a weapon (usually just to scare off agressive dragon or use it with ropes for maneuver) and really acrobatic (as she can be consider an expert at jumping from dragon's to dragon's backs)
Race to the edge RP: She is known to be an isolated, quiet and not good at social skill individual. She was off on her own in the wild with her dragon for years, exploring and studying dragons, but never outside of territory. She is bad with human, too quiet that can be consider mute because of the certain reason
Rises of the dragon trainers RP: to the others who have heard of her. She spend of her time alone in her cave with dragons and avoid human contact to the point of being a bit of this 'crazy dragon lady' people in the village will know that 'oh Tahno? she still lives in that cave with her dragons!' but they also know that she's quite skillful and can be helpful if you approach her nicely. She spends her time with dragons a lot much like Valka so she's good around the wild one too. She's also very skilled at running/ jumping from one dragon to another mid air.
(By Tumblr user Bluenightfury)
(By Scarfywing)
(Rigged and Rendered by Alicornbrod,ie!)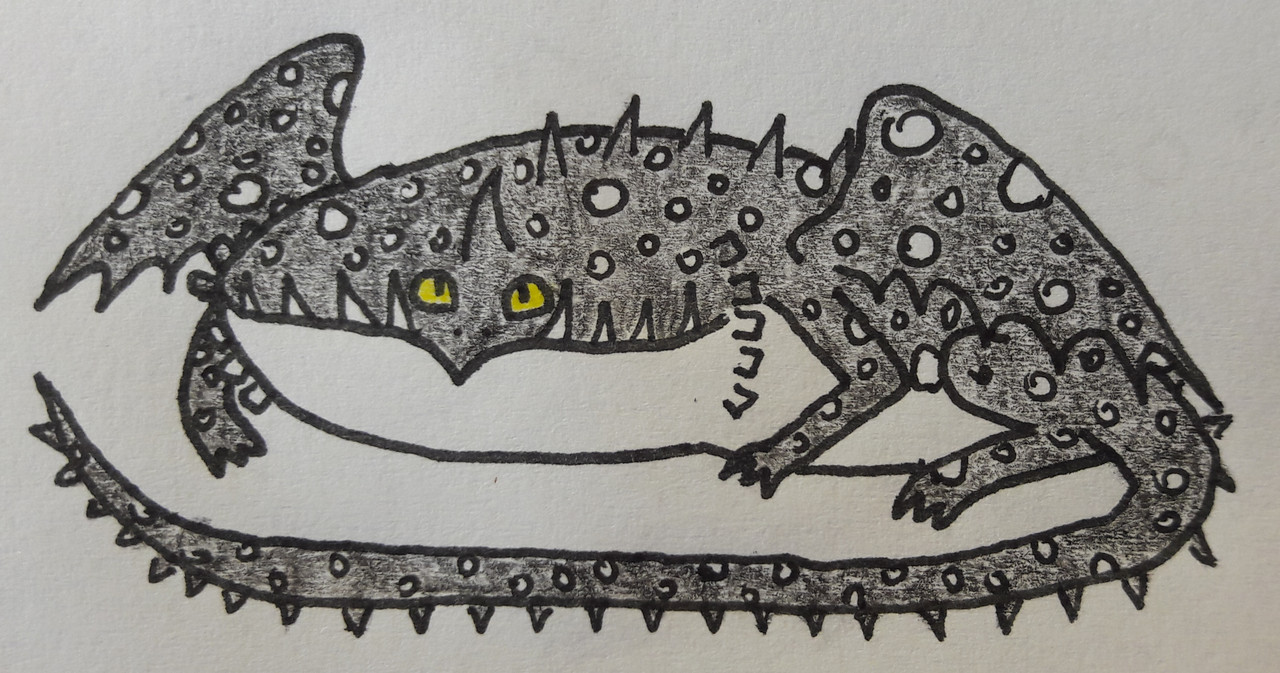 (By Zikta)
Manta
From signature: Tahno's bestfriend and her main ways of traveling, the Thunderdrum is always seen by her side. Despite being a thunderdrum, Manta does not share the stuborness of his kind and tend to have more of a soft-hearted, loyal and obedience nature but shall protect his rider and willing to do anything for her
From Victoria's 150 words story request thread: Despite being a thunderdrum, Manta is anything but stubborn and violence. He's probably the biggest softy there is of the thunderdrums. Shaped like a friend and a kind big brother figure. He's not out right playful (but that doesn't mean he's not) and more of a 'Being there' type of character. A voice of reason, something to pull you back when you are out of the rail, a shoulder to lean on. He's very gentle, calm and patience and bordeline pacifist.
From Scalecake's art trade thread: Manta isn't stubborn and loud like other thunderdrum, he's kind and soft-hearted, most of all very loyal
From Scarfywing's request thread: Big softy huggable brotherly type. The true cinnamon roll.
From War of the Dragon Rider: Manta is soft-hearted, loyal and obedience. unlike most thuderdrum, he isn't stubborn and not at all a fighting type (that's when my skrill coming into play)but still willingly to do anything, even fight to protect his viking. They(Tahno and him) share the very strong bond that allow them to understand each other without any words.
Drain: A Skrill that Tahno saved. As oppose to Manta, Drain tend to be more wild, agreesive and unfriendly towards other, however, he is as loyal and as protective to Tahno as the thunderdrum for their history. The Skrill makes up for Manta lack of hostility and act as their strong arm, willing to do the nasty job for them. The skrill and a thunderdrum also share an unlikely bond and act like they're brothers which make it less worrying for Tahno that they will fight if she chooses to ride one more than the other
Springfill: Springfill is a wild Scauldron who, consequently, lives near where Tahno and her friends hang out. After sometime The rider and the dragons somehow earn his trust and liking, enough for him to, from coming to play with them himself, to protect them from harms and even let Tahno riding him sometimes.
He has been seen following or stay with Tahno more often but for now he's still the only one in the drake-six who has his place in the ocean and not her place and still part of the ellite
Snapjaw: Snapjaw, like Springfill, is an older wild dragon. She attacks Tahno one day in the forest but later Tahno gained her trust and like the scauldron and the skrill, they begin to develope trust. However, unlike Springfill, Snapjaw decided to keep her company around the group as she feel guilty about their first meeting. She is hot-headed and get angry easily but also caring.
Bellblue: Like Root and Manta, Bellblue was found and hatched by Tahno, makes him the second youngest member of the crew. And like most of other Stormcutters, Bellblue tend to be very confident and proudstuck, high on ego, love to taking control but loyal to tahno with no end. Still pretty young, Bellblue is noticable very small compared to fully grown stormcutters.
Bluejay:
Sometime Navyjay or just Jay as Tahno likes to call. They first met during the inccident, where Tahno got seperate form her dragons in the wood. There she met a friendly snafflefang and end up spent a lot of quality time together, by then Bluejay wouldn't leave her side! They share a somewhat besty-like friendship. Personality wise, Bluejay is very similar to Manta, soft-heart, and chill and when it comes to lighten the mood in the group up, he is very good at it!
Eggplant:
The latest addition the the pack, Eggplant's everyone's baby girl. being rescued by Tahno as a baby. Much like Root in her early years, Eggplant's enthusiastic in proving herself and she's done a great job so far. Because of her age however, she mostly being keep out of any serious missions. She's already swift and brave for her age now however.
Northernlight: The old flightmare that mysteriously appears one day and protects Tahno and the gangs from the territorial changwings. Since then she acts as their guardian and follow Tahno everywhere. Her backstories and whereabout is unknow but it might related to the lost of her child or rider, or that she was a netural alpha and have protective instinct or that she's just kind. She is the oldest and undoubtly the most mature. At the present time her ages weakening her that she's no longer suit to be the alpha or in their ellite, but she still gain respect as always and currently spend the rest of her life resting and happy in Tahno's place
Root: Root's origin is quite similar to Manta's. Tahno found and hatched her, make her the youngest members to this crew, "baby girl" as what Tahno called her time to time. However, despite her love of dragons, Tahno held somewhat grudge against the whispering death species due to her past and even though she tries to be open-minded, she still unintentionally give Root a hard time. Unfortunately, this result in Root distancing herself from the group. And result in her ruthless nature, however, she still love Tahno dearly even when she's no longer in her pack
The Queen: previously known as Flamebringer, She's not exactly part of the group but she shared a strong bond with Tahno and her dragons. Like Torch, She was found as a hatchling in a hand of the trappers, Tahno resqued her but mistaked as a normal male fireworm due to the size. After sometime together, Tahno decided it is better to return the fireworm to her nest. They later met again when she became the queen of the nest. At first Tahno didn't recognize her but the queen did and she shown her affectionate as gratitute. Unfortunatly being the queen stopped her from spend times with the viking. However, Tahno still come to visit her every so often and if it's really need, the dragon is willingly to come and help.
Rivercry: Tahno may like and understand dragons, but this poor sandwraith is the example of her miscommunication. The sandwraith happened to be near where she lived and in every trouble she brought, the sandwraith ended up caught in it most of the time. A lot of her action unintentionally made this sandwraith suffering. He likes to complain and never in a good relationship with the group. Ironically, spending his time these troublemaker kinda made them grow to him a bit, or maybe he got used to them, still he won't admit it easily!
Crowl: Somehow this Eruptodron were able to survive faraway from the volcano and still have enough strength to scar away Tahno and her friend upon encounter, Tahno however was so amused by this new dragon that she keep wanting to get close, so much she later discovered that no matter how much this young energetic male hide it, he's dying. With some afford, she able to guide the eruptodron to the nearest volcano and thus all the grudge and hatred was dropped. Crowl's greatful enough to let this girl continue to get too excited when she see him and sometime even let her ride on his back.
Who's online
There are currently 3 users and 364 guests online.