Catsrockers 4 Viking of the week!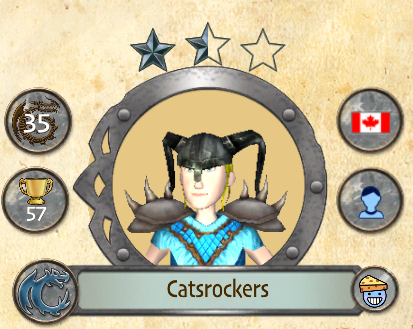 Viking name:Catsrockers
Dragon name (Breed):Boneknapper,Bones
Clan:Golden blade
Hobbies: Roleplaying inside the game, Flying around in circles, making friends
About me: Hello I'm catsrockers, I started playing this game more then a year ago I started out with a character named Catsrock with a blue nightmare Named FLAME (Yep all caps). I became a member for short period for toothless, the gems and the skill, since you had to be a member to get it by the start. So I made catsrockers and he has been my main ever sinces. I have Icestorm and call of the deathsong. My most recent dragon is a quaken named Fee fee. Some of my friends in game are Blockedragon and Foxiss. My fav place to hang out is at the top of the volcano at incestorm. I like to draw art with a computer and pencil, though I'm not very good with a computer to be honested. I like to help people if it doesn't involve hacking or anything else. I don't like backwards racers. I don't really race that much because of them. But I do like fireball frenzy. I hope you pick me for viking of the week.