Brush Favorite Dreadfall Items!
Boo! As you can tell Dreadfall is one of my favorite holidays and I am so excited it has finally arrived at the School grounds! As soon as I heard the news, I headed to the Trading Post to get all the new items and it wasn't long before I was pulling a cart full of decorations.
Since my farm is now covered in pumpkins, I thought I could share my favorite items this season!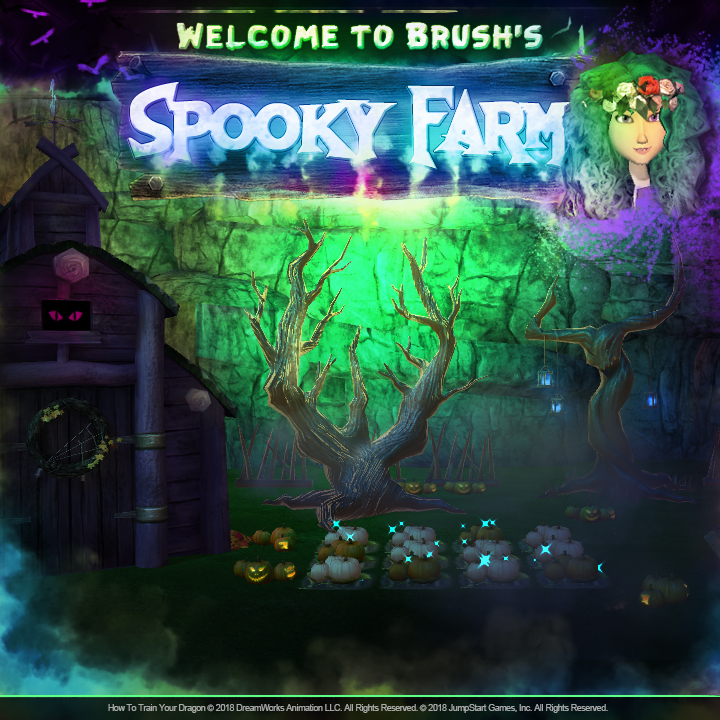 As you can see, I love anything pumpkin and the seasonal white pumpkins are not an exception. The white pumpkin brings some balance to the dark colors of Dreadfall and it's a small burst of light. Not far behind, is the ALL-NEW boar pen!
This animal has fully embraced Dreadfall, with its slimy bright colors and spider covered pen making it the perfect animal to raise during this time. You can add the boar, and other animals, to your farm in a neon orange, a glowing blue, or a fiery red!
To complete the Dreadfall look, my favorite item is any of the nightmare inducing trees. The shadows casted by these are sure to scare any Viking, no matter how brave they may be!
If you are ready to walk through the chilling fog as you hear the click clack of spiders, visit the Trading Post and start decorating your farm!
Mon, 10/01/2018 - 17:49
#1
If I can only get to my farm
If I can only get to my farm
Tue, 10/02/2018 - 11:12
#3
Yes I cant enter my farm and
Yes I cant enter my farm and I have reinstaled it about 5-10 times,every time I try it just keep saying "data validation failed. please try logging in again" I try still says the same thing over and over again.
Note:this only happens with one viking
Viking name:BraveMrThomasTheLegend
Login name:Thomasrmh1
~Thomasrmh1
Wed, 10/03/2018 - 17:31
#4
Mon, 10/01/2018 - 18:03
#5
Hello!
Hey! Love the way your farm looks. I'd like to make a couple suggestions, though. Wouldn't it be cool to have Dreadfall chicken and yak pens to match the Dreadfall animals? Like the Dreadfall sheep pen. Also could y'all maybe please bring back the Autumn Leaves?
Oh, and the colors on the animals are really faded. They look good in the store, but blah after you buy them.