Blazing Firemaw - adoptables
Hello there, humans! I'd like to introduce you to a new fan-made dragon which I created...
Blazing Firemaw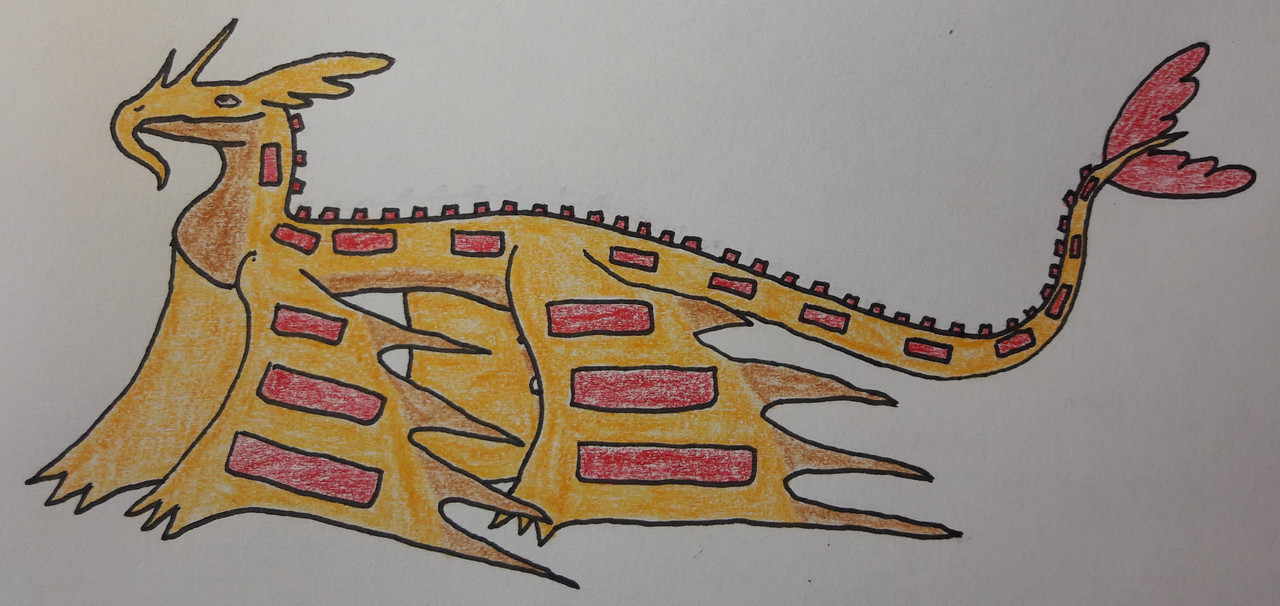 (This one is mine, called Crabnet)
Class: Stoker
Attack: 16

Speed: 24

Armor: 6

Firepower: 23

Shot limit: 6

Venom: 0

Jaw strength: 10

Stealth: 19
Fire type: Sparkling fireballs
Behaviour: Loyal, stubborn, sometimes agressive. Perfect racers. Very playful and energetic, however sometimes like to have a moment of peace.
Features: Long, curled upper jaw, two sharp spikes on its head, square-shaped spikes, square-shaped stripes (male), square patterns (female), four wings, powerful tail
Abilities: Can shoot 3 fireballs simultaneously, it can defend itself with it's tail, Males can light their spikes and stripes
Blazing Firemaws can usually be found in volcanos. They love sitting in hot lava to relax after enthusiactic moments they had during the day. They are loners. During the mating season males light their stripes to attract females.
Size:
Length: 8 meters
Height: 2 meters
Wingspan: 8 meters
Forms will be sent below. Please, DNR yet!
Sun, 05/06/2018 - 11:50
#2
Can I adopt 2, please?1.
Can I adopt 2, please?
1. Samson, a male firemaw. His coloration is yellow with white stripes and belly.
2. Delilah, a female firemaw. Her coloration is sky blue with lavender squares and light pink belly.
Pose: Delilah laying down, her tail wrapped around some eggs, and Samson standing guard beside her.
Story: While I was exploring Itchy Armpit with Banshee, a bright light appeared out of nowhere and started barreling towards us! Banshee fired a warning shot, stunning the fireball and temporarily de-igniting it. I was able to see clearly that it was a dragon that I had never seen before, and hurried to sketch it in my notebook. It started firing at us, then Banshee fired back and roared. The mighty firemaw started darting around Banshee's head and trying to get our attention. I noticed its erratic behavior and had Banshee hold her fire. The screaming death did so, and the firemaw flew off a distance, looked back, and roared. Banshee roared back and started following it. I just hung on for the ride, as Banshee obviously knew what she was doing. After a long flight, the firemaw hovered over the Tempest, Nikora Stormheart's ship. On board was a smaller sky blue firemaw with purple square markings, stuck in an iron cage with a broken wing. I gasped when I saw her and knew I had to save her. I whistled for the male dragon and offered him a whole salmon, which he took. He let me on his back, and I had Banshee attack the ship without me. While the hunters on board where busy firing at the mighty screaming death, the male firemaw and I snuck on board the lower deck. I picked the lock on the cage with one of my hairpins and freed the dragon. She looked at me with grateful eyes as I opened my backpack and began to bandage her wing. She was hesitant to let me touch her, but a gentle hand on her snout assured her I was not going to harm her like the pirates had. I set a splint for her wing and the three of us sneaked on top of the ship. The female was weak from hunger and couldn't fly with a broken wing, and I wasn't sure what to do to get her off the Tempest. The male sniffed her and I knew he was thinking over the problem like I was. He finally hovered above the female and picked her up in his talons. I smiled and called Banshee over to us, then climbed on her back. We took off into the sky and didn't stop until we had reached the stables at Dragon's Edge, where I let the female sleep in my hut and fed her all the fish she could want. The male did not leave her side except to help catch fish, and I realized that they must be mates.
For the next several weeks, the two firemaws stayed in my hut under my constant care. The female's wing finally healed and I opened the door to let them leave, but they refused. Instead, they flew over to my stables, where Banshee and my other dragons immediately adopted them into my group. I was reluctant to let them stay, since I knew nothing of their species, but when I saw Windsong (my titanwing deathsong/slithersong mix) build them a nest out her amber inside the volcano, I knew they had to stay. I named the male Samson, since he had the same amazing strength as the Biblical judge, and the female Delilah.