Art Project ( Need Validation)
I made a drawing I really love- I put tons of detail into it but I need Validation and constructive criticism.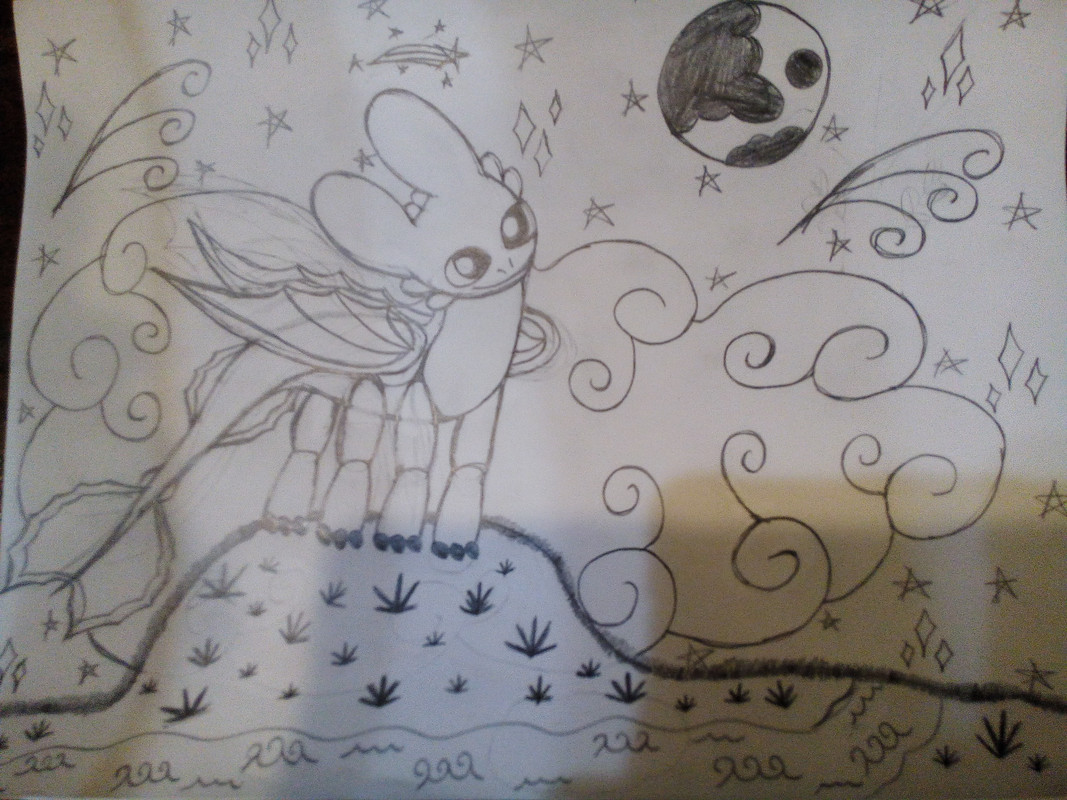 Wed, 06/03/2020 - 03:55
#1
Wow
That's brilliant!!! I can't find anything to criticise
Wed, 06/03/2020 - 03:59
#3
Spooptastic!
Absolutely adorable!!
It's such a cute artstyle, I love it!
My only issue is the legs looking a tad robotic, but they come with practice. Legs are hard.
Wed, 06/03/2020 - 04:08
#5
Amazing!
That looks awesome, I love the dream-like feeling of the background especially!
Pretty much the only thing I can find to criticize is that the wings look a bit disproportionate. It looks like the left wing is much longer than the right wing. Maybe you could shorten the tip of the left wing a little, making it end at the same height as the last hind leg?
Wed, 06/03/2020 - 06:37
#7
Summer melody have you seen... DON'T EAT THAT I NEED IT!
The style is adorable! The joints on the legs look a little odd to me, I would advise flipping the joint curve next time, or if you plan on adding shading to just use that to show where the joints are.
And I would also suggest not drawing so heavily before you completely decide how you want something to look. I can see where you erased the wings at. Doing light pencil work is also good if you want to know the lines in.
You did a very good job though, and I absolutely love those clouds in the background!
Wed, 06/03/2020 - 06:43
#8
Running around aimlessly, what about you?
Hey! I like it!
The ears seem a little bit large comared to the rest of the head, but besides that, it's really nice!
Wed, 06/03/2020 - 06:43
#9
Diagonally Parked in a Parallel Universe
validation? I would love to give that.
Your style is super cute and I absolutely love the designs you incorporate. This piece would look absolutely stunning if you digitalized and colored it. I can imagine the mixing of greens and turquoise to form a nebula and the glowing stars. You should seriously try it! I recommend using a program called "paint.net" i am pretty sure that it is completely free. Then zoom in real close and on a new layer trace your lines with a mouse. :D
Wed, 06/03/2020 - 14:20
#10
Summer melody have you seen... DON'T EAT THAT I NEED IT!
Medibang is also pretty great. It's got an extract lineart feature aswell.
Thu, 06/04/2020 - 02:03
#12
~
That's pretty cute!
Some concrit:
The proportions on the character could be a little bit better, considering where the neck attaches to the head and the lack of difference between the front and back legs. The perspective/angle is a little bit confusing as I'm seeing front, side and multiple 3/4 angles in the body's posing, and the front-facing face seems to be viewed from a more bird-flight-like angle despite the character standing on a hill. A more frog-like perspective would be more appropriate.
For the lines, what would work imo is to make sure you want to put your focus into focus. What I mean with that is, as you can see, the line thickness, darkness and hardness is the same throughout your drawing, meaning that there isn't much of a front- or background, making everything flatter than intended. Using different line hardness and thickness can really help you bring something to the foreground or background. For example: The planet in the background is very dark and also happens to be the only object in the drawing with so much black space, which brings it to the front and makes it a focal point for your drawing- which I'm sure is not your intention! The grass is also very dark, and is the second part my eyes drift toward. What works is to lighten either the subject or the background/surroundings (background I'd say in this case) to make the character pop out more to show everyone it's the main subject of the drawing (unless it's not supposed to be, if so my bad!)
What also works with creating good focal points is composition (will be necessary at one point), but that's an entire can of worms that's best left looked up on the googlebingdex or so.
For the rest, I think there'd be a better flow if the swirls on the clouds themselves had some kind of flow to them as a whole. They look fine individually, but once I take in the entire picture it becomes a bit messy due to their random angles and directions. Evening that out will also define wind direction, allowing you to play with that with the rest of the surroundings.
And lastly: There's a lot of different shapes in there! Rounded lines, angled corners, rhombi, pentagrams, swirls, waves etc. It's a little bit restless and I think the drawing would do well with some more consistency in shapes!
Hope it helps!
Fri, 06/05/2020 - 01:51
#14
~
Ahh I'm sorry, I don't think I can explain it in any other way-- however there's websites that teach art basics with visual examples, they'll probably do a better job than I can.
Sat, 06/06/2020 - 08:18
#15
Diagonally Parked in a Parallel Universe
I got you, Varku. Haha. My mother taught art class when I was little. I picked up on a lot of stuff.
Okay. So what Varku is trying to explain to you is called "composition". It is the placement and arrangement of shapes and objects in your art.
Basically. Artists are tricky in the sense that they like to mess with your brain and hack it to make you look where they want to look. So how do they do it? How do they control your eyes?
With composition! Lines, shading, shapes and le gasp, perspective!
Take a look at this image.
What is the first thing you noticed?
Id be willing to bet that it was that little white circle.
That is because the artist of this image purposefully directed your eyes to that point. This is called the "focal point".
Photography does this by blurring out the background of images.
Of course. That isn't the only way to get a focal point. Let's go back to the example of the first image.
Notice how the artist uses colour. Everything has a colour. And if it does not have a colour then it is black. The only instance of white ever showing up is in that white circle. That alone immediately draws your eye.
The photograph depicted above does the same thing. Notice how there is a lot of greens and tans in the image. But the only little bit of yellow is that flower.
The pop of colour instantly directs your gaze straight for it. Making it the first thing you see.
Another way to establish a focal point is with shapes. Go back to that painting from earlier. Do you notice how all of the lines drawn are going to or radiating out from the focal point AKA that little white circle?
That draws your eye as well. It makes you follow the colour's path with your gaze until you land on the focal point.
There are many, MANY other ways to establish a focal point but these two i mentioned are the most basic and the ones that Varku was talking about (because perspective is a whole other thing that in of itself is kinda complicated).
So let's go back and look at your image. Mmkay?
Given what you now know about how colour plays a role in composition, can you figure out why the moon is the focal point of your piece and not your super adorable dragon?
It's because your moon is so dark while everything else is very light. Remember earlier with the yellow flower? The fact that the flower was the ONLY yellow thing in the photo immediately drew your eye.
In your drawing, the moon is the largest object that contains a colour different to all of the other colours. So that is the first thing that draws your eye. The second is the grass because as Varku said, it is the second thing that utilizes that dark colour.
you See how dark the moon is compared to your dragon? Your dragon just kind of disappears into the lines and textures around it because it is so light.
Which beings me onto the second point Varku made.
Too many shapes.
The best way I can describe this is that it feels cluttered. Like there is a lot going on and not a lot of places to rest your eye. Which for the record. Is a COMPLETELY legitimate style. Think Picasso.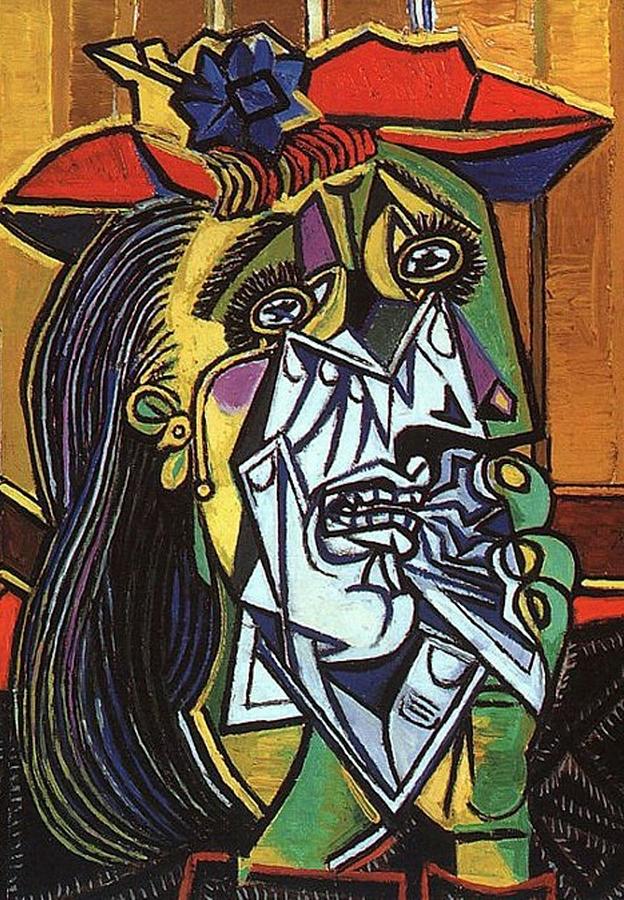 He used tons of different shapes and colours in his art, connecting them to create that super unique signature style. You would recognize his work anywhere. But notice how even Picasso used composition and focal points.
Because in these bright lucid colours, your eye is immediately attracted to the woman's face. Her frown of despair and her mouth. Again. This is because this is the only area where very bright colour was not used. Instead white was used. Which is more of a shade than a colour.
But i don't think that you were going for cubism or surrealism in your art work. So while it is nice to have some juxtaposition (fancy word for contrast) in your art, too much can make it feel cluttered.
In your example with the dragon.
Notice how the moon, the dragon, and the clouds behind her are these very graceful swooping lines.
But then the stars are more boxy and jagged. Rhombus and what not. It's best to pick a primary shape type and work with it. This establishes your style and signature look while also making your work feel more thought out and composed.
And uh. That is the basics. I hope I got most of that right, lol. I haven't been in an art class since high school.