Art Critique?
So I've started to practice making digital paintings, and so far I've only made two. However, I only count this one as my first because my goal is to make digital paintings with an animeish buuld for body structure and whatever. I eventually want to make digital paintings that look realistic, expeciislt with humans, so I figured it'd just start out with a slight anime style first. Anyway, this is a painting I did last month of Belle. What do you think? Any critique or criticism or advice for me? (BTW, I am so grateful for DuskDayBreak for giving me a tutorial a few years ago on how she paints in Clip Paint Studio!!!) My main issue with it right now is that when I was shifting/resizing, I lost the slight head tilt that I had included in my original sketch and didn't really realize until it was too late.
(This was a remake of this scene, but with my own twists and my own styles.)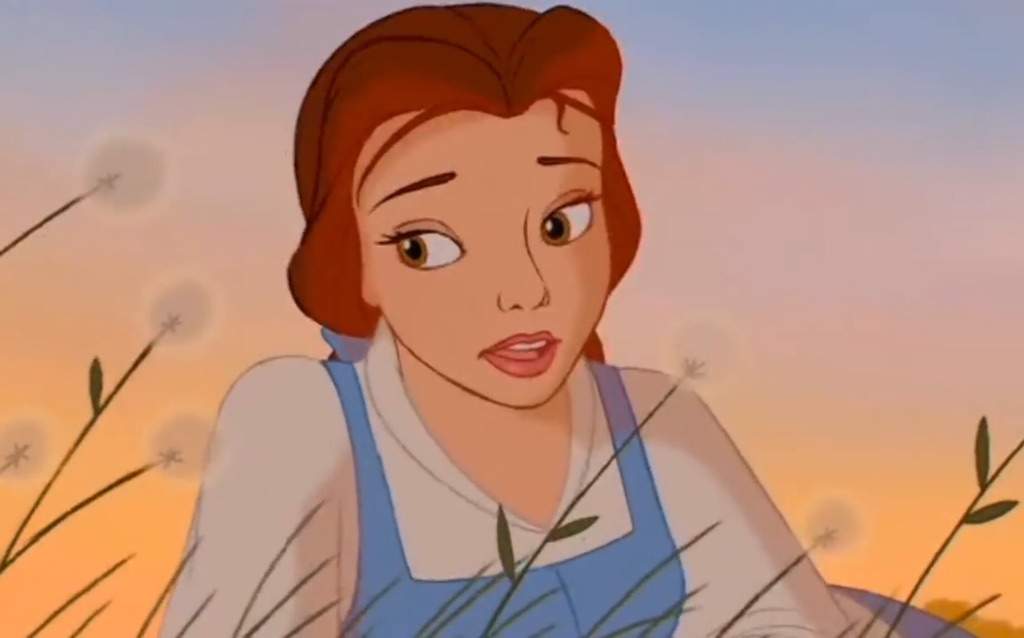 Wed, 02/07/2018 - 22:24
#1
Hi! :)
My two cents:
I'd say you need to blend the background more and lighting in the background is also too bright if you want to make it dusk then you need to use darker colors and add some shadows.
As for Belle herself, she looks expression is very shocked as if she saw something terrifying (unless that's what you were going for). If you look at the original her expression in the original is more thoughtful. To fix that move the right eyebrow down a bit and tilt the left one up slightly. As for the eyes/eyelids curve the point of it by the eye lashes downward to give her that more thoughtful slightly wistful expression. As for the mouth try to widen it a bit and close it a bit more.
And the biggest issue with the head is not the tilt but the size of the head. It's just too large for her body. But other than that it looks good. I'd work on making sure you know the human anatomy very well before you move onto anime which tends to exaggerate many physical features. Great for your first attempt. :)
Fri, 02/09/2018 - 13:59
#3
Hi! :)
Here's a link for help with human anatomy it's basically a tutorial and gives you the basics of drawing humans. It helped me a lot and I hope it'll help you too. Don't worry I understand that it's your first time drawing digitally and that proportions are going to be a bit tricky to do I was only being nit-picky to help you do better. I actually think your style is wonderful and you should keep practicing. :)
Link:
https://majnouna.deviantart.com/art/Big-Guide-to-Drawing-the-Body-15014442
Thu, 02/08/2018 - 02:59
#4
~
Hi! First of all, I understand what you mean with 'animeish' but I still have to mention that 'anime' is not a distinctive style. It's just what they name cartoons in Japan. Anime styles are widely varied and even though there's a lot of stuff that seems to have the same style (looking at you, almost every single waifu anime in existence), as an artist I wouldn't want to generalise them, just like how 'western cartoon' isn't a specific style.
If you want to paint realistic people eventually, hold it! Don't stylise yet! It's a terrible idea!
Let me elaborate. In order to break the rules of anatomy and proportions, you must learn them. If you learn from anime styles or cartoony ones, or anything that isn't realistic you'll hurt yourself in the long run. Anime are already stylised, drawn by someone who knows how body proportions work and how to alter them to create a pleasing aesthetic. These people already know the rules and how to break them to make something look unrealistic yet good. The problem with starting out with anime styles is that you'll learn the quirks within the style, and not WHY these quirks exist, WHY the eyes are this and that size, etc. It's all based on realism!
For your drawing, I think it could use more contrast! There's very little difference between the lights and the darks, and I think that it'd pop more if you used a bit more variation of colour in that regard. It makes the eyelashes pop a bit too much due to the fact that they're the only dark part in the drawing. The nose and details in the hair are also barely visible to me due to the low contrast. I think that if you were to add some contour lines to the nose and to where the jaw meets the neck for instance, it would already make quite the difference. You're on the right track though! Painting can be super difficult and picking colours for paintings can be really difficult, and something I still tend to struggle with.
Fri, 02/09/2018 - 15:01
#6
~
Well, sometimes things have names, and sometimes they don't! The popular cutesy girl style is 'moe', but most styles in manga are based off already existing manga styles, so people tend to refer to styles as 'Miyazaki-style' or 'Araki style' or something. It's a confusing bunch haha
You practice anatomy by simply drawing a LOT of people! If you have some spare time after school, you could always try and see if there's a studio or school that offers live figure drawing classes. Volunteers will pose for the classes, often in the nude so people can see how all the musculature works and stuff. It might be a litte awkward for some people, though, and sometimes classes are pricey.
If you really have no time after school, you could try figure drawing and gesture drawing online!
Line of Action offers online figure drawing classes (you can choose whether you want nudes or not). You'll get little time for each model you draw, and you'll get more time with each new model. It'll teach you how to quickly lay down the basics and slowly pay attention to detail over time. Drawing is mostly a motor memory thing, so doing a lot of figure excersises to see how bodies work will help you draw people on your own eventually.
For the palette, I would increase the range of the palette if I were you! With colour it's okay to be bold. because it's easier to fix harsh contrasts and stuff in the end than it is to add contrast to a piece in hindsight.
I picked these from your drawing. Nothing wrong with these! However, the colours don't differ very much and the difference may be hard to spot on some screens. The colours are close together, which will limit you when it comes to adding depth to a picture.
To make sure I had an example, widened the range from dark to light. Now the dark shade may seem a little doo dark, but that's where opacity and flow come in. If you don't have a tablet it'll make it harder to blend colours, though! If you don't have one, it might be worth looking into.
See the dark line on the jaw on the original Belle? Her nose? That's what I mean with contour lines! It makes sure that the viewer registers the head as separate or 'above and in front' of the neck. It adds depth to the complete picture. However, adding 'lineart' doesn't seem like something you are aiming for in your style, as it would greatly mess with the feel of your work.
This is where a wider colour palette comes in.
(if you don't want me to alter your stuff, just tell me and I'll remove!)
A bit of a quick and shoddy example, but hey. I used the darker colour to add some contour lines around the neck and nose. The neck looks more separate from the face, while the nose gets 'bumped' to make it stick forward a bit more. Using a wider colour range allows you to add more depth in your art to make sure people won't register something as 'flat'! (untrained eyes won't always register things that may be obvious to us, and stuff needs to be rubbed in their faces, oftentimes)
When it comes to hair.. hair is tricky and incredibly difficult to draw. If the tutorial I posed in the other thread is useful to you, by all means use it! If not, there's a lot of good tutorials out there on the net, all in different styles. From experience I know that hair is just something you eventually have to sit down for and just...try to figure out somehow. I believe that it just comes with the rest, once you get better at say, shading clothes and skin, you'll be able to use and/or alter those techniques for hair as well.
Be sure to watch good tutorials! There's a LOT of online tutorials that are actually pretty terrible. People don't notice, copy a flawed technique and then fail to improve further due to it. Find the sources you trust and stick with them. I really like the tutorials from this guy called Sycra. He has videos on YT about colour, gesture sketching, composition etc. Very useful!
But hey, I would never call drawing something without knowing certain things a mistake! It's good to learn from other people and other things, but it's also good to learn from yourself and your own experience.
Sorry about the text wall, I hope I made sense!