And the 2016 Clash of the Clans Reigning Champions Are...
Brave Vikings and loyal dragons, we have finally reached the end of this month-long arduous adventure of fierce competition to bring you the grand reveal you've been waiting for. With the two strongest clans of this year, Wings of Freedom and Spirit of Valhall, racing hard and blasting targets to determine which clan will be the best of the best for this year's championship. Well it's time to collect your wits and bring out the drumrolls foooorrrr...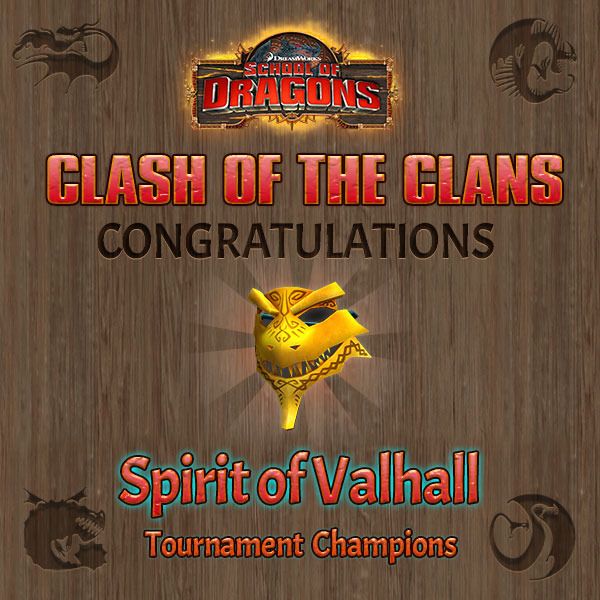 CONGRATULATIONS to all the participating members of Spirit of Valhall for taking first place and becoming THIS YEAR'S reigning CHAMPION! Just as promised, all winning members will be able to find the marvelous Mask of the Champions ready and waiting for them to adorn their victorious faces within the next few days. Stay tuned and sport this prize with pride once you find it in your inventory!
Clash of the Clans truly met their match with some incredibly hard-to-beat clans training hard and taking names, and all participating calns deserve a warm round of applause for all your hard work! It sure was a bumpy ride, but truly an exciting time to see the amount of support shared by members of this Viking community!
Thank you all for a fantastic month, and once again congrats to our NEW Champions! http://smarturl.it/ClashClans16WIN
Mon, 03/28/2016 - 12:30
#5
Great Tournament
Congratulations to Wings of Freedom on a great effort! We enjoyed our many races with you guys.
One more round of congratulations to all of the clans who participated in this years tournament. We are proud to have competed with so many great racers.
To The Members of SPIRIT OF VALHALL: THANK YOU again for all of your hard work! We can't say enough about how much we appreciate the countless hours you guys spent on the race track. You are all very special to us.
And, you guys can sleep now. :)