The All-New Night Lights have finally arrived!
Are you ready to train the new Night Light or is it me being the biggest jokester ever? Ha-ha. Maybe someday we will achieve them. pleaze dont hate on me ;.;
__________________
Ingame Info: I am EmberGuardIceaMoonborn in SoD
I would usually be seen with my Light Fury, maybe my Titan Deathsong, Mothial Butterfly.
I usually roam around training grounds, Hidden World, titan island, Vanaheim, any island except icestorm really.
➳
➳
➳
➳
➳
➳
➳
➳
➳
➳
➳
➳
➳
➳
➳
➳
.:+ Proud Member Of Permanent Damage +:.
❈Permanent Damage all the way!❈
❈Permanent Damage Mascot: Dano Permanete the
Stormcutter❈
Tue, 06/18/2019 - 09:25
#1
Some people move on, but not us...
You do realize that a prank thread already got set up for this right? Nothing surprises me anymore... O_O
__________________
Sooo, first things first. When I made this account I choose hookless as my username because hookfang and toothless were my two favorites out of the gang's dragons, and I combined their names. I just want to clear that up so people don't take it the wrong way. :)
Siggy header made by awesome AndreaEaston! Thankies :D
Original pictue of Final Inferno by my buddy Flitt. Thanks so much!! :D
His flames will consume your soul and scorch you alive if you dare touch the art in this siggy.
A cool present from my friend Bluetheraptor. Thanks pal! :D
Permanent WIP: Beware falling gifs and memes (in the meantime, plese enjoy these screaming birbs 8D)
Table of Contents: (no longer relevant cuz half the siggy got deleted... :\ *glares at Thanos*)
Info about me that you can live without XD
Art (currently undergoing revamp)
Links and stuff (RPs, art threads,etc)
My Fandoms
Random jokes and stuff (mostly memes...also undergoing revamp)
IMPORTANT: Dictionary of made up weerrrrrrddddddzzzzz XD
If you're an MCU fan...don't go to the end of the siggy XD Feels await you xD
Before you go further: I'M A SUPREME VIKING CHAMPION!! RESPECT MAH AUTHORITY!! XD
Names you can call me
Potato, Chip, Hookless, or Hookie (I'm girl fyi xD)
I have certain nicknames that only my friends can use. These include: Bolt, Bacon, and Your Highny. No one but my closest friends can use these.
Stuff about Me regarding the forums
I watch the forums like a hawk... ·_·
may make an art request thread in the future...
I use lots of exclamation points and capital letters.
Sometimes gets unnecessarily hyped about different, new things (hence the capital letters)
loves RPing and thinks wayyy too much about them XD (currently have 20ish rps...XD)
However! I really despise having people ask for recaps. If you missed some posts in an rp, jut go back and read through the posts you missed! There could be important info! Especially if you're working with me, since I like to include foreshadowing and symbolism in my posts.
How I'm like when first entering a thread made by strangers or slight aquaintances:
How I'm like when entering a thread made by my friends:
I either mercilously spam my friends (with them joining a lot of the time XD) or just scream my head off from enthusiasm....XD
Also...Imagine me looking like this... (pic below XD)
Bacon the Axolotl! 8D By my bud SpeedyLeaf! SHE IS SUCH AN AWESOME ARTIST!! THANK YOU! 8D
My bestest forum buddies:
Random stuff about me
I'm not as active in-game as I used to be :(
uh, I love drawing dragons (mostly of my own making or fan-dragons)
frequently fangirls about anything How to Train Your Dragon, Jurassic World, Avengers, Big Hero 6, The Flash or Gravity Falls related
If you like any of those, PM ME! I would love to have someone to scream and theorize with. :D
Hopelessly obsessed with the Avengers...XD (aka. the fandom I'm most passionate about)
I WRITE POST-INFINITY WAR AND ENDGAME AVENGERS HEADCANONS!!! If you have an idea, pm me! I'll see whether I'm willing to write something with your ideas :D (I am particularly good with ones about Peter and Tony...precious mentor and apprentice duo 8D) (no romantic ships though ;) )
Extreme MCU fangirl...I cried during Infinity War and Endgame XD SO EMOTIONAL!
just your friendly neighborhood biology geek who loves birds and reptiles. :)
I like puns and memes...like...a lot...XD
My favorite color is blue. I think that was pretty obvious though XD
Did I mention my obsession with the Avengers? Yes? Well then... Lemme show you an INCREDIBLE piece of art drawn for me by my friend, the INSANELY AWESOME SPEEDYLEAF!!! THANK YOU SO MUCH FOR MAKING MY POOR FANGIRL HEART SO HAPPY!!! 8D
Welp....seems like I'm sticking all MCU related art here...XD
ANYWAYS! LOOK HOW WONDERFUL THIS NEXT ONE IS!!!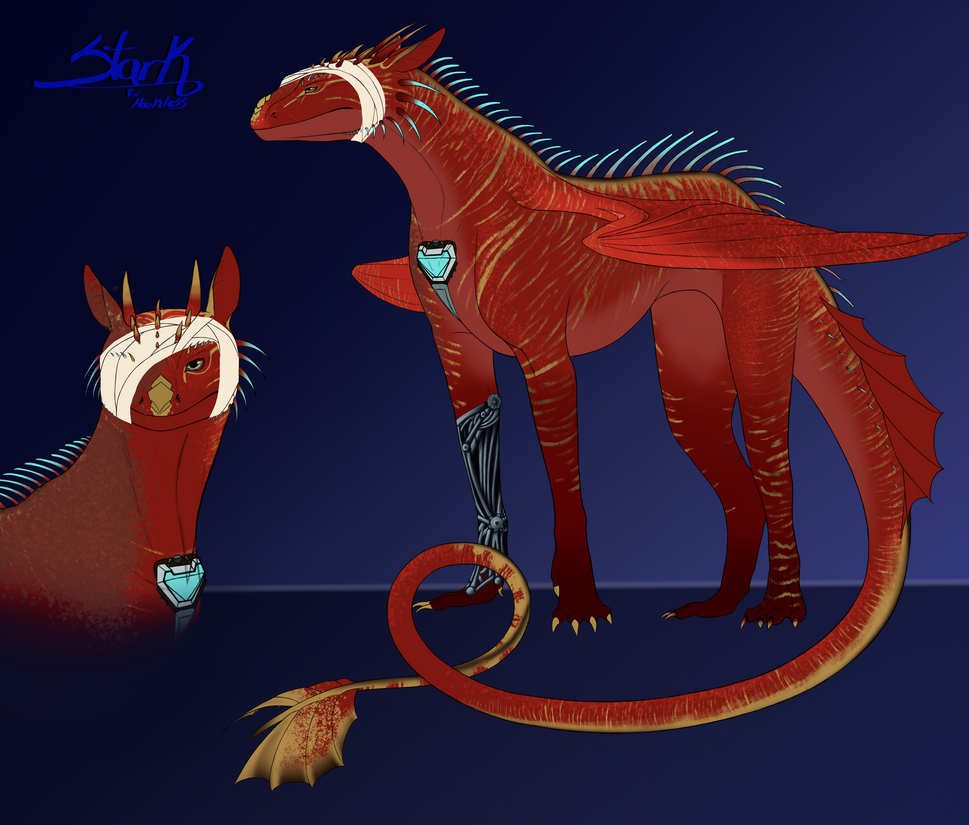 Stark the Duma Ormsliki by DyliehIdol1214! THANK YOU SO MUCH DILLY!!! *obbssessive fangirl screeching commences*
Time for art!!!
Featured Artists: All these people are extremely talented and were so generous to offer to make these awesome drawings. From the deepest part of my heart, I say, Thank You. I will always cherish these drawings :)
I am still collecting the art that I lost from the...Siggy Snap...It'll be here...eventually... O_O
Names in bold letters are who I consider LEGENDS of this forum regarding art :D
Names in italics are friends of mine :)
ZestyDragonWing (formerly Wutend Bonfire)
Fireflash
Lissafish
SangoMichiko13
AndreaEaston
Flitt
Toshi Loshi
IzzyDrawsDragons (formerly Embalathe dragon hatcher)
SpeedyLeaf
ImDerpySheylaYT
Rutvi123123
WildVanity
LilyStark
MatterPatter(Corv)
Miru
Canon HTTYD Dragons
Strike Class
Orion the Night Fury
Personality: Orion is extremely protective of his twin sister, Andromeda and his three younger siblings. He's a warrior, extremely loyal to his family and friends, and will fight to the death to protect them. He's always on the move, whether he's training, hunting, or occasionally playing with his younger sibling. Loves to go mystery hunting with his family.
Orion by the incredibly talented, off the chart awesome ZestyDragonWing. I will forever be grateful :)
Another picture of Orion, by me!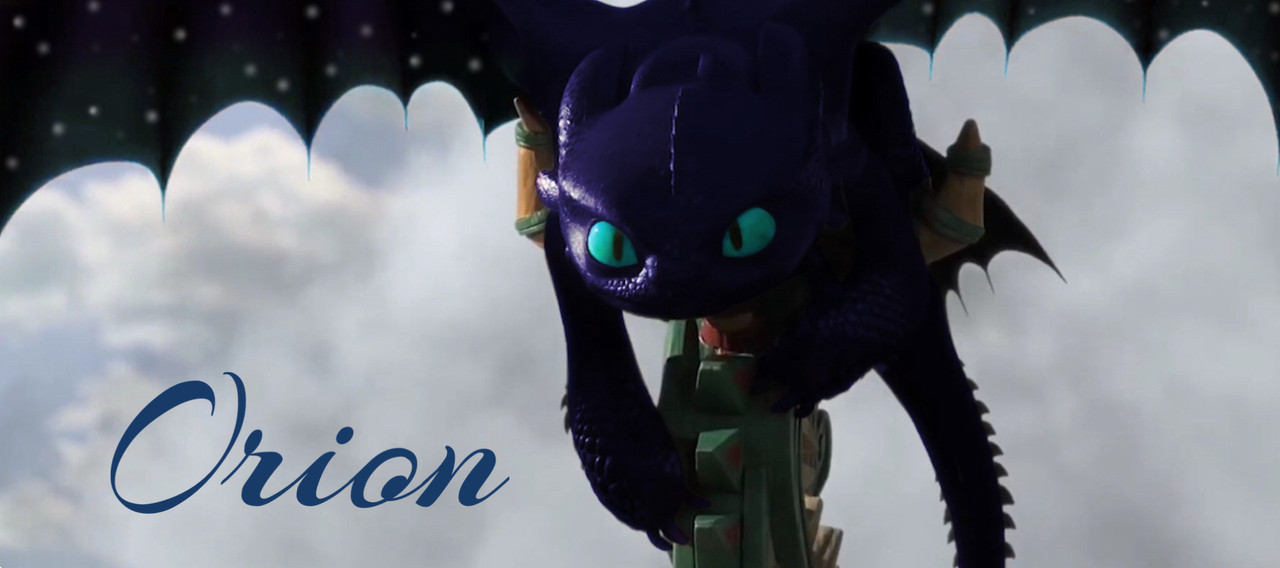 A wonderful edit of Orion by the wickedly talented WildVanity Thanks so much! :D
Orion as a dragon balloon by the AWESOME ANDREAEASTON!!! 8D Thanks so much, Andy!
Lunalight the Lightfury (nickname: Quest)
Personality: Lunalight is a mystery hunter. She travels the archipeligo solving mysteries for both humans and dragons. She's very logical and analyzes situations from every angle. She has a gift of extreme perception and is able to detect the slightest clues whether by sight, sound, or smell. She's very cheerful and tries to make her clients and friends happy. She likes to tell jokes to try and lighten the usually sullen atmosphere of a crime scene or investigation.
She's also Orion's girlfriend and loves training with him. She loves playing with his younger siblings. She can be very talkative sometimes too. Although she has a fun side, she is a ruthless hunter and won't stop a case until she's cracked it.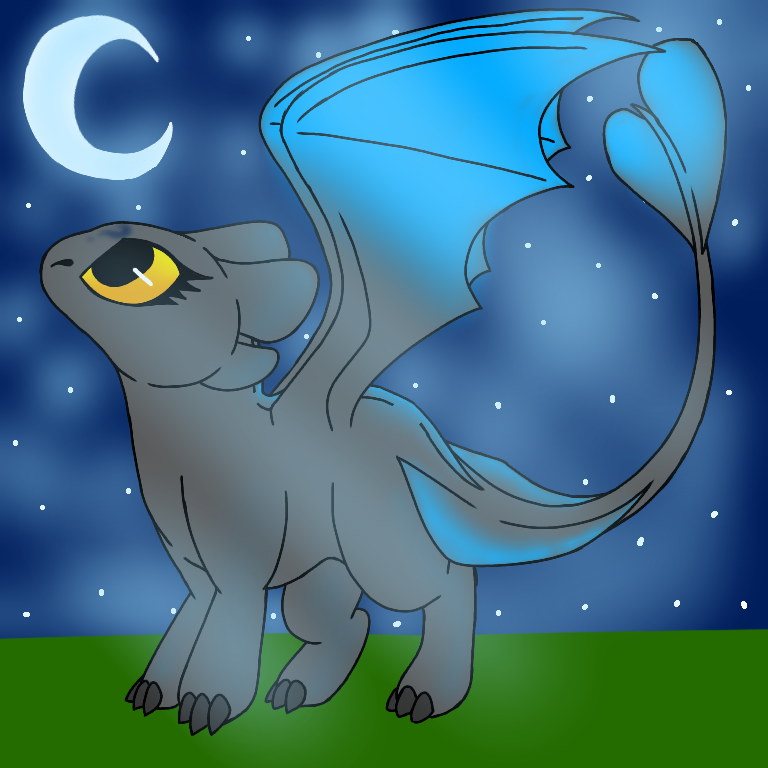 Lunalight by the awesome SangoMichiko13. Thanks so much :D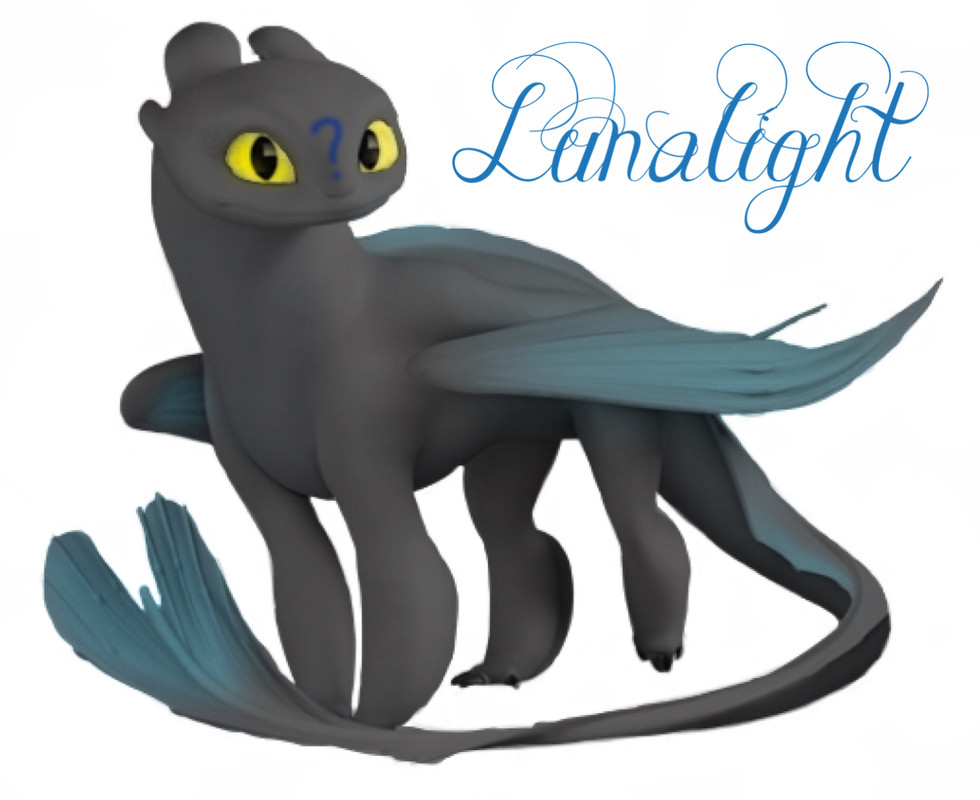 An awesome edit of Lunalight by the wonderful Wildvanity. Thank you so much :D
Luna (Quest) as a balloon. Again, by the incredibly amazing AndreaEaston! Thanks so much! XD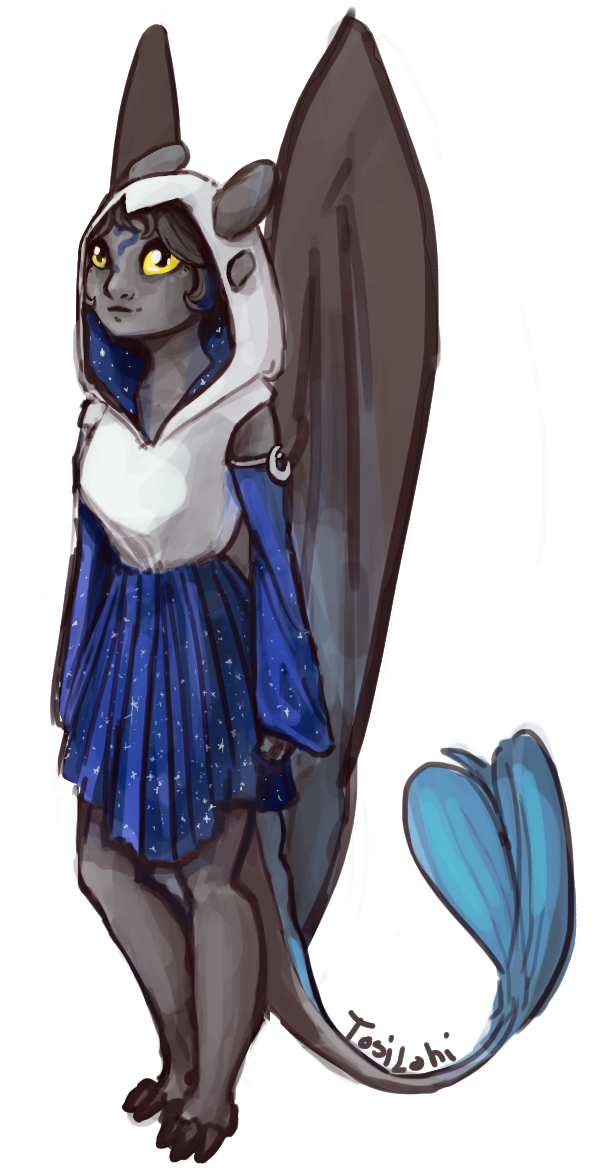 Anthro (more humanish) Luna by legend ToshiLoshi :D Thanks so much :D
Flash the Skrill
Personality: Flash is a quick thinker. He's somewhat impulsive and runs into everything. Fast on his feet and extremely strong, he fiercly protects his family and friends and will do whatever it takes to protect them. He loves playing games and makes and exceptionally good baby sitter.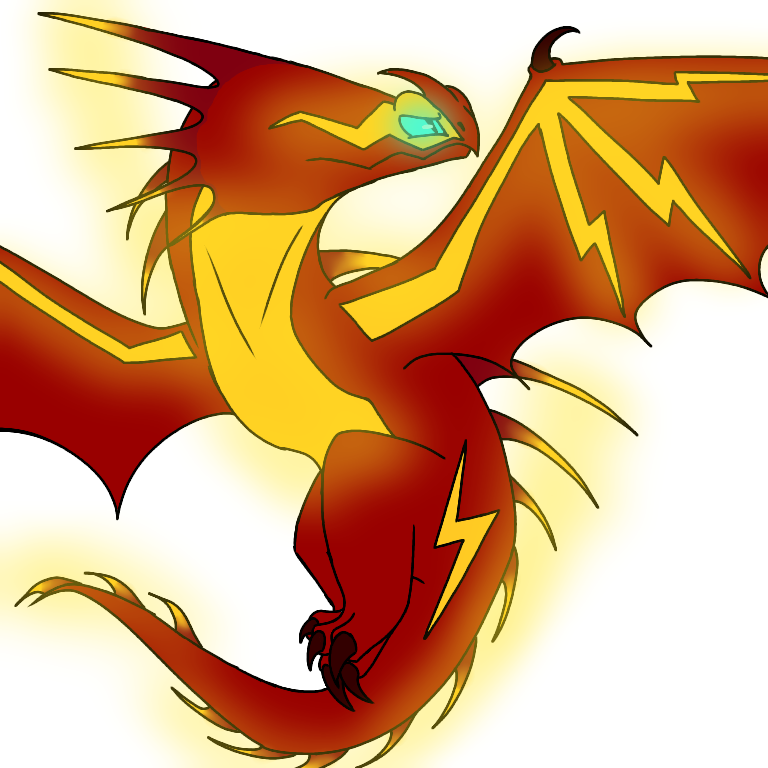 Flash by the incredibly awesome SangoMichiko13. THIS IS SO AWESOME!!!! THANK YOU SO SO MUCH!!! :D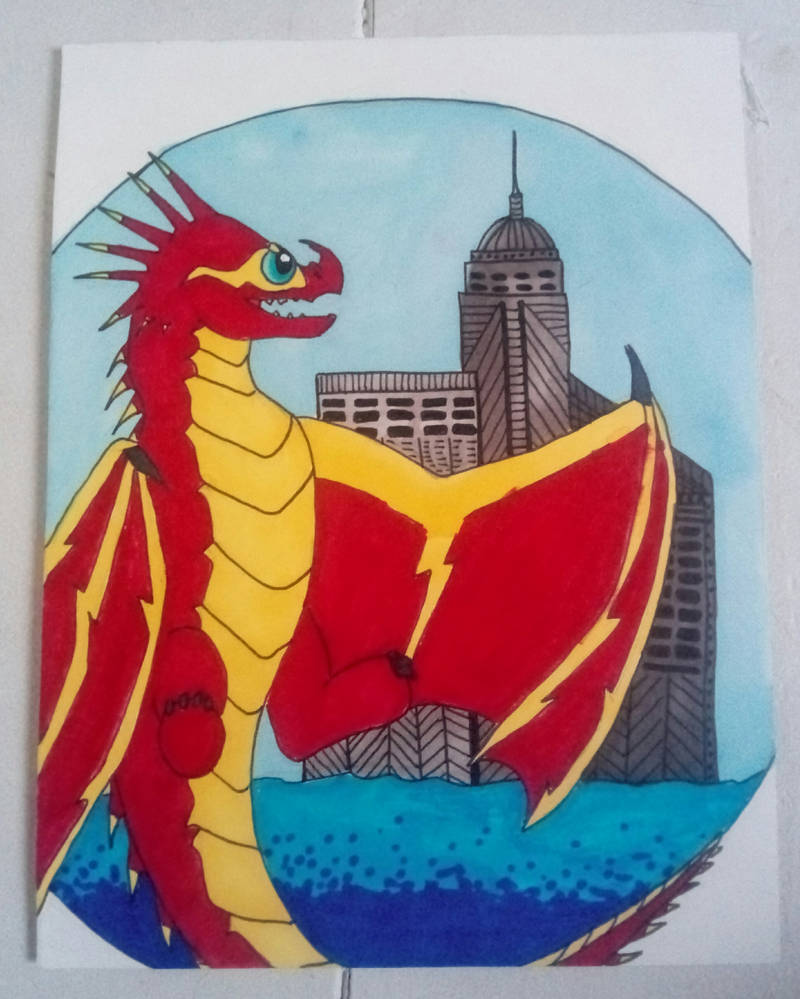 Flash posing in front of his city. By the Incredible IzzyDrawsDragons! Thank you so much! 8D
Flash by absolutely incredible Matterpatter. This is stunning! Absolutely stunning. Thanks so so much! :D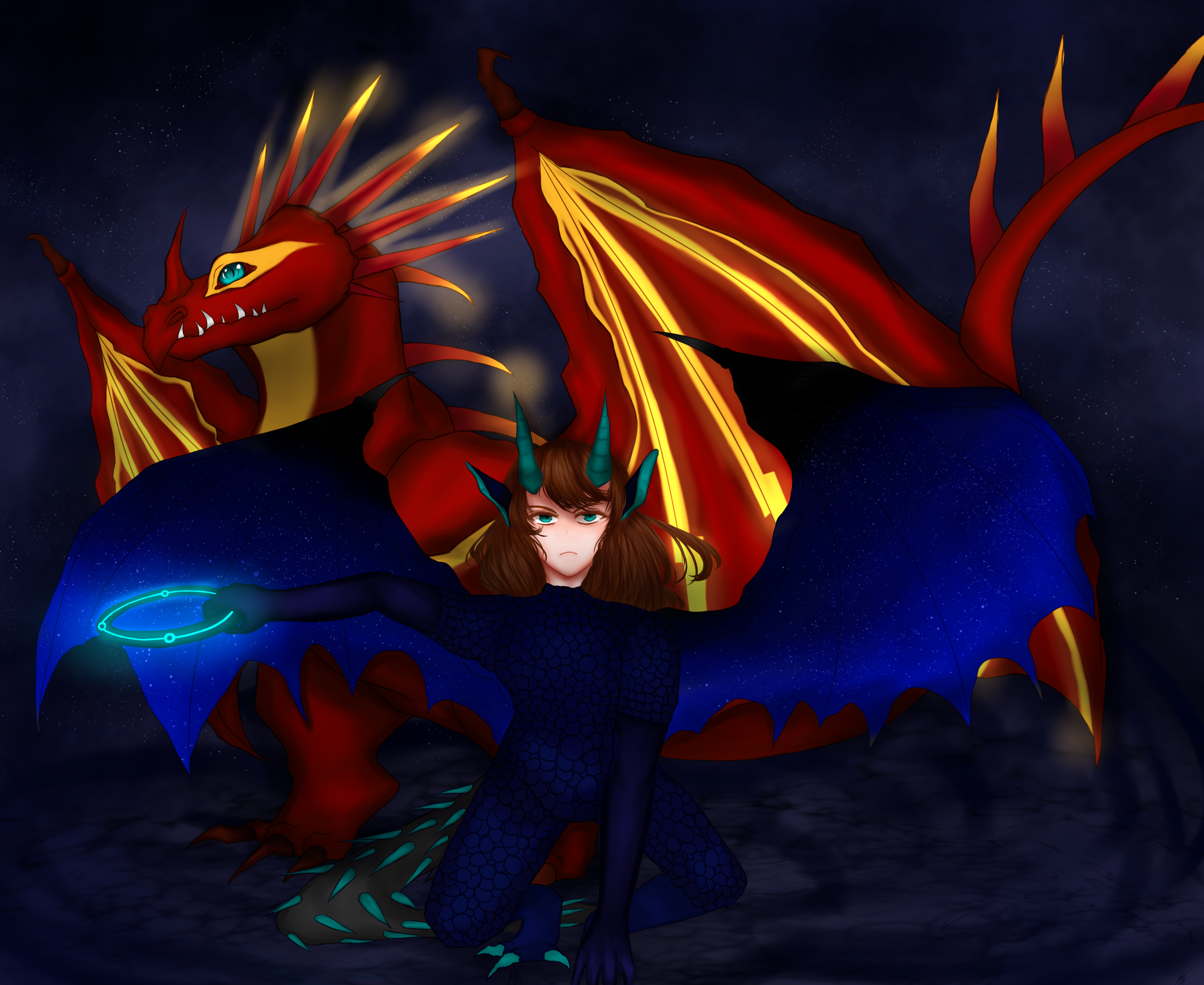 A picture of Flash with my OC Sauren Storm. By the famous, no introduction need, totally awesome legend, FIREFLASH!!! THANK YOU SO MUCH!!!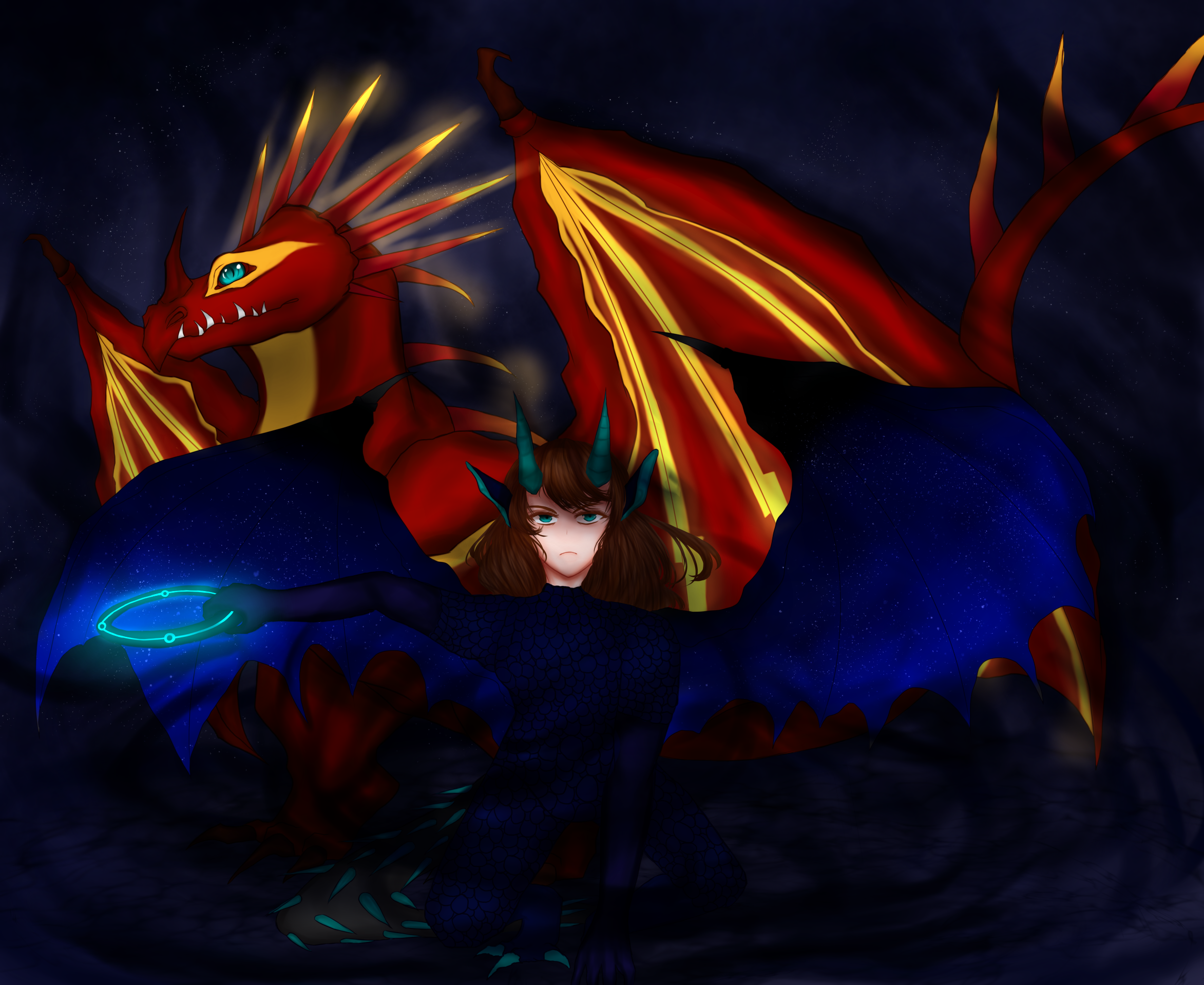 Here's the other version with the wicked awesome particle effects :D
Leachy the Grimora by the wonderful Flitt! Thank you XD
Hybrid HTTYD Dragons
Scourge the Lightgripper
Scourge's backstory:
Scourge had a very traumatic hatchling-hood. He was born on Grimmel's warship and was the only hatchling in his clutch. His mother and father were taken away from him at a very young age. Scourge was raised as a living war machine, and, for a while, he lived up to his name.
However, several years past and he got tired of fighting other dragons day after day. He fought hard to escape, and barely survived his exodus from the warship.
Meanwhile, SuperPotatoChip and his skrill Flash were flying over a nearby island. They saw the struggling lightgripper and, after gaining his trust, helped him back to Lightning Hills, Chip's island where he and all his dragons lived. Scourge has since become a wonderful addition to Chip's flock and is best friends with Flash, Dune, and Chip's nightfury Orion.
Scourge's personality:
Scourge has a warrior spirit, but is also very tenderhearted and kind to his friends. He's very protective of the younger dragons in Chip's flock, but he also has a jokish side and frequently pranks the other dragons along with his sandwraith buddy, Dune. He has slight PTSD and flashbacks from his experiences with Grimmel. He's always on the move and trains hard every day because he wants to get his revenge on Grimmel some day.
Fan Dragons
Corona the Desert Thistle
Corona's Backstory:
Running. Always running. Never stopping for more than an hour at a time. Rain or shine. Day or night. The desert thistle ran like the wind. He was fleeing from the monsters of his past. Trying to escape their ghostly hold. That's why he ran. To escape, and to keep the one person he loved safe from their clutches.
Corona had hatched on his own. He had never seen another member of his kind, nor any natural dragon at all. He had been taken by scientists at a very young age. Experiments. Prodding. Poking. Invetigating how he worked. The cages. It's all he had ever known. He was trapped there in the labs and cages for the first fifteen years of his life. Until one fateful day.
One of the new lab assistants hadn't properly locked the cage that held Corona. Therefore, he was able to nudge the door open. He creeped out and started padding down the hall, adrenaline rushing into his system. His breathing and heart rate grew rapid with the thought of freedom. A new land outside of his dull and purposeless life. He trotted faster now, weaving through the halls of the compound. He had been there almost his whole life. He knew every nook and cranny of the place.
Yet, something stopped him from leaving outright. He remembered something, no, someone who had made his life bareable. The commander's daughter: Sarah. From what he had heard, she also went by the nickname Sahara, the desert for which the girl was named. Something about the way the child had come to his cage and simply talked to him, stroked his scales, and occasionally sneaked in a snack or two held him back from his freedom. It was the only time of day he actually enjoyed living. He couldn't leave her here.
The desert thistle whipped around and plunged back into the depths of the compound, searching for the one who gave him happiness. He fought through guards and caused a mass panic in the establishment. He needed to leave, and soon. But he wouldn't. Couldn't in his mind. He needed to see her. Find her. Keep her safe from her all too harsh and malicious father. Save her.
It was after ten minutes of navigating the dimly lit passages that he finally found her room. Locked. Typical. It was almost always locked around this time. He started clawing a the door censored and eventually broke it. His spikes made quick work of the door, and he entered the small room as quietly as he could. The girl was lying in her bed, seemingly asleep, but Corona knew better. He knew what they did to disobedience. He shook the thought away and lifted the sleeping girl onto his back and grabbed her bag from the corner. He knew what was in there. She had always told him stories of how she wanted to leave this horrific place. How he wanted to explore the world without boundaries. She had told him of the bag she kept with any supplies she could scrounge up. Every detail and story was engraved in the thistle's mind.
He darted out of the room, his head snapping around to throw a fearful glance behind him. Shots rang out. He was hit with a few bullets. The soldiers were hunting. They were right behind him. His body screamed in pain, but he pushed on, never looking back again. The exit. The freedom. It was right there! He could see the sand swirling around, silhouetted against the night sky. With a final burst of speed, the dragon shot out of the hanger. However, the danger was not yet past. All of the floodlights turned to him. Helicopters began revving up. Jeeps were deployed.
No. Not now. He wouldn't give up now. He had come too far to be caught. Unfurling his aching wings, he leapt to the sky, his wings beating heavily and stirring up a cloud of sand and dust. Disappear. That's what he had to do. Corona flapped harder, gaining more and more distance over the human machines. He didn't stop until the sun started to peak over the horizon.
Safe. He was safe. Away from the humans. And he had brought the girl with him. The one who had saved him at first. Now, they could run together. Forever and always, they would run. Explore to their heart's content. He was in an outcropping of boulders resting when the girl awoke. At first, he saw confusion across her face, but that soon melted to joy when she realized what happened. They were free.
Years passed. Sahara and Corona grew closer, the girl now a sixteen year-old. Corona cared for her as a best friend. Almost even as a father. The two always stayed one step ahead of the soldiers who still hunted them, but they were never caught. They had learned to survive. They had learned to truly run free.
Corona by my wonderful friend and insanely talented artist, Lissafish! Thank you so much! He's AWESOME!
Cobra the Acid Drake
Cobra's Personality:
Very fast and stealthy, Cobra is always on the move and stops for nothing. He is an avid hunter and loves practicing new techniques. He's mostly a loner and doesn't like being around other dragons, save for his own family.
Cobra by ImDerpySheyla! Thank you!
Skelter the Pikebos Goreater
Skelter's Personality:
A protective guard and very mistrustful. He makes the perfect guard dragon for the local graveyard
Skelter by ImDerpySheyla! Thanks so much! He's awesome!
ok...wow...I didn't realize that everything else was deleted.... darn it...ok..I'll get back to this later...I am very upset now :\
♦
♦
♦
♦
♦
♦
♦
♦
♦
♦
♦
♦
♦
♦
♦
Who's online
There are currently 19 users and 101 guests online.