Alexa Winslow, the Expert Fisher - Viking of the Week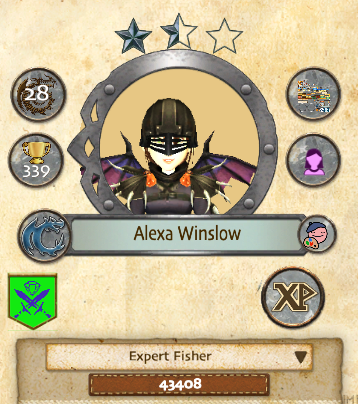 Viking Name: Alexa Winslow
Dragon Name (Breed): Torrent (Scauldron)
Clan: XXxx Night Dragons xxXX
Hobbies: Flying through the skies and spending time with friends...but I still love the simpler pleasures in life, like swimming/fishing with my trusty Scauldron friend!
Through the blood of each and every Viking within the School of Dragons runs a love of adventure, an urge to explore and a desire for excitement like nothing anyone's felt before. I suppose I can understand and relate to that, to some extent - like anybody else, I love to fly high and fast on the back of my superb Scauldron, Torrent - but others tend to forget the simpler things in life amidst their adventures and journies far afield. Of course, I enjoy exploring and adventuring, too, but to be honest I'm more for the more humble occupations. Specifically, my greatest passion is fishing; I don't mean to brag, I really don't, but I'm a great fisher. One of the best, in fact. I know, it seems like a simple thing to be so fond of, but I genuinely love it! Torrent and I often help out Berk's fishermen with their work - Bucket and Mulch once mentioned they'd be lost without me and my Tidal-Class companion - and even in our spare time, we'll fish together, too. Nothing makes me happier than reeling in a plump salmon and seeing the excited look on my Scauldron's face when he knows he's about to have a delicious snack (he adores salmon, although Halibut is another favourite). Soaring through the sky, surging through the waves, diving into the depths, or taking a break to play together on dry land... Torrent and I are truly inseparable. I don't know what I'd do without him. We love to help others, too...so if you're around the dragon-training academy or on Berk and need a hand with your fishing, feel free to ask us to lend a hand! We'll be happy to help you real in a big catch for yourself and your dragons.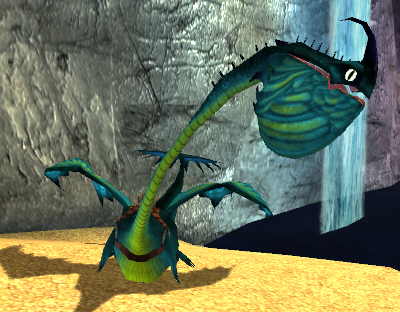 Torrent wanted to say hello, too. He hopes you're having a great day!
Wed, 08/26/2015 - 10:25
#1
Pudge? Puuuudge? PUDGE THATS MY SUBJECT!
Hey!
I have a Scauldron too, his names Monsoon,
Monsoon!
Mraaaaawrrr?
Would you lke to have a friend?
GarblegarbleGAAH
I'll take that as a yes!
Well, tomorrow, I'm having a party in the wilderness with friends from my clan, or just friends
Would you like to come?
I'm sure you'll like it!
WAIT MONSOON WHAT ARE YOU DOING OVER THERE!?
Uhhh
GLOBAL WARMING!
-runs for my life-